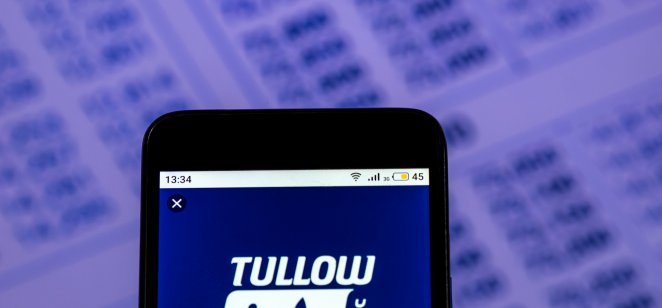 Content
Tullow Oil (TLW) shares have seen better days. While other oil companies have thrived, TLW's share price is down around 90% over the past 10 years. Its year-to-date growth numbers are also negative – the firm's share price has fallen by 2.22% so far in 2022.
Last month's announcement of a merger with Capricorn (CNE) – formerly Cairn Energy – has so far done little to lift appetite for TLW shares.
Tangled in debts and operational challenges, the London-based oil and gas explorer has not yet tapped the gain in oil prices, unlike many of its peers. But soaring crude oil prices, which have crossed $100 a barrel this year, have still managed to offer some support to the TLW share price.
Will the company maintain its momentum? The article discusses the latest Tullow Oil share price predictions from analysts, the stock's recent performance and the latest news.
Company history
Named for a small town outside Dublin, Tullow Oil was founded in Ireland in 1985, as a gas exploration company operating in Senegal. The firm floated its shares on the London Stock Exchange (LSE) in 1986, and eventually became a part of the benchmark FTSE 100 index in September 2007.
TLW left the index following a drop in the company's share price and market capitalisation in March 2015, and was replaced by pharmaceutical firm Hikma. Tullow Oil is currently part of the FTSE 250 index —a broader list of 250 mid-cap businesses not big enough to be included in the FTSE 100.
Following a series of acquisitions of gas fields from BP in the UK Southern North Sea in 2000, the company doubled in size in 2004, following the $500m Energy Africa acquisition. The company describes the deal as a "transformational acquisition which gave Tullow substantial production of 54,000 boepd (50% oil; 50% gas) and a range of production and exploration assets in Uganda, Gabon, Equatorial Guinea, Namibia and Congo, among others."
The company discovered a 1.1-billion-barrel field in the Lake Albert region of Uganda in 2006, and continued its success with the discovery of the Jubilee field in the deep waters off Ghana.
The successful development of several hydrocarbon basins in both countries throughout 2006 and 2007 led to record production and elevated company revenue to $1,280m, leading to TLW's inclusion in the FTSE 100.
In 2012, after raising cash from its Ugandan find by selling two-thirds to TotalEnergies (TTEF) and the China National Offshore Oil Corporation (CNOOC) for $2.9bn, Tullow went in search of similar rift valley discoveries in Kenya and Ethiopia. But the firm's exploration strategy, while yielding returns, has also created problems.
"Tullow's challenge is that as it grows bigger and tries to produce oil, not just find it, it will run into increasing problems and costs," wrote the New York Times' Stanley Reed in mid-2012.

Long seen as a pioneer African oil and gas explorer, the company has been forced in the past three to five years to focus on reducing its huge debt load. CEO Paul McDade stepped down in December 2019, as the firm had to write off $1.2bn in debt, which resulted in a halving of its share price, along with the cancellation of any possible dividend payouts.
The debt was accumulated due to missed production targets from its flagship operation in Ghana, in addition to a series of setbacks in Uganda, Kenya and Guyana. In order to raise cash, the firm sold all of its Uganda assets to TotalEnergies for $575m in April 2020.
In April 2020, Tullow announced that Rahul Dhir had been appointed as the new CEO, with effect from July 2020.
The company revealed a merger with UK-based energy firm Capricorn on 1 June 2022. The companies will merge in an all-stock deal worth £656.9m ($826.7m). The merger, backed by the boards of both companies, would result in savings of $50m.
Investors in the new group are expected to receive an annual base dividend of $60m. Tullow shareholders last received a dividend in 2019, according to Reuters.
What is your sentiment on TLW?
Vote to see Traders sentiment!
Tullow Oil share price history
The Tullow Oil stock price has been on a roller-coaster ride in the past two years. The Tullow Oil share price history shows its stock dropped to a record low of 7.17p on 18 March 2020 — right at the onset of the coronavirus pandemic.
By the end of the first half of 2020, the London-based company ran negative free cash flow and $3bn debt as oil demand collapsed, following Covid-19 mobility restrictions and output drop. Its stock value declined 53.78% in 2020.
The Tullow Oil share chart indicates that the firm's stock value gradually recovered in 2021, in line with rising oil prices, as demand recovered with countries relaxing Covid-19-related restrictions. The company refinanced its debts in May 2021 and completed sales of some of its interests to improve its financial performance.
On 16 June 2021, the company's share price hit its highest point for the year at 66.22p after CEO Rahul Dhir announced that it had raised over $700m from sales of its interests in Uganda, Equatorial Guinea and the Dussafu Marine Permit in Gabon.
The stock retreated in the second half of 2021, trading at around 45p by end of the year. However, the price managed to recoup its 2020 losses, gaining 57.03% over 2021.
Entering 2022, Tullow Oil continued its gain, briefly crossing 61p on 18 January as Brent Crude touched a fresh seven-year high on rising post-pandemic demand. But the gain did not last long. On 16 March, Tullow Oil's stock plunged more than 16% on the day to close at 51.88p, following disappointing 2021 full-year results.
In the latest Tullow Oil share news, the company announced an expansion of its operation in Ghana by acquiring Occidental Petroleum's (OXY) interest in the TEN and Jubilee fields. With the acquisition, the company's interests increased to 38.9% in the Jubilee fields and to 54.8% in the TEN fields. The acquisition, valued at $118m in cash, brought an additional 5,000 barrels of oil equivalent per day (boepd) of production.
The deal fostered bullish sentiment, pushing the stock to return to above the 60p level, peaking at 61p on 12 April. TLW shares have since been on a downward trajectory, and are trading around the 45p level as of 4 July 2022.
The Capricorn merger announcement on 1 June has done little to elevate the stock.
Tullow Oil share analysis showed short-term sentiment was slightly bullish on 4 July 2022. The majority of moving averages were giving 'buy' signals. The relative strength index (RSI) reading of 46.190 remained neutral. The TLW share price has been trading below its 200-day simple moving average (SMA) of 51.10p.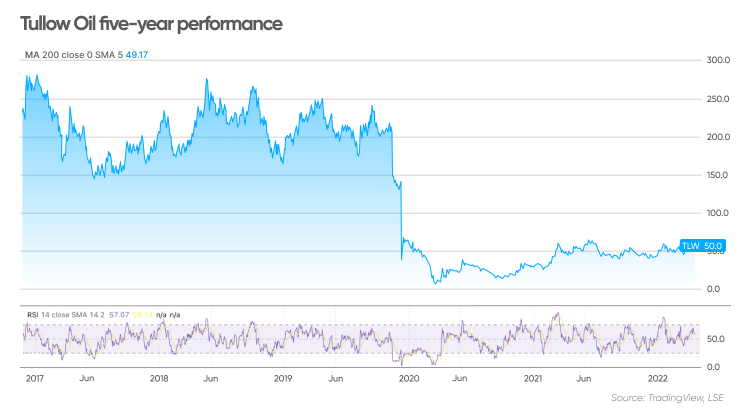 | | |
| --- | --- |
| Long position overnight fee | -0.0308% |
| Short position overnight fee | -0.0137% |
| Overnight fee time | 21:00 (UTC) |
| Spread | 0.07 |
| | |
| --- | --- |
| Long position overnight fee | -0.0064% |
| Short position overnight fee | -0.0059% |
| Overnight fee time | 21:00 (UTC) |
| Spread | 0.06 |
| | |
| --- | --- |
| Long position overnight fee | -0.0308% |
| Short position overnight fee | -0.0137% |
| Overnight fee time | 21:00 (UTC) |
| Spread | 0.22 |
| | |
| --- | --- |
| Long position overnight fee | -0.0064% |
| Short position overnight fee | -0.0059% |
| Overnight fee time | 21:00 (UTC) |
| Spread | 0.29 |
Tullow Oil fundamental analysis: Latest earnings
With many oil and gas companies enjoying higher earnings due to rallying energy prices, Tullow Oil's revenue fell to $1.273bn in 2021 — down from $1.396bn in 2020.
The company attributed the drop to lower oil and gas production. Tullow Oil pumped 59,200 boepd (barrels of oil equivalent per day) last year — a 21% decrease from 74,900 boepd in 2020, due to the sale of TLW's interests in Equatorial Guinea and the Dussafu Marine Permit in Gabon, as well as lower-than-expected production from the TEN fields in offshore Ghana.
The company's loss after tax dropped to $81m in 2021 from $1.222bn in 2020, owing to write-offs for exploration costs, impairments, restructuring costs and other provisions.
Tullow Oil projections: 2022 guidance
In 2022, Tullow Oil expects to produce 59,000 to 65,000 boepd following the completion of Occidental Petroleum's interests in the Jubilee and TEN fields. The 2022 production guidance was revised from an initial forecast of 55,000 to 61,000 boepd.
The company set an operating cash flow guidance of $750m and a full-year free cash flow guidance of $100m, assuming the oil price stays at $75/bbl for the remainder of the year.
On the operation side, Tullow oil plans to drill three new wells at Jubilee and three new wells at TEN. It also expects to secure a gas commercialisation agreement in Ghana.
TLW plans to spend $350m of capital expenditure (CapEx) in 2022, of which $270m will be for operations in Ghana. The remaining funds will be for a non-operated portfolio, as well as operation and exploration in Kenya.
Overall, Tullow Oil plans to spend $1.6bn CapEx from 2022-2026, according to the company's 2021 full-year results presentation.
"I think about 70% of future CapEx is on drilling. I mean, a lot of wells to be drilled and [there will be] a lot of focus on doing it well," said Tullow Oil CEO Rahul Dhir in the presentation.
Tullow Oil share price forecast: analyst sentiment
With no sign of a potential end to the conflict in Ukraine and oil supplies looking scarce for the coming months ahead, Tullow Oil could be a company to watch, provided the merger with Capricorn goes as planned.
Speaking of the Tullow Oil stock future price potential, Mikhail Karkhalev, an analyst at Capital.com, noted that the company has had a challenging decade:
"TLW is a controversial company, which can only be invested in during tough times in the energy market. For exactly 10 years, the company's shares have been in a powerful downward trend. During this time, their value collapsed 25 times. This is primarily due to the political scandals around the company. In 2011/13, the company was accused of lobbying and bribery at the highest level in Britain. In addition, the company was accused of tax evasion. Additional pressure came from the weakness of the oil market from 2014 to 2020."
However, according to the analyst, the company has revealed stable performance lately, and the low TLW stock price could attract traders' attention.
"Now, against the background of the difficult economic and political situation and the shortage of energy resources in the markets, the interest of institutional investors in the shares of Tullow Oil is growing, given the incredibly low cost of securities, the probability of dynamic growth is high. The more so that Moody's agency at all confirmed the company's rating as stable," he said.
Analysts at Zacks.com were of the view that Tullow Oil's significant positions in discovered and emerging basins, and focus on capital discipline, could result in a noticeable improvement in profitability.
"In particular, the oil and gas finder's operational excellence and technical expertise stand it in good stead," Zacks.com wrote in June 2022.
The Covid-19 pandemic which caused low oil prices had forced most oil explorers to be more disciplined in capital spending and reduce their unit costs.
"These actions may limit short-term output, but they are expected to preserve cash flow, support balance sheet strength, and help the companies emerge stronger in the long run," it added. Zacks.com rated Tullow Oil a 'hold.'
Tullow Oil (TLW) stock forecasts: Price targets for 2022–2025
Are Tullow Oil shares a 'buy', 'sell' or 'hold'? As of 4 July 2022, a consensus of eight analysts tracked by MarketBeat suggested a 'buy' for Tullow Oil's shares. Four analysts rated the stock as a 'buy' and four rated it a 'hold'.
Analysts set an average 12-month Tullow Oil share price target of 76.50p a share. The highest Tullow Oil stock forecast suggested it could rise to 95p and the lowest expected it to trade at 63p.
Analysts at JPMorgan also see reason for optimism – they recently set a price target of 82p.
Simply Wall St rates Tullow as 'good value' based on its price-to-sales ratio – 0.6x compared to the peer average 5.6x. It sees Tullow's fair value price as 153p – essentially 71.5% undervalued. The platform also forecasts the company's annual earnings to grow by 44%.
Meanwhile, algorithm-based forecasting service WalletInvestor provided a longer-term Tullow Oil stock forecast for 2022 and beyond.
As of 4 July, Wallet Investor was holding a bearish outlook for Tullow Oil stock in the short term based on multiple technical readings, projecting TLW to rise to 58.881p in early October 2022. However, for December 2022, the algorithm expected the stock to decline to an average price of 23.068p per share.
The service expected TLW stock to collapse to 0.000001p in January 2024 and didn't give further estimates for a Tullow Oil share price forecast in 2030.
When looking at any TLW stock predictions, it's important to bear in mind that analysts' forecasts and price targets can be wrong, and that forecasts shouldn't be used as a substitute for your own research. Always conduct due diligence before trading and bear in mind that past performance is no guarantee of future results.
It's important to do your own research. Your decision to trade depends on your attitude to risk, your expertise in the market, the spread of your portfolio, and how comfortable you feel about losing money. You should never trade more than you can afford to lose.
FAQs
Is Tullow Oil stock a buy now?

According to analysts' ratings compiled by MarketBeat, as of 4 July 2022, Tullow Oil (TLW) shares could be a 'moderate buy'. However, algorithm-based forecasting service WalletInvestor gave a negative longer term Tullow Oil stock forecast for the next one to three years.

Whether TLW is a suitable asset for you depends on your personal circumstances and risk tolerance, among other factors. You should do your own research into the company's performance and evaluate the level of risk you are prepared to accept before trading.
Why has the Tullow Oil share price been falling?

Tullow Oil's share price has lost about 6% since the company reported its 2021 full-year annual results. TLW stock is 2.22% down year-to-date as of 4 July 2022.
Will Tullow Oil share price go up or down?

Analysts have been mixed about Tullow Oil's future price, as of 4 July 2022. The consensus TLW stock forecast from analysts covered by MarketBeat suggested the stock could rise to an average price of 76.50p in one year.
Does Tullow Oil pay dividends?

The last time Tullow Oil paid a dividend was in 2019. The company did not pay a dividend from 2015 to 2018.
Further reading