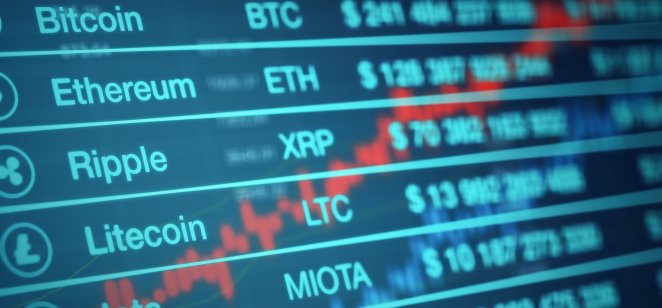 Content
Troy Trade is a prime broker specialising in full-stack cryptocurrency trading services such as spot and margin trading, lending and staking.
The company, which caters primarily to institutional clients and professional traders, is working to redefine the cryptocurrency trading experience for users by providing various integrated services with diverse capabilities. This systematic infrastructure enables clients to utilise multiple financial instruments with ease.
Troy Trade is known for providing both localised brokerage services in accordance with different regulatory policies, as well as diversified cryptocurrency baskets across exchanges.
As such, Troy Trade's revenue model is centered around trading commissions and fees for settlement, custody services, spreads on clients' margin financing positions, cash or token financing and fees for value-added brokerage services such as automated risk management.
Noted for the use of quantitative models, the company specialises in data analytics with the goal of empowering customers' decisions specifically through trading, market, social and media data.
As such, they offer exposure to quantitative solutions through straight-through processing (STP), historical data and strategy assessment systems. Meanwhile the platform is powered by co-location and low latency in order to aid in the improvement of high-frequency trading performance.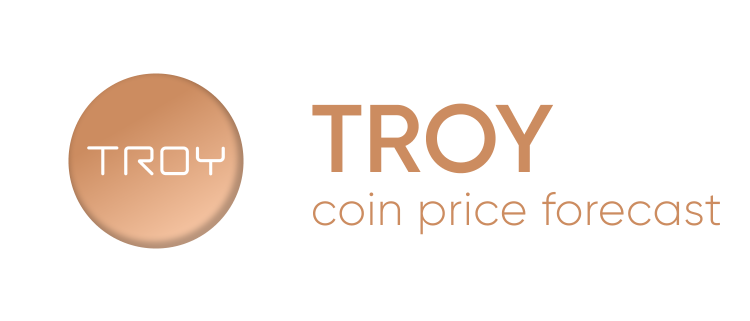 What is the Troy Trade coin?
TROY is a BEP2 and ERC20-compatible token. It functions as a medium of exchange for the payment of trading fees on the platform.
Users can stake TROY in order to receive rewards. For example, the company added 2.2m tokens into a pool as staking rewards in June 2021. In the past, Troy Trade has even offered trading fee discounts, working in conjunction with Binance, they once offered a 10% trading fee discount promotion for new registered users for a limited period of time.
In November 2019, Binance hosted a TROY token sale, which followed a lottery and airdrop format where a pool of 30,000,000 tokens was split and airdropped to launchpad participants.
A pool of 10,000,000 TROY tokens was also randomly airdropped to users with account verification from an eligible country or region who did not claim tickets but held 50 Binance coins (BNB) at the time of the sale.
In addition, Troy Trade has conducted daily token airdrops in the past. For example, from 22 September 2021 until 24 September 2021, five winners were each awarded with ​​a thousand TROY tokens.
TROY price analysis: Technical view
In March 2020, Troy Trade partnered with Chainlink in order to adopt the company's advanced technology in a bid to securely execute their smart contracts using off-chain market data.
Following this announcement, on 31 March 2020, TROY found a support zone at around $0.0016 when it was trading at $0.001934.
The token did not, however, start gaining momentum until a year later on 8 March 2021 when the price rose to $0.009195 and then to $0.02422 on 21 March 2021. T
The Troy Trade price trend was higher throughout the months of March 2021 to May 2021, hitting the key $0.03 level on 17 April 2021 at $0.03112 as bullish momentum took hold.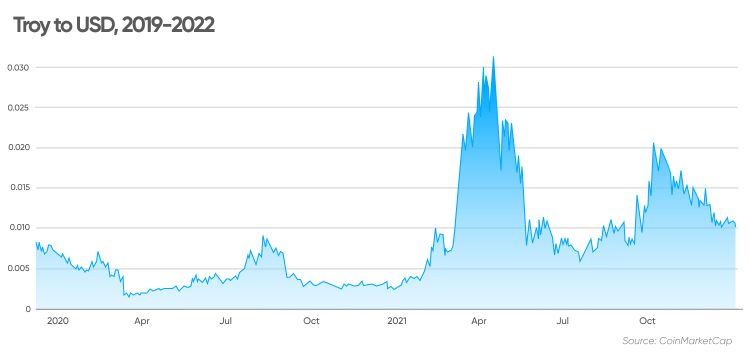 | | |
| --- | --- |
| Long position overnight fee | -0.0500% |
| Short position overnight fee | 0.0140% |
| Overnight fee time | 21:00 (UTC) |
| Spread | 60.00 |
| | |
| --- | --- |
| Long position overnight fee | -0.0141% |
| Short position overnight fee | 0.0041% |
| Overnight fee time | 21:00 (UTC) |
| Spread | 1.5 |
| | |
| --- | --- |
| Long position overnight fee | -0.1297% |
| Short position overnight fee | 0.0928% |
| Overnight fee time | 21:00 (UTC) |
| Spread | 0.005 |
| | |
| --- | --- |
| Long position overnight fee | 0.0240% |
| Short position overnight fee | -0.0439% |
| Overnight fee time | 21:00 (UTC) |
| Spread | 0.03 |
The price then retreated during the summer of 2021, bottoming out at lows of $0.00667 on 22 June and then at $0.006304 on 19 July.
TROY rallied again at the end of summer last year, moving back closer to a $0.02 level on 20 September at $0.01396. After a dip to $0.01418 on 28 October 2021, TROY fell again to $0.01009 two months later on 20 December.
The Troy Trade token achieved an all-time high of $0.03874 on 20 September 2021, a peak that still stands, although TROY would have to rise 311% from its current price to break this level again. It is currently (7 January) trading at around $0.009422, and ranks 464th in the list of cryptocurrencies by market capitalisation at $84m, according to CoinMarketCap.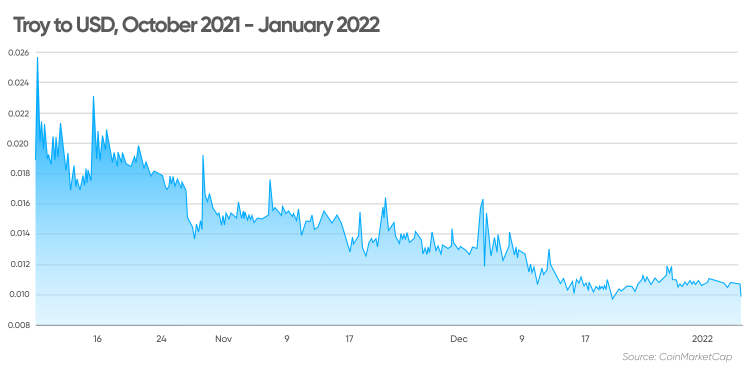 Technical analysis provided by CoinCodex shows that short-term sentiment on TROY is bearish, with two indicators displaying bullish signals compared to 25 bearish signals at the time of writing.
The daily simple and exponential moving averages are giving sell signals, according to data from TradingView, while the relative strength index (RSI) is at 32, as of 7 January. An RSI reading of 30 or below indicates an oversold or undervalued condition.
"TROY's trading volume has increased by 28% within the last twenty four hours. Its most recent price spike was on 8 October 2021 when it reached $0.02045," said Milko Trajcevski, a financial analyst at Invezz.
"This marked its highest point from the preceding three months and since then it has been hovering just above the $0.1 price barrier. With all this in mind, the highest price I expect TROY to reach is $0.15 throughout the next three months," Trajcevski told capital.com.
A prime broker with a primary focus on institutional investors
Most trading platforms are not specifically designed around the diversified needs of institutional investors, yet a prime broker like Troy Trade can facilitate and coordinate extensive and complex trading using a wide variety of different financial instruments.
Their all-in-one prime brokerage solution offers institutional investors with a range of services including global liquidity, settlement, account management and risk control and this has led them to connect with over thirty leading exchanges on a global scale.
In other Troy crypto news, the platform is set to undergo an upgrade to Troy Trade 2.0 at an unspecified date. The company has stated that it aims to expand its services to a broader audience by offering a smart hybrid asset management platform which will include an arbitrage strategy designed to absorb price differences. This strategy will consist of cross-market, triangular, future spot and calendar spread arbitrage.
Additional Troy Trade 2.0 features will include a trend tracking strategy that involves using technical indicators to identify the direction of market momentum through rigorous analysis of historical data and price movements. By running mathematical algorithms, it will detect and choose particular trend indicators in order to lock in a profit and exit the trade.
A risk for the Troy Trade lies in the fact that the brokerage launched only in 2018 making it a relatively new project.
TROY token price prediction: Buy, sell or hold?
In terms of a TROY crypto price prediction , algorithm-based forecasting service Wallet Investor gives a positive TROY/USD forecast. Based on historical data, Wallet Investor sees the price going up to $ 0.0118 by February 2022, reaching $0.0250 in January 2024 and hitting $0.0390 by January 2026.
Digital Coin Price supports the bullish TROY forecast, expecting the token to grow to $0.01229690997 in February 2022, $0.02363252554 in January 2025 and $0.03565150400 in January 2028.
Note that predictions can be wrong. Forecasts shouldn't be used as a substitute for your own research. Always conduct your own due diligence before investing. And never invest or trade money you cannot afford to lose.
FAQs
Is the Troy coin a good investment?

Whether TROY is a good investment for you depends on your personal circumstances and risk appetite. Cryptocurrencies are high-risk assets. You should do your own research and evaluate the level of risk you are prepared to accept before investing. Never invest money you cannot afford to lose.
Will the TROY coin hit $0.03 in 2028?

Based on TROY price predictions from Digital Coin Price, the price could reach $0.03 within the decade. Digital Coin Price predicts the price to hit $0.03565150400 in January 2028. Note that predictions can be wrong. Forecasts shouldn't be used as a substitute for your own research. Always conduct your own due diligence before investing. And never invest or trade money you cannot afford to lose.
Read more: Kusama price prediction: Will it reach 0 again?