Content
Why is Vodafone important to traders?
British telecommunications company Vodafone is the largest mobile and fixed network provider in Europe and the world's largest internet of things (IoT) connectivity provider. It operates primary mobile networks in 22 countries and has partnerships in an additional 48 countries. It maintains a world leading position in the development and deployment of 5G technology and is particularly well positioned in fast growing emerging economies. The company has more than 270 million active customers and a market capitalisation in excess of $52bn.
In addition to its mobile and fixed line communication business divisions, the company has a significant market presence in television and also operates the M-Pesa financial technology platform in Africa. M-Pesa offers merchant services, money transfers and a mobile payment system to individuals who may not have access to traditional financial markets. It currently has more than 42 million active users and is the largest mobile payments platform in Africa.
Vodafone stock trading hours
If you choose to trade with CFDs, you can follow the Vodafone stock performance live in US dollars with the comprehensive Vodafone stock price chart at Capital.com:
Monday to Friday from 13:30 to 20:00 UTC.
This gives you plenty of time to monitor the company's activity and keep an eye out for any events that may affect short-term movements in the Vodafone stock value.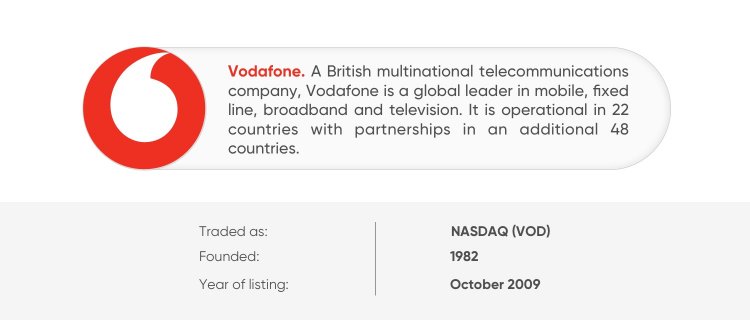 How to trade Vodafone shares with CFDs
An individual has two options when trading in the stock market. First, they can buy shares in companies on the exchanges where they are listed. For instance, by investing in Vodafone stocks on Nasdaq you actually acquire a share in the company. This can be considered a long-term investment, as the individual is usually waiting for the price to rise over time.
Alternatively, they can trade a contract for difference (CFD) for the Vodafone stock market price, and speculate on its difference without actually owning the asset. A CFD is a financial contract, typically between a broker and an investor, where one party agrees to pay the other the difference in the value of a security, between the opening and closing of the trade.
You can either hold a long position (speculating that the price will rise) or a short position (speculating that the price will fall). This is considered a short-term investment or trade, as CFDs tend to be used within shorter timeframes.
The key difference between Vodafone shares trading through a long position with a CFD and buying a security is the leverage that is employed. CFDs are traded on margin, which means that a trader can open larger positions with their capital.
You can trade Vodafone shares with CFDs right now. Just sign up at Capital.com and use our advanced web platform or download the best-in-class investment app to trade on the go. It will take you just three minutes to get started and access the world's most traded markets.
Why trade Vodafone CFDs with Capital.com
Advanced AI technology at its core. A Facebook-like News Feed provides users with personalised and unique content depending on their preferences. If a trader makes decisions based on biases, the innovative News Feed offers a range of materials to put you back on the right track. The neural network analyses in-app behaviour and recommends videos, articles and news to polish your investment strategy.
Trading on margin. Providing trading on margin (up to 5:1 for individual equities), Capital.com gives you access to the Vodafone stocks trading with the help of CFDs.
Trading the difference. When you invest in Vodafone stocks with CFDs, you don't buy the underlying asset itself, meaning you are not tied to it. You only speculate on the rise or fall of the Vodafone stock performance. CFD trading is nothing different from traditional trading in terms of strategies. A CFD investor can go short or long, set stop and limit losses and apply trading scenarios that align with their objectives.
All-round trading analysis. The browser-based platform allows traders to shape their own market analysis and forecasts with sleek technical indicators. Capital.com provides live market updates and various chart formats, available on desktop, iOS and Android.
Focus on safety. Сapital.com puts a special emphasis on safety. Licensed by the FCA and CySEC, it complies with all regulations and ensures that its clients' data security comes first. The company allows you to withdraw money 24/7 and keeps traders' funds across segregated bank accounts.
Vodafone share price history
Vodafone stock history on Nasdaq started in October 2009, when the company switched its depositary shares listing in the USA from the New York Stock Exchange (NYSE). Vodafone opened trading on Nasdaq at $23.18 a share.
Vodafone American depositary shares have traded as high as $20.36 and as low as $13.14 in the past year. As of late May 2021, the stock was hovering around $18.24 after opening the year at $17.04, which is a gain of just over 7% year-to-date (YTD). After dropping in late February, the stock has shown a strong upward momentum.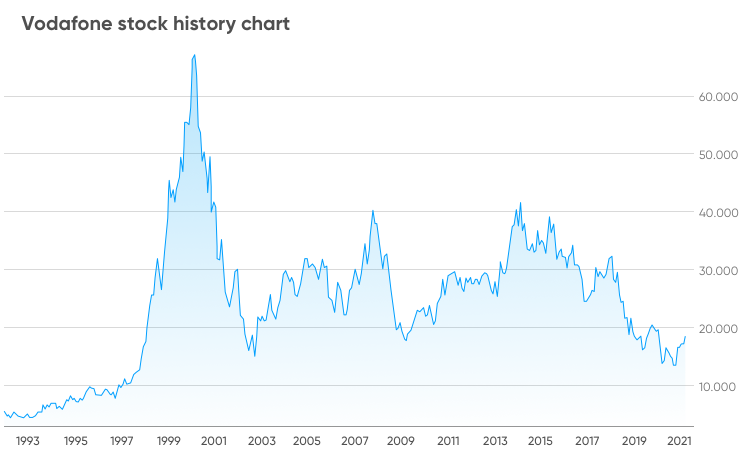 Is Vodafone stock a good investment?
Owing to its dominant position in the European market, Vodafone is financially robust and well placed to withstand any residual market uncertainty that may persist due to the pandemic. Recurring license revenues generated through infrastructure and joint partnerships provide a low capital intensive source of reliable revenue in all market cycles. The company has also placed a strong internal priority on improving on the Return on Capital Employed (ROCE) financial metric and has publicly stated its ambitions to improve on the current 6.1% rate.
Another reason to consider if Vodafone shares are a good buy is the current market position and ability of the company to capitalise on emerging technologies and economies. It is in the midst of building the largest 5G network in Europe and is actively expanding this technology abroad. M-Pesa is already the largest mobile financial platform in Africa and there is substantial room for further customer acquisition in the continent over the coming years.
The successful performance so far this year and the prospect of continued success in the African continent contributes to an overall positive outlook for Vodafone share trading over the next year and beyond.
With Capital.com's streaming Vodafone stock history chart, you can quickly view the price of VOD stock in real time and trace the best levels to open a profitable CFD trade.
FAQ
Who are Vodafone's main competitors?

Among Vodavone's major competitors we can define the following brands:

China Mobile is the trade name of China Mobile Communications Group and is a state-owned enterprise. It is the leading mobile network provider in Hong Kong and mainland China as well as having a large presence in Pakistan. While it showed a potential for collaboration through an unsuccessful attempt to partner with Vodafone in Myanmar, it is also a major hindrance to any business opportunities in China.

Verizon Communications is a US-based wireless network operator with 120 million active customers. Verizon was founded as a joint venture between Vodafone and Bell Atlantic with the newly-formed Verizon Communications buying out the 45% Vodafone stake in 2014.

Deutsche Telekom AG is a German telecommunications company and the largest telecommunications company in Europe by revenue. It was ranked as the 86th most valuable publicly-traded company in the world in 2020. The company held a government supported monopoly on German mobile infrastructure until it was privatised in 1995, with the government maintaining a minority stake in the publicly-traded company.
What factors affect the Vodafone share price?

Increasing technological competition from other European companies as well as further afield from China have increased the relevance of the first mover advantage enjoyed by Vodafone. Geopolitical factors in some partnership countries have intensified the capital requirements needed to maintain the current market position.

While the company is faced with increasing competition in many markets, the big positive is that it continues to show overall customer growth across all business segments and has embraced new opportunities. One such opportunity was a recent successful bid in partnership with Kenya's Safaricom in obtaining Ethiopia's first mobile license for $850m.

The market leading positioning strategy in emerging technology, such as 5G, employed by the company requires intensive capital investment so the importance of maintaining this revenue growth is critical in supporting these efforts. Investors should be wary of increasing interest rates if inflation rises as any increase in the cost of servicing Vodafone's large debt load could negatively impact the stock value.

Revenue. For the 2021 fiscal year, total revenue was €43.8bn ($53.4bn, £37.7bn) down 2.6% for the comparative prior year period.
Earnings per share. For the 2021 fiscal year, earnings per share (EPS) was €0.08 ($0.097, £0.068).