Content
What is Twitter?
Twitter is an American social networking, microblogging and online news service where users post and interact with messages known as 'tweets'. Founded in 2006 by CEO Jack Dorsey, and others, in California, Twitter has become a world-renowned platform for public self-expression and conversation in real-time.
The business also offers promoted products and paid advertising to enable individuals and companies to promote their brands, goods and services, as well as, amplify their reach and visibility on Twitter's network. As of October 2021, Twitter had over 206 million monetizable active users per day, 73 million of which are US-based. Japan and India are the next highest ranked countries.

Twitter trading hours
Twitter stock trading occurs on the NYSE between the hours of 09:30 and 16:00 (EST).
How to trade Twitter CFDs
An individual has two options when commencing in Twitter stock trading. Firstly, they can buy shares in companies on the exchanges where they are listed. For instance, you can buy Twitter stock on the New York Stock Exchange, so you actually own a share in the company. This can be considered a long-term investment, as the individual is usually waiting for the price to rise over time.
Another way to invest in twitter stocks is to trade a contract for difference (CFD) on a particular stock, and speculate on the price difference of the underlying asset, without actually owning it.  A CFD is a financial instrument - typically an agreement between a broker and an investor, where one party agrees to pay the other the difference in the value of a security, between the opening and closing of the trade. You can either hold a long position (speculating that the price will rise) or a short position (speculating that the price will fall). This is considered a short-term investment or trade, as CFDs tend to be used within shorter timeframes, and is an alternative to trading Twitter shares.
Trade Twitter - TWTR CFD
The key difference between trading a long position with a CFD and buying a security is the leverage that is employed. CFDs are traded on margin, which means that a trader can open larger positions with their capital.
CFD trading offers great opportunities with a reliable CFD broker. Sign up at Capital.com and access the most popular global markets via our web platform or our ultimate trading app.
Why trade Twitter CFDs with Capital.com
Advanced AI technology at its core: A Facebook-like News Feed provides users with personalised and unique content depending on their preferences. If a trader makes decisions based on biases, the innovative News Feed offers a range of materials to put him back on the right track. The neural network analyses in-app behaviour and recommends videos, articles, news to polish your investment strategy.
Trading on margin: Providing trading on margin (up to 5:1 for individual equities), Capital.com gives you access to trading Twitter shares with the help of CFDs.
Trading the difference: When trading a Twitter CFD, you don't buy the underlying asset itself, meaning you are not tied to it. You only speculate on the rise or fall of the Twitter stock price. CFD trading is nothing different from traditional trading in terms of strategies. A CFD investor can go short or long, set stop and limit losses and apply trading scenarios that align with their objectives.
All-round trading analysis: The browser-based platform allows traders to shape their own market analysis and forecasts with sleek technical indicators. Capital.com provides live market updates and various chart formats, available on desktop, iOS, and Android.
Focus on safety: Capital.com puts a special emphasis on safety. Licensed by the FCA and CySEC, it complies with all regulations and ensures that its clients' data security comes first. The company allows to withdraw money 24/7 and keeps traders' funds across segregated bank accounts.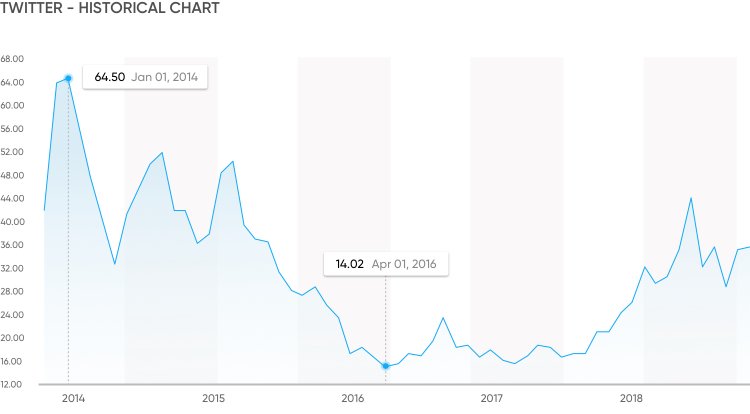 History of Twitter
Twitter started as an idea that Jack Dorsey, the company's founder and CEO, first conceived in 2006 as a side-project to his work. It was originally supposed to be an SMS-based communications platform, where groups of people could stay up-to-date with each other based on status updates, like open texting. Dorsey proposed this idea to Odeo Inc., the company where he was working at the time, and received permission from the co-founders Evan Williams and Biz Stone to spend more time on the project and develop it further.
In March 2007, the completed version of Twitter debuted during the South by Southwest music conference in Texas. The event saw a three-fold expansion of Twitter usage, where more than 60,000 tweets were sent on the day of the conference, marking the start of Twitter's rise to fame. The same year, it grew to 400,000 tweets posted per quarter. In 2008, the figure increased to 100 million tweets per quarter, while in February 2010, Twitter users were sending over 50 million tweets daily.
The service quickly gained popularity and grew a large international fanbase. In 2012, over 100 million users posted more than 340 million tweets daily, with the service handling an average of 1.6 billion search queries per day. In 2013, Twitter was the world's second-largest social network and one of the ten most-visited mobile sites, referred to as "the SMS of the Internet".
Twitter went public through the Initial Public Offering (IPO) in November 2013, where the stock was offered at $26 and closed more than 72% higher that day at $44.90, with an intraday high of $50.09.
On the day of the US presidential election in 2016, Twitter was the largest online source of breaking news, with 40 million election-related tweets sent during that day.
In 2018, Twitter had over 321 million monthly active users. Only a year later, in October 2019, the company reported over 145 million monetizable daily active users. According to Alexa's web traffic analysis, Twitter was ranked the 32nd most visited website globally in mid-September 2019.
In 2020 the company generated $3.7bn of revenue, up 8.8% on the previous year but reported a loss of $1.1bn. 86% of Twitter's revenue came from advertising with just over half coming from the US.  In 2021, with 6.6 billion monthly visitors, Twitter was ranked the world's fourth most visited web site by Visual Capitalist, behind Google, YouTube and Facebook.
FAQ
Who competes with Twitter?

Twitter's biggest competitor, without a doubt, is the social network giant Facebook. With over 2 billion monthly users and being one of the biggest companies in the world in terms of market capitalisation, it is the social network success that all others try to emulate. Snapchat, although a multimedia mobile application as opposed to a social network, remains a key competitor to Twitter. Snapchat is slowly gaining on companies such as Facebook and Twitter, with 166 million daily active users. Instagram, a subsidiary of Facebook - since it was acquired in 2012 - is a desktop and mobile based network that revolves around sharing pictures and videos. Instagram has gained popularity since its launch in 2010, and as of mid-2017, the service has over 700 million users, making it a worthy competitor for Twitter.
Is Twitter a constituent of any popular indices?

Twitter is a constituent of the S&P 500 index.
What factors affect the Twitter (TWTR) share price?

As with any equity, quarterly earnings announcements, as well as the financial performance of the wider stock market are two crucial factors to watch when looking at Twitter stock analysis. Something more specific to Twitter that affects its performance is its monthly active users figure. Monthly active users are a key indicator for traders to watch, because it is a leading indicator of Twitter's growth. The number of additional monthly active users has the power to send the stock price rallying, if it has largely increased, or diving, if it is declining. Other factors include: outperformance; if Twitter outperforms the broader social media sector in the markets, as well as Twitter earnings surprises when it announces its quarterly results - these all affect the Twitter price.