Content
What is shiba inu coin?
The shiba inu (SHIB) cryptocurrency is one of the meme coins that took off with the popularity of dogecoin (DOGE), which was originally created as a satire on the proliferation of crypto coins and tokens.
The Shiba Inu project was launched in August 2020 by an anonymous group of developers based on the same Shiba Inu dog meme as dogecoin and was dubbed the Dogecoin Killer.
SHIB is an ERC-20 token running on the Ethereum (ETH) blockchain. It was created with a total supply of one quadrillion, designed to allow users to hold a large number of tokens and generate high returns on SHIB trading if the price rallies – even if it remains under a penny. As of April 2022, there have been 549 trillion tokens in circulation with a total market capitalisation of $13.4bn (£10.3bn).
When the developers launched the shiba crypto token, 50% of the total one quadrillion supply was locked to the Uniswap (UNI) decentralised exchange (DEX) and the remaining 50% was sent to Ethereum (ETH) creator Vitalik Buterin. Buterin donated more than 50 trillion SHIB tokens – valued at more than $931m – to the India Covid-Crypto Relief Fund. He then burned 410.24 trillion SHIB tokens – worth over $6.7bn – stating that he did not want the responsibility of projects sending large shares of their coins to his wallet.
In August 2021, the development team announced that in response to a request from the community, they were introducing coin burning to the Shiba Inu protocol. Coin burns destroy cryptocurrency coins to remove them from circulation and support prices by decreasing supply and slowing down the rate of inflation.
The developers have created an ecosystem around shiba inu, launching the ShibaSwap decentralised exchange in July 2021 and creating other tokens such as leash and bone.
In October 2021, the project released its first collection of non-fungible tokens (NFTs), called Shiboshis, which sold out in 35 minutes. Holders will be able to use the 10,000 pixel art NFTs in the SHIB Metaverse, announced in March 2022.
We are happy to welcome you to SHIB : The Metaverse. An immersive experience that is positioned to become a massive environment for the #ShibArmy to grow, share, and benefit together.https://t.co/XgdBkEPOnx

— SHIB: The Metaverse (@ShibTheMV) March 30, 2022
Why is shiba inu important to traders and investors?
The SHIB token gained the attention of cryptocurrency traders as it soared in popularity among small investors looking to make large returns by investing in a token from its early stages with the price well below $0.01.
The popularity of dogecoin (DOGE) sparked high liquidity in memecoins and the launch of shiba inu has been followed by a range of other tokens based on the Shiba Inu dog meme, including floki inu (FLOKI), dogelon mars (ELON) and king shiba inu (KSHIBINU).
The developers describe the SHIB token as "a decentralised meme token that evolved into a vibrant ecosystem" that has strong community support. At its height, SHIB overtook DOGE based on market capitalisation as the community rallied support for investing in the token. At the time of writing, 18 April, SHIB has been rated the second-largest meme token after DOGE, according to CoinMarketCap.
The extreme volatility in the shiba cryptocurrency price poses both opportunities and risks for investors. The sharp swings in the shiba inu coin value create the potential for outsized gains for traders who buy it when it falls and sell when the price spikes. But the sharp falls also mean that traders could lose a large part of their investment.
Shiba inu's price drivers
The key drivers for the shiba inu coin performance include hype surrounding meme coins and specifically dog-themed tokens, social media posts from prominent supports such as Tesla (TSLA) CEO Elon Musk, changes to the protocol such as the coin burn and launch of NFTs, as well as overall cryptocurrency price trends.
The SHIB token price initially peaked during the May 2021 cryptocurrency market rally as dog-themed coins gained in popularity, the shiba inu coin chart history shows. The price plunged during the subsequent selloff but made gains when the coin burn was announced in August 2021 and reached an all-time high in October 2021 before coming under pressure. The price dropped in line with the broader markets heading into 2022.
Shiba inu price history: Major price swings
The shiba inu coin attracted attention from the cryptocurrency community and beyond when the SHIB/USD rate soared from $0.000000000133 at the end of 2020 to $0.0000388 on 10 May 2021, a gain of 29,172,832%.
The shiba inu historical price shows that when the markets crashed the price dropped back to $0.00000928 by the end of May 2021 and reached a low of $0.00000571 on 29 July as the markets bottomed out.
The shiba token price rallied in response to the coin burn, climbing from a low of $0.00000629 on 7 August to a high of $0.00000947 on 16 August for a gain of over 50% in just over a week, according to SHIB historical data. The price then retreated to $0.000007 by the end of September.
SHIB rallied again to a new all-time high of $0.00008685 on 27 October, following a tweet from Elon Musk that drove up interest in the token and on speculation that it would be listed on the popular Robinhood (HOOD) trading platform.
However, when asked how many shiba inu coins Elon Musk holds, his answer was "none". The token quickly sold off and moved back down to $0.00004 in early November, even as other cryptocurrencies put in fresh highs. SHIB continued to retreat, ending 2021 at $0.00003341 and dropping to $0.00001884 on 24 January when the wider markets also dropped to their lowest levels in several months. The SHIB price spiked to $0.00003493 in early February but subsequently stabilised in the $0.00002 – $0.00003 range.
Eventually, cryptocurrency coin shiba was listed on the Robinhood platform on 12 April 2022, together with solana (SOL), polygon (MATIC) and compound (COMP). The SHIB price gained 20% on the news.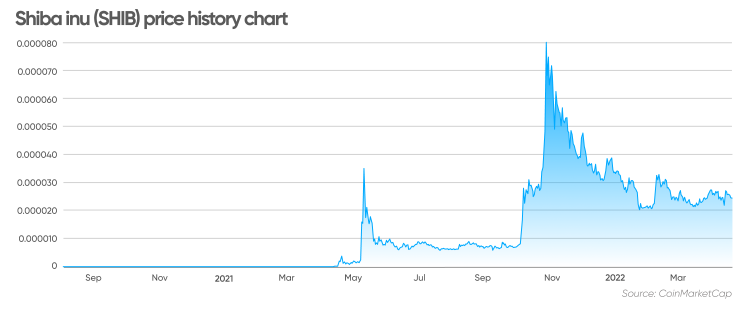 Shiba inu future
The future of shiba inu coin will depend on whether dog-themed coins can retain their popularity and continue to drive price volatility. It will also depend on shiba inu's potential applications in the metaverse and the popularity of its NFTs.
The strong community behind the SHIB ecosystem could see the project continue to grow, but there is also a risk that the hype around dog-themed coins could fade or move on to other meme coins.
SHIB is not accepted as a payment method as widely as dogecoin, but it is gaining support, such as from US cinema chain AMC, which confirmed on 15 April 2022 that it has started accepting SHIB along with DOGE and other cryptocurrencies, for online payments.
Elon Musk has been an important influence on the SHIB coin value, much as his tweets about dogecoin drove up the value in early 2021 and then crashed the price in May when he referred to it as a "hustle" on the Saturday Night Live show.
The price for the shiba inu token (SHIB) along with dogecoin (DOGE) and shiba floki (FLOKI) spiked on 4 October when Musk tweeted a photo of his Shiba Inu dog in a Tesla on 4 October, causing the hashtag SHIB to start trending.
Shiba inu trading: How to jump in?
If you're interested in how to trade shiba inu, you can buy the token on cryptocurrency exchanges and store it in a digital wallet. It is important to save your private key in a safe place, as without it you will no longer be able to access your crypto, but if it is easily accessible, the coins could be stolen.
Alternatively, you can trade SHIB with contracts for difference (CFDs) with Capital.com. A CFD is a type of contract, typically between a broker and an investor, in which one party agrees to pay the other the difference in the value of an asset between the opening and closing of the trade. CFDs are typically held within shorter timeframes, so could be useful if you're looking to invest in shiba for a short period of time rather than as a long-term addition to your portfolio.
The advantage of using CFDs for shiba coin trading is that you can profit from your position whether the price of the asset rises or falls. You can take a long position if you expect the price to rise, or you can open a short position if you expect the price to fall.
Trade Shiba Inu to US Dollar - SHIB/USD CFD
Why trade shiba Inu coin CFDs with Capital.com
Advanced AI technology at its core: A personalised news feed provides users with unique content depending on their preferences. The neural network analyses in-app behaviour and suggests videos and articles that fit your investment strategy.
Trading on margin: Providing trading on margin (up to 1:2 for cryptocurrencies), Capital.com gives you access to a wide range of popular cryptocurrencies, including meme coin shiba, without requiring a large amount of funds in your account.
Trading the difference: When trading CFDs on cryptocurrency like shiba inu, you don't buy the underlying asset itself, meaning you are not tied to it. You only speculate on the rise or fall of its price. When trading CFDs you can go short or long and set stop and limit losses. CFD trading is similar to traditional trading in terms of its associated strategies. However, CFD trading is short term in nature, due to overnight charges.
All-round trading analysis: The browser-based platform allows traders to shape their own market analysis and forecasts with sleek technical indicators. Capital.com provides live market updates and various chart formats, available on desktop, iOS, and Android.
Focus on safety: Capital.com is authorised and regulated by the CySEC, ASIC and NBRB. Your client data is protected at all times and your funds are securely kept in segregated bank accounts, which you can withdraw 24/7.
FAQs
Is shiba inu a good investment?

Cryptocurrencies are highly volatile markets, especially memecoins like SHIB. It is important to do your own research on a coin or token to determine if it is a good fit for your investment portfolio. Whether shiba inu is a suitable investment for you will depend on your risk tolerance and how much money you intend to trade.
How do you buy shiba inu coin?

You can buy the SHIB token on cryptocurrency exchanges and store it in a cryptocurrency wallet, or you can trade it using contracts for difference (CFDs) to profit from changes in the price direction.