Content
What is Walt Disney Company?
The Walt Disney Company is one of the world's leading providers of entertainment and information services. The premier entertainment firm is a leading diversified international media enterprise, operating through the following business sectors:
Studio Entertainment is the original foundation of the Walt Disney Company. Today, it produces movies, stage plays and music for a global audience. It owns Pixar Animation Studios, Marvel Entertainment and the rights to the Star Wars franchise through George Lucas' Lucasfilm.
Media Networks are now Disney's primary unit. These include a range of television networks, cable channels and TV stations across two divisions – Walt Disney Television and ESPN.
Disney Parks bring Disney's most famous characters to life through rides, experiences, resorts and cruises. They also produce toys, apparel, books and video games.
Direct-to-Consumer and International constitutes a distinct segment of the organisation with responsibility for global content and advertising sales. Includes Disney+ streaming service.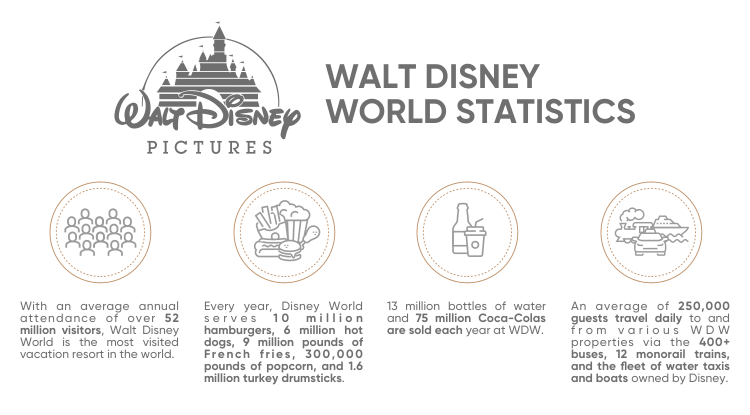 About 90 years after the creation of Walt Disney's famous Mickey Mouse, the company continues to entertain children and adults around the globe. According to Statista.com, Disney is one of the largest companies in terms of market value and is ranked the fourth most reputable company in the world.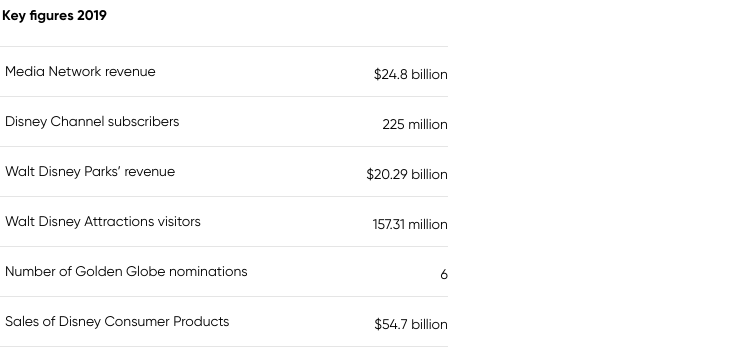 Walt Disney's share price history dates back to 1957, when the company went public. Shares in the entertainment giant are listed and traded on the New York Stock Exchange (NYSE) under the ticker abbreviation DIS. Since 1991, the company has been a constituent of the Dow Jones Industrial Average (DJIA). 

Disney stock trading hours
Disney shares are traded on the NYSE stock exchange according to the regular trading session schedule (EST):
Pre-Market trading hours from 7:00 to 9:30
Market hours from 9:30 to 16:00
After-Market hours from 16:00 to 20:00
If you choose to trade CFDs, you can follow the Walt Disney stock performance live in US dollars with a comprehensive Disney stock price chart on Capital.com:
Monday to Friday from 14:30 to 21:00
How to invest in Disney stock with CFDs?
An individual has two options when trading on the stock market. Firstly, they can buy shares in companies on the exchanges where they are listed. For instance, they can invest in Disney stock on the NYSE stock exchange, so they actually own a share in the company. This can be considered a long-term investment, as the individual is usually waiting for the price to rise over time.
Trade Walt Disney - DIS CFD
Alternatively, they can trade Disney shares through a contract for difference (CFD) and speculate on the price difference of the underlying asset, without actually owning it. A CFD is a financial contract, typically between a broker and an investor, where one party agrees to pay the other the difference in the value of a security, between the opening and closing of the trade. Disney stock trading allows you either hold a long position (speculating that the price will rise) or a short position (speculating that the price will fall). This is considered a short-term investment or trade, as CFDs tend to be used within shorter timeframes.
The key difference between trading a long position with a CFD and buying a security is the leverage that is employed. CFDs are traded on margin, which means that a trader can open larger positions with their capital.
Why trade Disney stock CFDs with Capital.com
Advanced AI technology at its core: A Facebook-like News Feed provides users with personalised and unique content depending on their preferences. If a trader makes decisions based on biases, the innovative News Feed offers a range of materials to put him back on the right track. The neural network analyses in-app behaviour and recommends videos, articles, news to polish your investment strategy.
Trading on margin: Providing trading on margin (up to 5:1 for individual equities), Capital.com gives you access to Disney stock market with the help of CFDs.
Trading the difference: When investing in Disney stock CFD, you do not buy the underlying asset itself, meaning you are not tied to it. You only speculate on the rise or fall of the Walt Disney stock value. CFD trading is nothing different from traditional trading in terms of strategies. A CFD investor can go short or long, set stop and limit losses and apply trading scenarios that align with their objectives.
All-round trading analysis: The browser-based platform allows traders to shape their own market analysis and forecasts with sleek technical indicators. Capital.com provides live market updates and various chart formats, available on desktop, iOS, and Android.
Focus on safety: Captal.com puts a special emphasis on safety. Licensed by the FCA and CySEC, it complies with all regulations and ensures that its clients' data security comes first. The company allows to withdraw money 24/7 and keeps traders' funds across segregated bank accounts.
Walt Disney (DIS) stock history
Disney story began in the early 1920s, when Walt Disney and his brother Roy Disney founded the Disney Brothers Cartoon Studio. By the late 1920s, the world's famous Mickey Mouse cartoons were released.
Success followed in 1930s with a premiere of the full-colour Donald Duck cartoon and the first feature-length animated film "Snow White and the Seven Dwarfs" in 1937. Adjusted for inflation, Snow White brought in around $1.7 billion for the upstart company.
After the release of several award-winning TV shows and films, the Walt Disney Company opened the first Disneyland theme park in 1955. In the 1980s, this division expanded internationally.
Under the leadership of CEO Michael Eisner in 1984, Disney enjoyed an enormous financial and creative renaissance. The company's subsidiaries, including Hollywood Pictures, Buena Vista Distribution, Disney Studios and Touchstone Films showed strong performance alongside the growth in Disney consumer products.
In 1996, the company acquired Capital Cities/ABC for $19 billion, which gave the Walt Disney Company the ability to broadcast its entertainment content on the Internet.
In the 2000s, Disney continued its international expansion, opening successful theme parks and cruise ship lines. In 2006 the company acquired Pixar, the author or "Toy Story", "Finding Nemo" and "Cars". In 2009, the Disney Family welcomed Marvel Entertainment with its famous comic book superheroes. In 2012, Disney bought Lucasfilm gaining control over the legendary "Star Wars franchise. In 2018, the Walt Disney Company acquired 21st Century Fox for $71.3 billion.
Walt Disney stock price history chart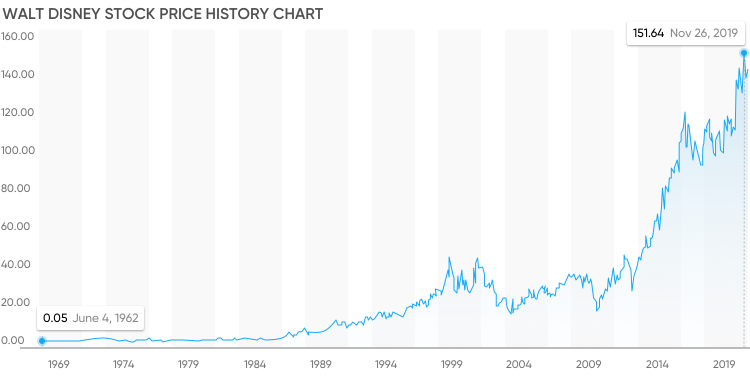 Disney stock trading began over the counter before its official IPO on the New York Stock Exchange (NYSE) in 1957 with a price of $13.88 per share. Throughout its history, Disney has had six stock splits. In 2015 Disney announced its plans to increase dividend payments and started paying it twice a year instead of annually.
The Walt Disney stock has reached its all-time high of 151.64 on November 26, 2019. The latest DIS share price as of February 7, 2020 hovers around 142.68. Several analytical agencies share a bullish view on the Walt Disney stock price forecast 2020 and beyond. To keep on top of the Walt Disney stock price and get the latest Disney stock chart info, stay tuned for updates from Capital.com.
FAQ
What factors affect the Walt Disney stock price?

As with any equity, quarterly earnings announcements, as well as the financial performance of the wider stock market are two crucial factors to watch when deciding how Walt Disney stock will perform.

Reporting its first quarter earnings for fiscal 2020, the Walt Disney Company's CEO Robert A. Iger said, "We had a strong first quarter, highlighted by the launch of Disney+, which has exceeded even our greatest expectations. Thanks to our incredible collection of brands, outstanding content from creative engines and state-of-the-art technology, we believe our direct-to-consumer services, including Disney+, ESPN+ and Hulu, position us well for continued growth in today's dynamic media environment".

According to the latest report, the company beat the key numbers:

Earnings per share: $1.53 vs expected $1.44
Revenue: $20.86 billion vs $20.79
Who are Walt Disney's main competitors?

The largest mass media and entertainment conglomerate Walt Disney has built a diverse empire with a range of lucrative products in a range of different marketplaces.

No wonder that it faces a number of strong competitors across its various markets, including Viacom (VIA), CBS(CBS), Time Warner (TWC), Sony (SNE) and Comcast (CMCSA).

In the entertainment park's market, Disney's major rivals include Six Flags Entertainment (SIX) and Universal Studios and Cedar Fair (FUN).

Regarding Disney's recently launched new streaming service Disney+, its major competitors are Netflix (NFLX) and AT&T's HBO Max.