Content
What is Canopy Growth?
Founded in 2013, Canopy Growth is the world's largest cannabis producing company. Canopy is the first publicly traded cannabis producer in the USA, listed and traded on the Toronto Stock Exchange (TSX) as WEED and on the New York Stock Exchange (NYSE) as CGC.
Described as "Canada's first cannabis unicorn with a $1-billion-dollar valuation", the company operates under several established brands. CGC works as a parent company for licensed marijuana producers Tweed, Tweed Farms and Spectrum Cannabis. 
Canopy Growth is the first cannabis growing company, which is included in a major global stock market index – the S&P/TSX Composite. The company produces cannabis oils and concentrates, softgel capsules and hemp. The company also specialises in research and development of innovative cannabis drug formulations, medically approved vaporizers, cannabis-based pharmaceuticals for domestic and international markets.

Why trade CGC CFDs with Capital.com
Advanced AI technology at its core: A Facebook-like News Feed provides users with personalised and unique content depending on their preferences. If a trader makes decisions based on biases, the innovative News Feed offers a range of materials to put him back on the right track. The neural network analyses in-app behaviour and recommends videos, articles, news to polish your investment strategy.
Trading on margin: Providing trading on margin (up to 5:1 for individual equities), Capital.com gives you access to the stock market with the help of CFDs.
Trading the difference: When trading a CGC CFD, you don't buy the underlying asset itself, meaning you are not tied to it. You only speculate on the rise or fall of the Canopy Growth stock price. CFD trading is nothing different from traditional trading in terms of strategies. A CFD investor can go short or long, set stop and limit losses and apply trading scenarios that align with their objectives.
All-round trading analysis: The browser-based platform allows traders to shape their own market analysis and forecasts with sleek technical indicators. Capital.com provides live market updates and various chart formats, available on desktop, iOS, and Android.
Focus on safety: Captal.com puts a special emphasis on safety. Licensed by the FCA and CySEC, it complies with all regulations and ensures that its clients' data security comes first. The company allows to withdraw money 24/7 and keeps traders' funds across segregated bank accounts.
Canopy Growth trading hours
WEED shares are traded on the Toronto stock exchange (TSX) according to the regular trading session schedule from 9:30 to 16:00(GMT-05:00). Canopy Growth shares are also traded on the NYSE according to the following trading hours:
Pre-Market trading hours from 4:00 to 9:30
Market hours from 9:30 to 16:00
After-Market hours from 16:00 to 20:00
If you choose to trade CFDs, you can follow the Canopy Growth (CGC) stock price live in US dollars with the comprehensive CGC stock chart on Capital.com:
Monday to Friday from 14:30 to 21:00
How to trade Canopy Growth shares?
An individual has two options when trading in the stock market. Firstly, they can buy shares in companies on the exchanges where they are listed. For instance, you can trade Canopy Growth stocks on the TSX and NYSE, so you actually own a share in the company. This can be considered a long-term investment, as the individual is usually waiting for the price to rise over time.
Alternatively, they can trade a contract for difference (CFD) on a particular marijuana stock, and speculate on the price difference of the underlying asset, without actually owning the asset. A CFD is a financial contract, typically between a broker and an investor, where one party agrees to pay the other the difference in the value of a security, between the opening and closing of the trade. You can either hold a long position (speculating that the price will rise) or a short position (speculating that the price will fall). This is considered a short-term investment or trade, as CFDs tend to be used within shorter timeframes.
The key difference between trading a long position with a CFD and buying a security is the leverage that is employed. CFDs are traded on margin, which means that a trader can open larger positions with their capital.
Trade CFDs on Canopy Growth shares with Capital.com. Sign up at Capital.com to use our desktop platform, or download our mobile app to start trading on the most popular global markets anywhere, anytime. 
Trade Canopy Growth Corporation - WEED CFD
History of Canopy Growth
Founded in 2013 as Tweed Marijuana by Bruce Linton and Chuck Rifici, the company became the first publicly traded and federally regulated marijuana producer in the USA. In 2015 the company got a new name – Canopy Growth Corporation.
Since 2017 the company has been listed and traded on the  Toronto Stock Exchange (TSX) under the ticker symbol WEED. In May 2018, Canopy Growth started trading on the New York Stock Exchange as CGC and became the first marijuana producer on the NYSE. 
In August 2018, Constellation Brands -a leading international producer of beer, wine and spirits – invested C$5 billion (US$3.8 billion) in Canopy Growth. The company's CEO Bruce Linton claimed that these funds will aid the company's further international expansion. After the deal with Constellation was officially announced, Canopy Growth's market value rose to almost US$12 billion.
In October, Linton was awarded the "2018 CEO of the Year" by the Ottawa Business Journal and Canopy's market capitalisation exceeded US$14 billion.
2019 has been a difficult year for the cannabis giant. Canopy Growth faced with mounting losses as sales of recreational and medical marijuana missed experts' forecasts. Over the past 12 months, Canopy Growth stock fell by more than 52%, dramatically underperforming the S&P 500. In the latest quarter, Canopy's stock slid immediately after the earnings report, which revealed a surprising decline in revenue.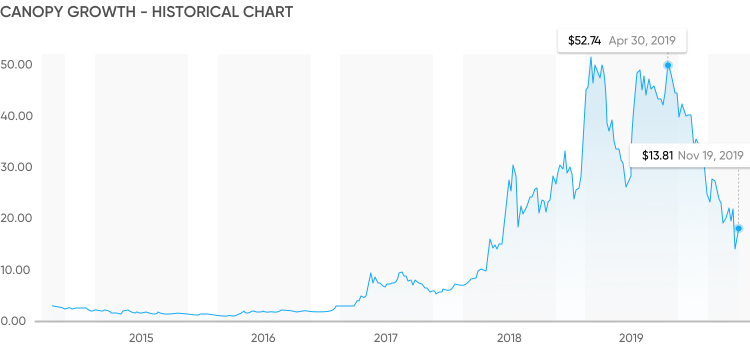 FAQ
What factors affect the CGC stock price?

As with any equity, quarterly earnings announcements, as well as the financial performance of the wider stock market are two crucial factors to watch when deciding how CGC stock will perform.

With further moves towards marijuana legalisation, CGC stock price forecast shows a good potential for future growth. The world's largest marijuana stock, based on market capitalization and the value of shares, Canopy Growth enjoys very strong long-term projections in the global legal cannabis industry.
Who are Canopy's main competitors?

With many countries finally saying YES to cannabis, marijuana stocks draw the attention of traders globally. With some viewing cannabis legalisation as just a matter of time, Canopy Growth and its peers may provide good trading opportunities. The three major Canopy's competitors include:

The company produces and distributes medicinal cannabis products. It operates in 19 countries across five continents.

Tirlay was the first company to legally export medical cannabis from North America to New Zealand and Australia.

The company produces a range of high-quality, safe and pure medical marijuana and cannabis oil products.