Content
Why is BioNTech important to traders?
A German biotechnology company, BioNTech defines itself as a "next generation immunotherapy powerhouse pioneering individualised immunotherapies". 
The company combines ground-breaking research efforts and innovative technologies to develop and produce effective individualised therapeutics for treatment of oncology and other rare and infectious diseases. 
BioNTech aspires to become the world's leading pharmaceutical company for individualised cancer treatment. By 2020, BioNTech had more than 440 patients treated across 17 types of tumour. The company is also developing tuberculosis and HIV programmes, working on vaccine and immunotherapy candidates for prevention of these severe diseases.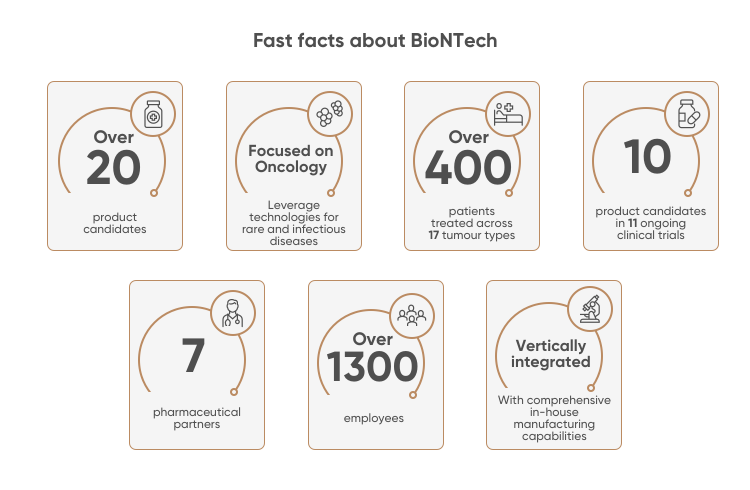 In 2018, BioNtech partnered with the leading US-based pharmaceutical company Pfizer to develop mRNA-based vaccines for preventing influenza. 
The partnership went further and the two companies eventually led the Covid-19 vaccine rally, having announced that their Covid-19 vaccine candidate, based on BioNTech's mRNA technology, showed almost 90 per cent effectiveness in Phase 3 clinical studies.
The development of Covid-19 vaccine and its possible adoption worldwide drew traders' attention to BioNTech stock, along with Pfizer, Moderna and AstraZeneca. 
BioNTech share price is set and traded on the NASDAQ stock exchange. The BNTX stock went public through a $150m IPO in October 2019. 
BioNTech stock trading hours
If you choose to trade CFDs, you can follow the BioNTech (BNTX) stock performance live in US dollars with the comprehensive BioNTech stock price chart at Capital.com:
Monday to Friday from 14:30 to 21:00.
This gives you plenty of time to monitor the company's activity and keep an eye out for any events that may affect short-term movements in the BioNTech stock value.

How to trade BioNTech shares with CFDs
An individual has two options when trading in the stock market. Firstly, they can buy shares in companies on the exchanges where they are listed. For instance, investing in BioNTech stocks on the NASDAQ you actually acquire a share in the company. This can be considered a long-term investment, as the individual is usually waiting for the price to rise over time.
Alternatively, they can trade a contract for difference (CFD) for the BioNTech stock market price, and speculate on its difference without actually owning the asset. A CFD is a financial contract, typically between a broker and an investor, where one party agrees to pay the other the difference in the value of a security, between the opening and closing of the trade. 
You can either hold a long position (speculating that the price will rise) or a short position (speculating that the price will fall). This is considered a short-term investment or trade, as CFDs tend to be used within shorter timeframes.
The key difference between BNTX share trading through a long position with a CFD and buying a security is the leverage that is employed. CFDs are traded on margin, which means that a trader can open larger positions with their capital.
You can trade BioNtech stock with CFDs right now. Just sign up at Capital.com and use our advanced web platform or download the best-in-class investment app to trade on the go. It will take you just three minutes to get started and access the world's most traded markets.
Why trade BioNTech CFDs with Capital.com
Advanced AI technology at its core A Facebook-like News Feed provides users with personalised and unique content depending on their preferences. If a trader makes decisions based on biases, the innovative News Feed offers a range of materials to put you back on the right track. The neural network analyses in-app behaviour and recommends videos, articles, news to polish your investment strategy.
Trading on margin. Providing trading on margin (up to 5:1 for individual equities), Capital.com gives you access to the BioNTech shares trading with the help of CFDs.
Trading the difference. When you invest in BioNTech shares with CFDs, you don't buy the underlying asset itself, meaning you are not tied to it. You only speculate on the rise or fall of the BioNTech stock performance. CFD trading is nothing different from traditional trading in terms of strategies. A CFD investor can go short or long, set stop and limit losses and apply trading scenarios that align with their objectives.
All-round trading analysis. The browser-based platform allows traders to shape their own market analysis and forecasts with sleek technical indicators. Capital.com provides live market updates and various chart formats, available on desktop, iOS, and Android.
Focus on safety: Сapital.com puts a special emphasis on safety. Licensed by the FCA and CySEC, it complies with all regulations and ensures that its clients' data security comes first. The company allows you to withdraw money 24/7 and keeps traders' funds across segregated bank accounts.
BioNTech share price history
BioNTech stock price history started in October 2019, when the company went public on the NASDAQ. In its initial public offering BioNTech sold 10 million American depositary shares (ADS) at $15 per share, valuing it at $3.39bn. 
The BioNTech's stock rally began after the company got involved in the coronavirus vaccine race. In March 2020, when the global Covid-19 pandemic was in full swing, the company started working on its vaccine candidate together with its long-term partner Pfizer.
Having started at $15, BNTX stock managed to surge up to $129 on December 11, 2020, which is an impressive momentum of 760 per cent in less than 1.5 years. 

Is BioNTech stock a good investment? 
While the Covid-19 is not conquered yet, 2021 promises to be huge for all the vaccine producers, including BioTech. The approval of the BioNTech-Pfizer vaccine is a very important milestone for the company. Serving as the major BNTX price driver, it can significantly increase BioNTech's popularity among investors and traders. 
It signifies the launch of BioNTech's first marketed product that will bring profit, while all other 28 programmes are still under preclinical or Phase 1 studies. The vaccine success will also serve as a proof of mRNA technology's effectiveness, which is extremely important as BioNTech uses it in the majority of its products.
The successful performance during the year and prospects to save the world from the coronavirus pandemic contributes to a positive BioNTech stock forecast next year and beyond. 
With Capital.com's streaming BioNTech stock chart, you can quickly view the price of BNTX stock in real time and trace the best levels to open a profitable CFD trade. 
FAQ
Who are BioNTech's main competitors?

Among BioNTech's major competitors we can define the following brands:

AstraZeneca is a British-Swedish international biopharmaceutical company, headquartered in Cambridge. The company has a portfolio of treatments of major diseases, including cancer, gastrointestinal, cardio, infection, respiratory and other areas. The company has developed its own vaccine against Covid-19, which is now being tested and widely discussed in the media.

Moderna is a US-based clinical-stage biotechnology company, specialising in drug research and development, as well as vaccine technologies based on messenger RNA (mRNA). The company's Covid-19 vaccine candidate, mRNA-1273, showed the efficiency of 94 per cent during Phase 3 clinical studies.

Gilead Sciences is an American biopharmaceutical company. Its portfolio includes medicines for HIV prevention and treatment. They also produce medical products serving to cure cardiovascular, oncological and other severe diseases. Today, the company is well-known as the producer of antiviral drug Remdesivir, used as a treatment for Covid-19. However, it was found inefficient according to the recent study by the WHO.
What factors affect the BioNTech share price?

As with any equity, quarterly earnings announcements and the financial performance of the wider stock market are two crucial factors to watch when deciding how BioNTech stock will perform.

Commenting on the company's performance and financial results for the third quarter of 2020, Ugur Sahin, BioNTech's CEO, said: "We have initiated the first rolling regulatory submission processes for our Covid-19 vaccine programme in the EU, the UK and Canada and we are continuing to work with our partners to scale-up production capacity to prepare for a potential global launch of our Covid-19 vaccine, if approved. Besides the significant progress with BNT162, we have also continued to advance our broad oncology pipeline of 11 clinical stage therapies across four distinct drug classes. This week, we also highlighted single-agent clinical data from our ongoing Phase 1/2 trial for our next generation checkpoint immunomodulator, BNT311 – partnered with Genmab – which we believe could have potential across a range of solid tumours. We believe the prospects for the company have never been brighter."

Revenue. For the period of nine months ended September 30, 2020, total revenue was €136.9m, compared to €80.6m for the comparative prior year period.

Loss per share. For the period of nine months ended September 30, 2020, loss per share was €1.51, compared to €0.59 for the same period in 2019.