Content
What is Advanced Micro Devices?
Founded in 1969, Advanced Micro Devices (AMD) is now one of the world's leaders in the high performance microprocessor industry. Based in Santa Clara, California, AMD is unique among the leading semiconductor players in that it specialises in the development of both computer processors and graphics technology for consumer markets and businesses.
Advanced Micro Devices is the second-largest producer of microprocessors and the only significant rival to Intel. Since the acquisition of ATI in 2006, AMD and NVIDIA have been dominating the dedicated Graphics Processing Unit (GPU) market.  Analyst firm AMR projects the overall GPU sector which includes PCs to be growing at 33.6% CAGR to be worth $200bn by 2027.
AMD's major products include microprocessors and integrated circuits, graphics and embedded processors for servers, personal computers and workstations, motherboard chipsets, flash memories, products for communications and networking applications.

Advanced Micro Devices trading hours
AMD shares are traded on the NASDAQ stock exchange according to the regular trading session schedule (EST):
Pre-market trading hours from 4:00 to 9:30
Market hours from 9:30 to 16:00
After-market hours from 16:00 to 20:00
If you choose to trade CFDs, you can follow the Advanced Micro Devices stock price live in US dollars with the comprehensive AMD stock price chart on Capital.com:
Monday to Friday from 14:30 to 21:00
How to trade Advanced Micro Devices CFDs
An individual has two options when trading in the stock market. Firstly, they can buy shares in companies on the exchanges where they are listed. For instance, you can invest in AMD shares on the NASDAQ stock exchange, so you actually own a share in the company. This can be considered a long-term investment, as the individual is usually waiting for the price to rise over time.
Alternatively, they can trade a contract for difference (CFD) on a particular stock, and speculate on the price difference of the underlying asset, without actually owning the asset. A CFD is a financial contract, typically between a broker and an investor, where one party agrees to pay the other the difference in the value of a security, between the opening and closing of the trade.
You can either hold a long position (speculating that the price will rise) or a short position (speculating that the price will fall). This is considered a short-term investment or trade, as CFDs tend to be used within shorter timeframes.
Trade Advanced Micro Devices Inc - AMD CFD
The key difference between trading a long position with a CFD and buying a security is the leverage that is employed. CFDs are traded on margin, which means that a trader can open larger positions with their capital.
You can trade AMD CFDs right here, right now. Just sign up at Capital.com and use our advanced web platform or download the best-in-class investment app to trade on the go. It will take you just 3 minutes to get started and access the world's most traded markets.
Why trade AMD CFDs with Capital.com
Advanced AI technology at its core: A Facebook-like News Feed provides users with personalised and unique content depending on their preferences. If a trader makes decisions based on biases, the innovative News Feed offers a range of materials to put him back on the right track. The neural network analyses in-app behaviour and recommends videos, articles, news to polish your investment strategy.
Trading on margin: Providing trading on margin (up to 5:1 for individual equities), Capital.com gives you access to the stock market with the help of CFDs.
Trading the difference: When trading an AMD CFD, you don't buy the underlying asset itself, meaning you are not tied to it. You only speculate on the rise or fall of the AMD stock price. CFD trading is nothing different from traditional trading in terms of strategies. A CFD investor can go short or long, set stop and limit losses and apply trading scenarios that align with their objectives.
All-round trading analysis: The browser-based platform allows traders to shape their own market analysis and forecasts with sleek technical indicators. Capital.com provides live market updates and various chart formats, available on desktop, iOS, and Android.
Focus on safety: Capital.com puts a special emphasis on safety. Licensed by the FCA and CySEC, it complies with all regulations and ensures that its clients' data security comes first. The company allows to withdraw money 24/7 and keeps traders' funds across segregated bank accounts.
AMD share price history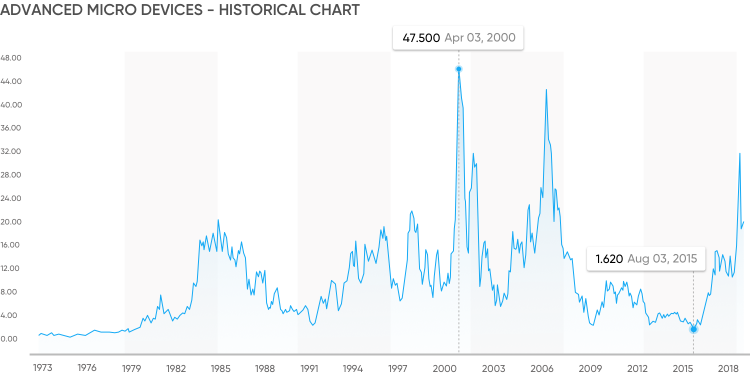 History of Advanced Micro Devices
Advanced Micro Devices (AMD) was founded in 1969 and produces computer processing technologies for business and consumer markets. The company was incorporated with $100,000 and specialised in building semiconductors for the electronics industry.
In September 1972, the company went public, selling 525,000 shares at $15 per share, bringing in $7.87 million. By the end of its fifth year, AMD was making $26.5 million in annual sales.
In 1979, the company debuted on the New York Stock Exchange. In 1985, AMD was listed in the Fortune 500 for the first time and developed its first graphics controller and graphics board product.
Finding new ways to compete, AMD broadened its "spheres of influence" and started producing microprocessors compatible with IBM computers, programmable logic devices, high-performance memories and networking and communication chips. In March 1991, AMD launched new versions of the Am386 microprocessor family, which broke Intel's monopoly. In 1997, the company had a breakthrough by making a microprocessor that would be affordable for the average everyday home user.
Ever since its inception, the company has been continuously growing and developing in leaps and bounds, while actively taking market share from its rival Intel in PCs and servers.
In 2006, it acquired ATI Technologies and its graphics chipset technologies. Two years later it spun off its manufacturing operations letting it focus on chip design.
In 2014, Dr Lisa Su, the chief operating officer, was appointed as chief executive and president. 
In May 2019, AMD celebrated its 50th anniversary. A few months later the company launched its second-generation EPYC processors for data centres, later announcing that Alphabet's (GOOGL) Google and Twitter (TWTR) have joined the roster of customers adopting this innovation. Other industry's big names using the new EPYC chips include Microsoft (MSFT), Hewlett Packard Enterprise (HPQ) and Dell Technologies (DELL).
In September 2020, AMD announced the availability of its new Ryzen Pro 3000 series processors, which Lenovo and HP plan to utilise in their business PCs available for sale in the fourth quarter.
The next month Microsoft announced that it will use a custom AMD processor in one of its new Surface Laptop 3 notebook computers. Later that month it announced the $35bn acquisition of Xilinx, a specialist in programmable logic devices.
In the second quarter of 2021, AMD reported revenues of $3.85bn – a 99% jump compared to the company's reported figure for the same period a year earlier. Total revenues were $7.29bn during the first half of 2021, compared to $3.72bn for the first two quarters of 2020.
For the fourth quarter, the business expects to generate sales of $2.1 billion, up about 48% year over year.
In May 2021, the company announced that it will buy back $4bn of its stock, deploying $256m for that purpose, to date – effectively buying back 3.2 million shares during the second quarter of the year.
A global shortage of chips through 2020/21 had a marked effect on sales which doubled in the second quarter of 2021to $3.85bn boosting the share value to $118 and a market capitalisation of $120bn.
FAQ
Is AMD a constituent of any popular indices?
What factors affect the AMD stock price?

As with any equity, quarterly earnings announcements and the performance of the wider stock market are two crucial factors to consider when predicting how AMD stock will perform.

In 2018, AMD shares were considered one of the best performing among the chip manufacturers in the S&P 500 index, with skyrocketing sales that were supported by the success of AMD's graphics, computing and enterprise hardware.

On October 29, 2019, the company presented its third-quarter earnings report, where AMD earned an adjusted $0.18 a share on sales of $1.8 billion. On a year-over-year basis, AMD earnings surged 38%, while sales rose 9%.

Commenting on the company's financial report, Dr Lisa Su, AMD president and CEO, has said: "Our first full quarter of 7nm Ryzen, Radeon and EPYC processor sales drove our highest quarterly revenue since 2005, our highest quarterly gross margin since 2012 and a significant increase in net income year-over-year."

For the fourth quarter, the business expects to generate sales of $2.1 billion, up about 48% year on year.
Who are AMD's main competitors?

Companies in the semiconductor industry are always in a race for smaller, cheaper and faster chips. Intel is the first and the largest competitor of AMD. The company is the world's leader in supplying integrated digital technology platforms. The second AMD rival is IBM. Semiconductors represent only one piece of the company's business - however, it continues to invest large amounts of money in chip technology. NVIDIA, another prominent AMD competitor, specialises in chips for gaming and graphics. Since 2006, when AMD acquired ATI, the two companies have established a duopoly in the high-performance GPU market.