Top 5 NFTs: What are the top tokens by market cap?
Subscribe to Weekly Highlights
The major market events for the week ahead right in your inbox.
Subscribe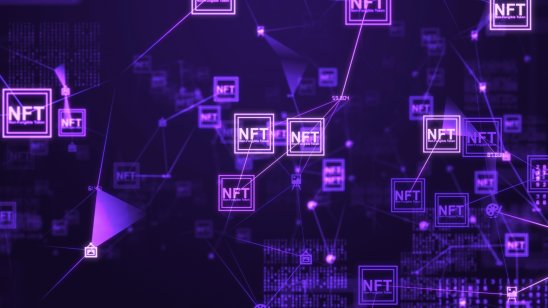 Content
Sales of non-fungible tokens (NFTs) took off in 2021 and soared to an all-time high, based on the number of sales, hitting a peak on 29 August with $411m.
Sales by value totalled $15.57bn in 2021 and rose above $160m on 31 January 2022, data from NonFungible.com showed.
Then interest declined into March before a $121m spike on 7 March, then another of $102m on 17 March. This week (26 April) however the excitement appears to have died down with total sales at around $54m.
Interestingly in April the number of sales was rising while the total value of sales was falling. On 26 April there were 42,792 sales to generate that $54m. In March 13,000 sales produced $102m of sales,
NFTs are tokens that run on smart contracts on a blockchain and represent digital or physical assets. They can be used to authenticate works of art, create limited edition collectibles or represent characters in game universes.
Digital art collections such as Bored Ape Yacht Club and CryptoPunks, metaverse games such as Axie Infinity and Sandbox and sports collectibles such as NBA Top Shots were among the most popular NFTs of 2021 as investors sought to profit from the craze.
Prices for NFTs can range from a few dollars to millions of dollars for the highest priced NFTs. The most expensive NFT collection to date is Merge by artist Pak, which sold more than 300,000 units over 48 hours in December for a total of $91.8m.
The single highest-priced image is Everydays: The First 5000 Days by artist Beeple, the first NFT sold by auction house Christie's, which changed hands for $69.3m in March.
Like many cryptos the NFT tokens took a hit during the recent flash crash but over this last week (up to 6 April) a wave of negative sentiment has hit the crypto space and they have all taken a hit.
Are you interested in gaining exposure to the NFT market in your investment portfolio? One way to invest in NFTs is to watch the cryptocurrency coins or tokens used for popular collections.
Top 5 NFTs: Largest tokens by market cap
Based on total market capitalisation on 28 April 2022, the five largest NFT-related tokens are Decentraland's MANA, Axie Infinity's AXS, The Sandbox's SAND, Theta Network's THETA, and the ApeCoin (APE). Let's take a look at each one.
1. ApeCoin (APE)
ApeCoin is another ethereum based ERC-20 governance and utility token used within the APE Ecosystem including the Bored Ape Yacht Club to empower and incentivise a decentralised community building in Web3. It has shot up 30% in the last week to take top spot.
ApeCoin holders govern themselves via the decentralised governance framework controlling the ApeCoin DAO, and vote on how the ApeCoin DAO Ecosystem Fund should be used. The APE Foundation administers proposals agreed upon by ApeCoin holders.
The coin has no real function currently except within membership of the ApeCoin DAO although the roadmap suggests this may change in future.
Its price peaked in March at $17.75 shortly after its introduction but since then has drifted downwards to today's (28 April) price of $20.36 up 7% on the day.
2. Decentraland (MANA)
Decentraland is a virtual world, or metaverse, where users interact through augmented reality, virtual reality and the internet. Parcels of land in the Decentraland metaverse are sold as NFTs that provide proof of ownership. Land owners can create concert stages, hotels, casinos and other venues, and then sell access to events.
The MANA cryptocurrency is an Ethereum-based ERC-20 token used in Decentraland. Holders use it to buy land and other metaverse assets, as well as to participate in governance.
Decentraland has attracted high-profile investments. The government of Barbados became the first nation to open a metaverse embassy in Decentraland in November, while in December, Tokens.com subsidiary Metaverse Group bought the most expensive piece of virtual real estate to date, paying $2.4m for space in Decentraland that it intends to use for digital fashion shows and e-commerce.
The MANA price skyrocketed in late November along with other metaverse-related tokens, jumping from less than $1 in late October to a peak of $5.90 on 25 November. The token ended 2021 having gained more than 4,000% in value from the start of the year.
Today, 28 April, with a price of $1.84 MANA has dropped 14% allowing ApeCoin to usurp it.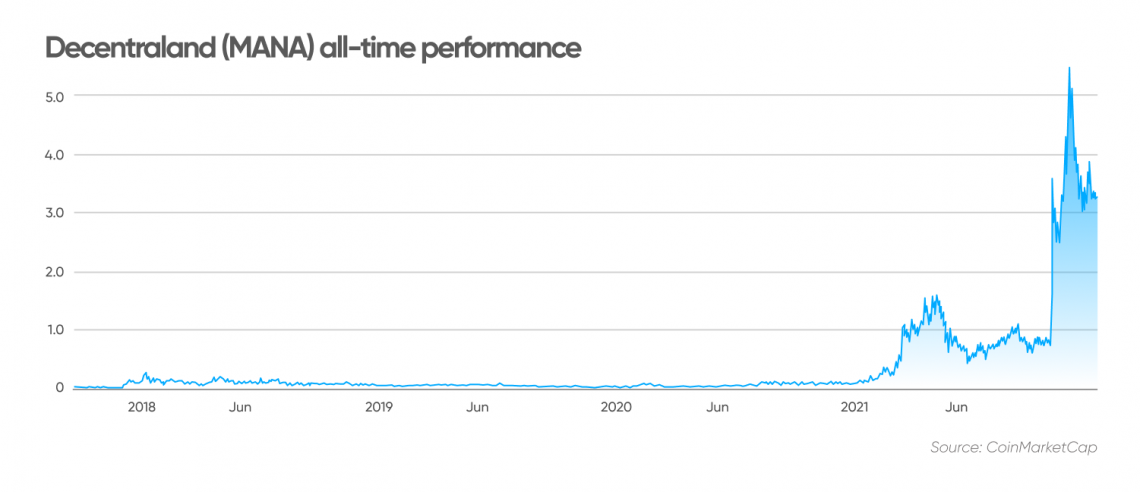 3. The Sandbox (SAND)
The Sandbox is also a virtual world where users can monetise their gameplay. Players can create NFTs known as ASSETS and integrate them into games using the Sandbox Game Maker. They can also upload them to the Sandbox marketplace for trading.
Sandbox users buy land, which they can then populate with games and NFTs. SAND is an ERC-20 Ethereum-based utility token used in the Sandbox metaverse. Players can earn SAND from playing games and use it to acquire ASSETS, play games, customise their avatars or buy equipment to enhance their gameplay. They can also stake the tokens to earn rewards and participate in governance decisions.
Like MANA, the SAND token soared in value in November, rising from around $0.75 in late October to a high of $8.44 on 25 November. The token returned more than $16,000% in 2021.
SAND grew well in to February but as the month wore on the price was worn down dropping 35% since a peak on 8 February but it is still hanging on to second spot from AXS. Today, 28 April, it is priced at $2.54 giving it a market capitalisation of $2.95bn.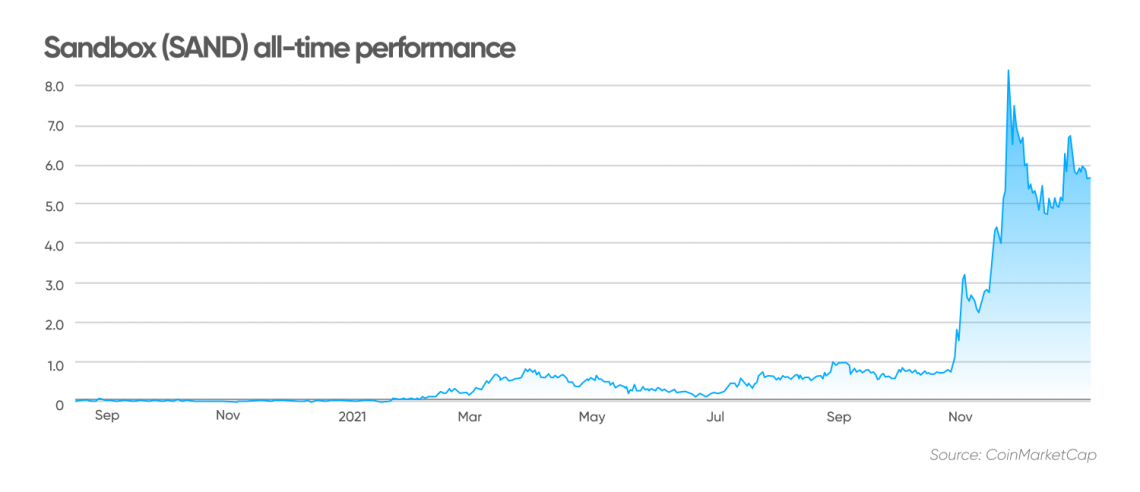 4. Theta Network (THETA)
Theta launched NFTs in January 2021 as part of its strategy to become a leading blockchain infrastructure network for the media and entertainment industry. Theta Network is expanding from video, data delivery and computing to offer decentralised storage of digital assets, with a focus on video-on-demand, NFTs and other digital collectibles.
Theta Network has long-term relationships with partners that are now building NFTs on the blockchain, incorporating NFT drops as part of live experiences and fan rewards. In June 2021 singer Katy Perry acquired a stake in developer Theta Labs and in December she launched her first NFT collection on the network.
Theta plans to launch a cross-chain bridge to the Ethereum blockchain for decentralised exchanges, applications and NFTs in the first quarter of 2022, enabling holders to transfer their assets. It also plans to launch its TDROP decentralised governance token in the first quarter. The THETA token is currently used for governance and staking validator or guardian nodes. TFUEL is the network's native token for transactions.
The THETA price peaked in April, during the cryptocurrency rally in the first half of the year, climbing from $1.86 at the start of January to $15.90 on 16 April. The price fell back as the markets retreated, but while other coins rallied again and made fresh highs, the THETA price remained at a lower level. It ended the year at $4.71, for an overall 2021 gain of 153%.
THETA is now (28 April) struggling to keep pace with the leaders. This week it has dropped 20% and in a tight competion for third, fourth and fifth places in our league.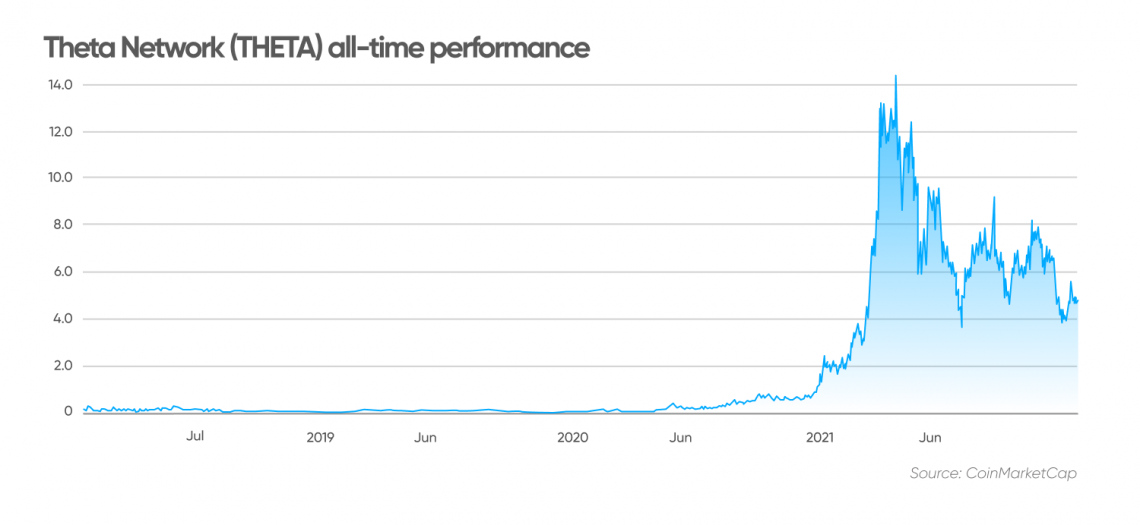 5. Tezos (XTZ)
There is a fight for the fifith and final spot in our league which Tezos has taken back as Axi Infinity slips out of the Top 5.
Tezos is a self-amending cryptocurrency ledger that can upgrade itself using a functional module that does not require a hard fork, or split, in the blockchain to introduce new functionality.
Tezos is one of the open source blockchains that supports NFTs and its XTZ token has gained value as the network has attracted prominent partnerships for some of the most promising NFTs. The XTZ price spiked following a network upgrade in early October, reaching an all-time high of $9.18 on 4 October.
The XTZ price spiked again in early December when games publisher Ubisoft announced it will enter the NFT market using Tezos. NFT marketplace Rarible integrated with the Tezos blockchain, its third after Ethereum and Flow, so that Tezos NFTs are now available for trading on the platform. The XTZ price ended 2021 with a 115% gain for the year.
XTZ had put on a good show in response to the sector's recent difficulties. As March passed the positive sentiment saw it pass $4 but into April that sentiment has turned and the price has fallen to today's (6 April) value of $3.55. This put XTZ back in sixth place some $60m behind ApeCoin in market capitalisation.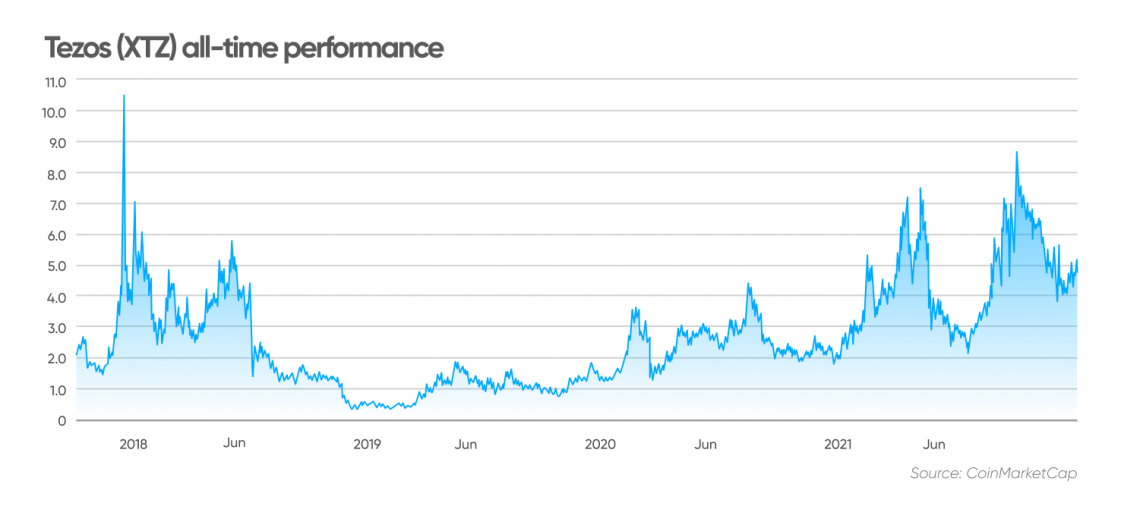 Axie Infinity (AXS) - bubbling under
Axie Infinity has become one of the most popular play-to-earn metaverse games, in which players receive cryptocurrency tokens as rewards for their gameplay and can exchange them for other currencies on exchanges. Players collect, trade and battle with NFT characters known as Axies in the game's metaverse.
New players need to buy three Axies to be able to enter the game. As they are among the top sold NFTs the price of Axies has climbed, so owners have started lending their Axies to new players to earn tokens on their behalf, which they then share between them.
Axie Infinity was built on the Ethereum blockchain, but as the popularity of the game has grown, development team Sky Mavis has built the Ronin sidechain to process transactions, reducing fees and speeding up processing times.
Axie Infinity has two cryptocurrencies – Axie Infinity shards (AXS) and smooth love potion (SLP). SLP is used to breed new Axies, while AXS is the governance token that allows holders to participate in votes on the development of the game metaverse. Holders can stake their AXS tokens to earn rewards. They can also earn them for playing games within the metaverse.
The AXS price climbed over the summer and peaked at a high of $165.37 on 6 November. The token soared by more than 17,000% in value in 2021 overall.
Alas 2022 has been less kind to AXS. Its price has been falling since its peak in November and has slipped out of the list for now. Its price today, 28 April, of $39.43 is 58% off its 2022 high in January.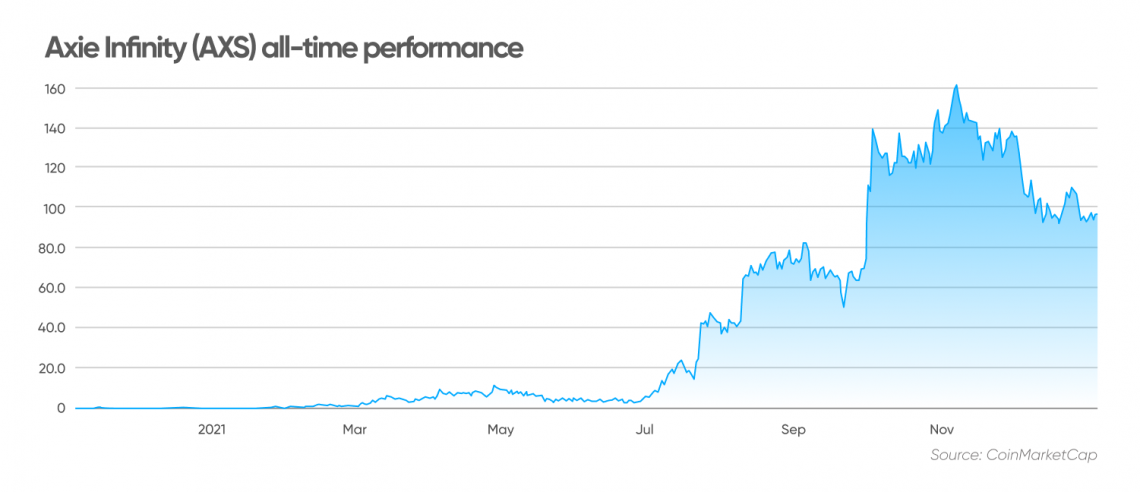 Collectible NFTs became a hot topic in 2021 and have a potential to remain one of the crypto trends of 2022. With the value of some NFT collections surging to millions of dollars, they have become popular among investors looking to profit from future sales.
Still, there is a risk that NFTs' value could fall if their popularity wanes. Whether NFTs are a suitable asset for your portfolio will depend on your risk tolerance and financial circumstances. You should do your own research before making any investment decision and never invest money you cannot afford to lose.
FAQs
Are NFTs a good investment?

Despite the ongoing popularity of NFT projects, crypto tokens are highly volatile, which makes them risky investment options.
Can you make money with NFTs?

Investors have made money by buying NFTs and selling them when their value rises, certainly. But this is a high-risk investment as the value of NFTs is highly volatile.
Read more: Cocos-BCX (COCOS) price prediction: will it boom in 2022?