Top gaming coins: Will NFT tokens lead the crypto market?
Subscribe to Weekly Highlights
The major market events for the week ahead right in your inbox.
Subscribe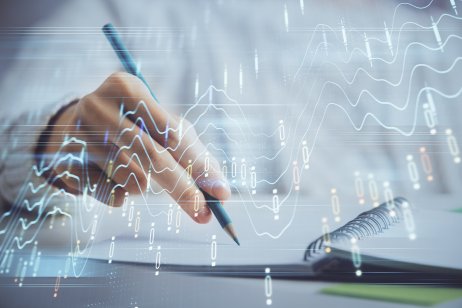 Content
In 2021, non-fungible tokens (NFT) and blockchain gaming tokens were arguably the biggest winners in the cryptoverse. Facebook's rebrand to Meta Platforms (FB) boosted the narrative around the metaverse, NFTs and blockchain games, lifting virtual reality tokens like decentraland (MANA) and sandbox (SAND) to lofty valuations. Furthermore, game items and virtual land parcels designed as NFTs in blockchain games were key to NFT sales hitting an all-time high of over $23bn in trades in 2021, according to Dapp Radar.
With the growing popularity and hype around NFTs, the metaverse and play-to-earn, countless number of blockchain projects have emerged, making it increasingly difficult for investors to pick the best gaming tokens to invest in. Therefore, we've analysed a list of top gaming tokens by market capitalisation to help you in your research before investing in gaming coins.
Top gaming coins by market cap
As of 14 March, metaverse platforms The Sandbox and Decentraland have remained the two biggest projects in the blockchain gaming sector. Over the past year, top crypto gaming tokens MANA and SAND are up 62.5% and 297%, respectively.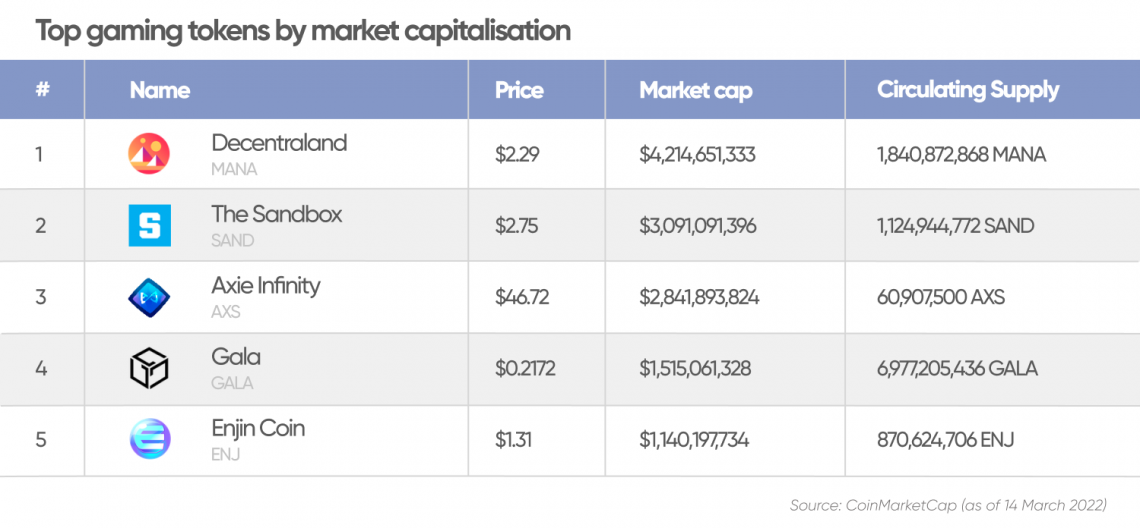 Decentraland (MANA)
Data from CoinMarketCap showed that virtual reality world Decentraland's native token, MANA, has been the top gaming cryptocurrency by market capitalisation, as of 14 March. Overall, it's been the 31st largest cryptocurrency in the world, valued at over $4.2bn.
On Decentraland, MANA is used to purchase finite virtual space or land parcels – non-fungible digital assets protected by Ethereum smart contracts. MANA holders can also use the token to vote on governance policies and to pay for in-world goods and services.
One of the highest land NFT sales to date took place on Decentraland in November 2021 when Canada-based Token.com bought a land parcel in the platform's Fashion Street Estate for 618,000 MANA, about $2.4m at the time. What followed was MANA hitting an all-time high of about $5.9 in late November 2021 as several fashion houses, including Gucci, Louis Vuitton and Burberry, and US investment bank JP Morgan set up virtual shops in Decentraland.
In October 2021, Decentraland hosted a four-day virtual music festival, attracting a crowd of 40,000 people. It featured artists such as Deadmas and Autograf, according to Vogue. The platform collaborated with The Australian Open to allow tennis fans around the world to attend the Grand Slam tournament virtually. On 24 March, Decentraland will host the first Metaverse Fashion Week, which is expected to draw big name fashion brands, celebrities and spectators to the virtual event.
"The metaverse is going to impact nearly every type of consumer technology including social media, gaming and fashion,"
said
Andrew Kiguel, chief executive of Tokens.com.
The company's unit has partnered with Decentraland to host the upcoming Metaverse Fashion Week.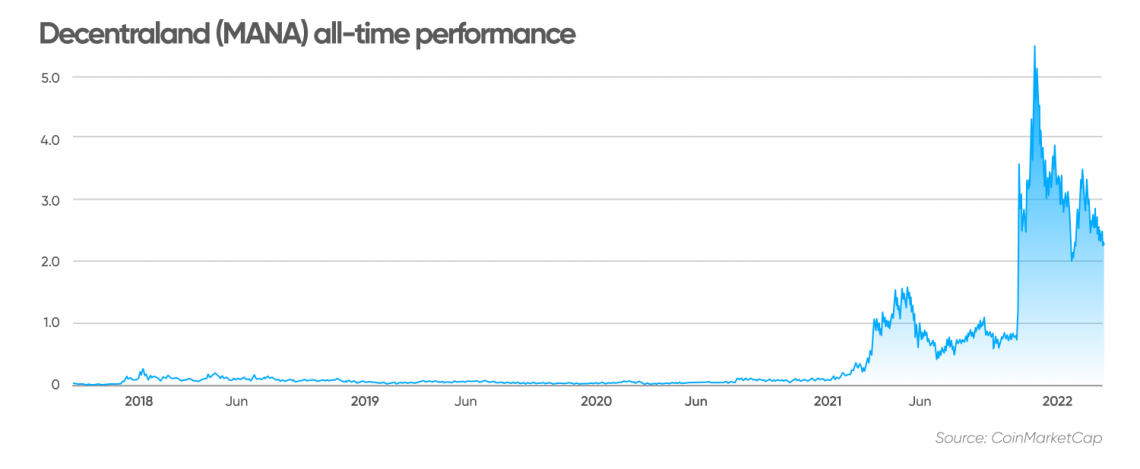 The Sandbox (SAND)
Next on the list of best gaming coins by market cap is Minecraft-inspired play-to-earn blockchain game, The Sandbox.
The Sandbox started as a mobile game in 2012. It was acquired by Hong Kong-based blockchain company Animoca Brands in 2018, after which the game transitioned into an Ethereum-based, metaverse-themed game. According to its whitepaper, players can create NFTs and upload them to marketplaces for trading. Its native token, SAND, is used to trade in-game assets and vote in The Sandbox's decentralised autonomous organisation's (DAO) governance structure.
As of 14 March, SAND has been the 37th largest cryptocurrency by market capitalisation, valued at about $3.09bn. The Sandbox has partnered with global brands and celebrities, including sportswear company Adidas (ADSGN), rapper Snoop Dogg and gaming company Atari.
Like Decentraland, virtual land sales on The Sandbox surged in 2021. NFT investment company Republic Realm splashed over $4.2m to acquire virtual land parcels in The Sandbox in November 2021, marking the biggest NFT land sale to date.
According to The Sandbox's roadmap, it will launch its DAO with staking and voting mechanisms in the second quarter of 2022. The play-to-earn game aims to launch its mobile version by the end of the year and hopes to make its game available on multiple console platforms.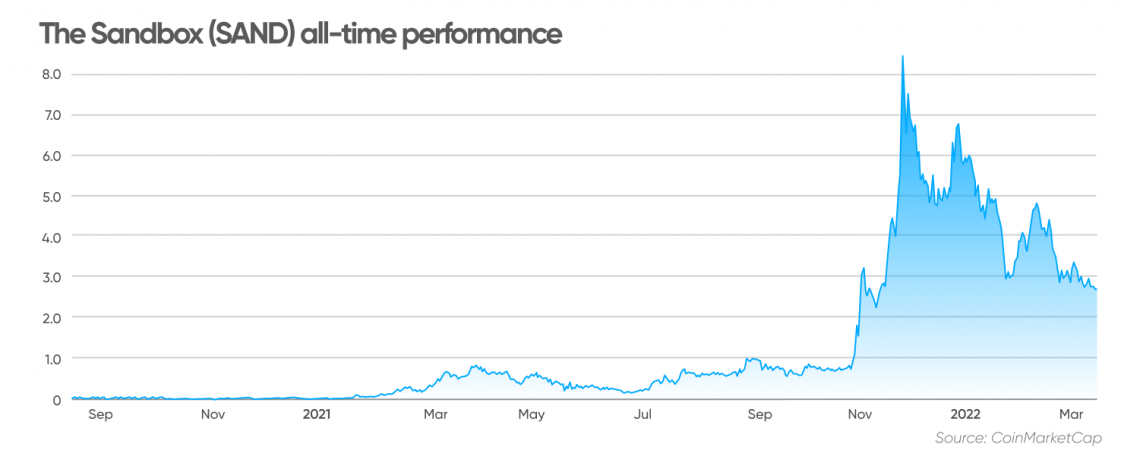 Related reading
Axie Infinity (AXS)
Blockchain game Axie Infinity is almost synonymous with play-to-earn gaming since it launched in March 2018. Axie Infinity's rise to fame came during the pandemic as many people learnt that they could exchange the platform's AXS token, earned in the game, for fiat currencies.
People turned to Axie Infinity to make a living during lockdowns.
"The players (Axie Infinity gamers) shared it with other people they wanted to help. Due to the pandemic, we had no means of earning money, that's why it spread here,"
said
Art, resident of Cabanatuan City in the Philippines, in a documentary produced by Yield Guild Games.
As a result, Axie Infinity's user base exploded in 2021, rising from about 20,000 daily active users (DAU) in March 2021 to about 2.8 million, as of 14 March. Players have spent over $4bn on Axie Infinity-based NFTs, data from Crypto Slam showed.
On Axie Infinity, players have to collect, raise, breed and battle digital pets called Axies, with the objective of earning its two in-game tokens: Axie Infinity Shards (AXS) and Small Love Potion (SLP). Each Axie is an NFT that players can breed and trade on the platform's marketplace. The game also has land parcels, one of which was sold for $2.33m. In 2021, The game migrated to its layer-2 sidechain Ronin to manage the influx of new users and bypass Ethereum's expensive gas fees and network congestion.
"No dapp created a more profound impact in the industry than Axie Infinity,"
said
DApp Radar in its 2021 report.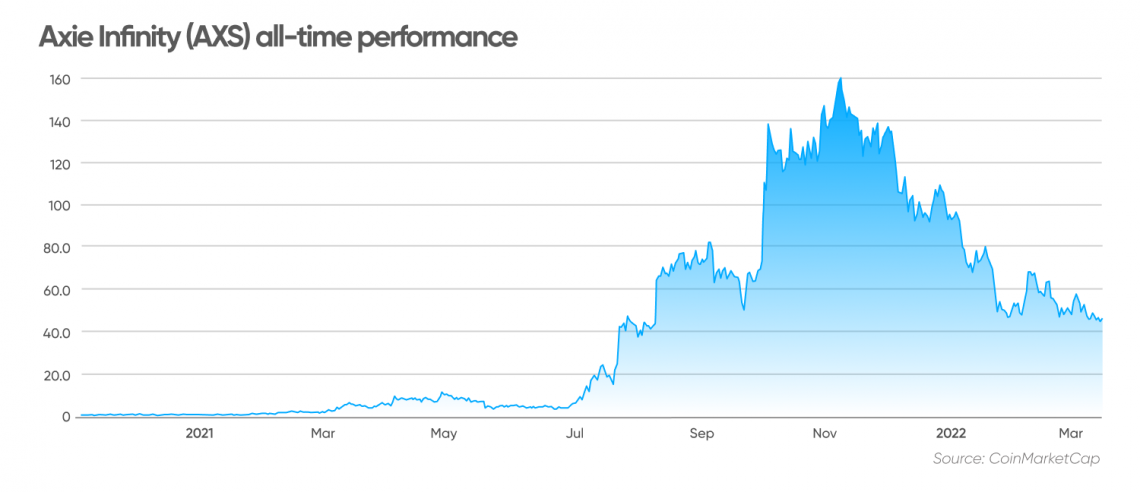 Gala (GALA)
Gala Games is a blockchain game developer founded by Eric Schiermeyer, co-founder of FarmVille creator Zynga.
Gala Games launched in 2020. Its mission is to make "blockchain games you'll actually want to play". Blockchain games have been criticised for being boring by the gaming community. Gala Games wants to make the blockchain characteristics "invisible" in its games.
Its native token, GALA, has been ranked fourth in CoinMarketCap's list of top gaming tokens by market capitalisation. GALA has been the 59th biggest cryptocurrency, valued at over $1.5bn, as of 14 March.
The GALA token is a utility token of the Gala Games ecosystem, which is used to reward its top players. GALA token holders can vote on games to be published on the Gala Games ecosystem. Currently, the gaming network is undertaking a governance vote to include a third person shooter game called Superior to its portfolio.
In its game catalog, The Walking Dead: Empires and Legend Reborn Age of Chance are currently under development. Spider Tanks and Town Star has been released in its Beta form.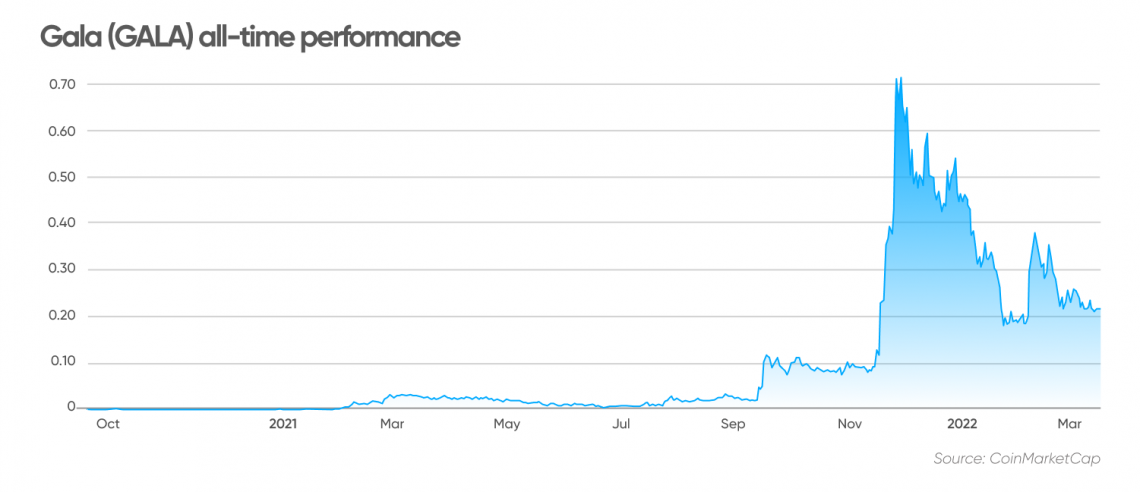 Enjin Coin (ENJ)
Closing the list of top five crypto gaming tokens is enjin coin (ENJ). Enjin is a platform-as-a-service blockchain solution that provides tools to easily create and launch NFT projects. The platform provides software development kits (SDK), crypto wallets, game plugins and payment solutions to developers.
In 2020 , Enjin collaborated with Microsoft (MSFT) to develop Azure Heroes, a programme that verifies developers with blockchain-based digital badges for their achievements and contributions. Each badge is created as an NFT with "verifiable scarcity, maximum circulation caps, provable provenance, and unique IDs", according to Enjin.
Its enjin coin (ENJ) is an ERC-20 token. It's used to mint NFTs and back their value on the platform. ENJ is the 70th largest cryptocurrency, valued at over $1.14 bn, as of 14 March. In 2021, ENJ became the first gaming cryptocurrency to be legally authorised for trade in Japan. However, over the past one year, the token has fallen 44%.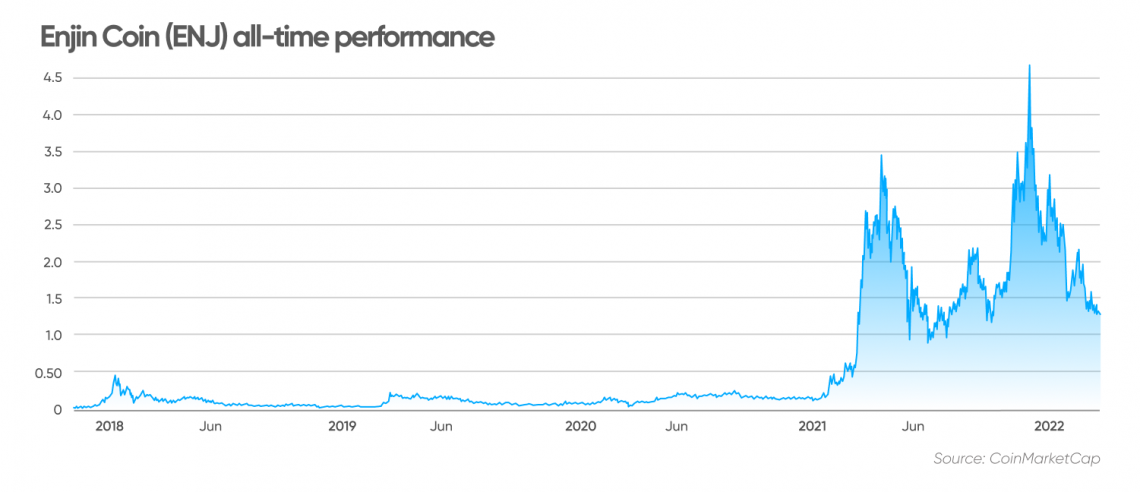 Looking forward: In search for the best gaming tokens
In 2022, the cryptocurrency market has been seeing weakness as the market prepares for a withdrawal of excess liquidity in the form of interest rate hikes from the US Federal Reserve. With bitcoin (BTC) falling about 19% year-to-date, as of 14 March, the likes of MANA, SAND, AXS, GALA and ENJ have followed suit.
Compiling your list of top gaming tokens to invest in, note that Decentraland's MANA has lost over 60% from its all-time high. Similarly, SAND and AXS have fallen 67% and 71%, respectively, from their record highs. Data from Dune Analytics indicate signs of a cooling NFT market as trade volumes have been falling each week since peaking in late January 2022.
"Blockchain games and metaverse projects could not escape the macro trend that dragged the crypto market down, despite a strong start of the month. The FOMO (fear of missing out) phase experienced after Meta's rebranding back in November has been replaced by a fearful market that turned its attention to what people consider safer assets,"
said
DappRadar in a report dated 11 March.
"The current market situation is just an example of the volatility experienced within the industry. It also serves as a reminder that projects in this space are built for the long term. While earnings in a short period can be more than rewarding, it is necessary to acknowledge that the
dapp
industry is in its early days, which is especially applicable to the games category."
Looking for the gaming tokens to buy, note that analysts' views should not be taken as recommendations to buy or sell any asset. Whether you believe in the potential of a particular gaming token or have a bullish view on the NFT market, note that cryptocurrencies are highly volatile and can go down as well as up due to a number of factors. It's important to bear in mind that analysts' forecasts can be wrong.
Do your own research, and always remember that your decision to trade depends on your attitude to risk, your expertise in the market, the spread of your investment portfolio and how comfortable you feel about losing money. You should never invest money that you cannot afford to lose.
FAQs
What are gaming tokens?
Are gaming tokens a good buy?

From the list of top gaming tokens by market cap, Decentraland's MANA has been over 60% lower from its all-time high. Similarly, SAND and AXS have fallen 67% and 71% from their record highs, as of 14 March.
Related reading