Top energy tokens: Facilitating sustainable transactions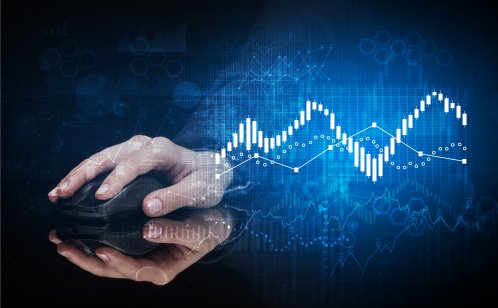 The amount of energy that cryptocurrency mining consumes has become an increasing concern for investors and developers alike. Proof-of-work (PoW) consensus algorithms, like that used by the Bitcoin blockchain, consume vast amounts of computing power, which requires huge volumes of electricity.
At a time when reducing carbon emissions is a key priority around the world, this high level of energy consumption is affecting cryptocurrency adoption. For example, electric vehicle manufacturer Tesla stopped accepting bitcoin for payment in May 2021 because of "rapidly increasing use of fossil fuels for Bitcoin mining and transactions, especially coal". The company's CEO, Elon Musk, added that Tesla will resume bitcoin transactions as soon as it transitions to energy efficient crypto mining.
Several cryptocurrency tokens connected to the energy industry have emerged in the last few years. They aim to play a role in building sustainable energy markets.
Blockchain technology in the energy industry is forecast to climb from $200m in 2018 to around $18bn by 2025, according to a Global Market Insights report.
In this article, we look at some of the top energy tokens to watch based on their market value. Investors looking for which cryptocurrencies could solve the energy problem should read on.
Top energy tokens based on market value
Are you looking for energy crypto to invest in? Let's consider the five best energy tokens based on market capitalisation according to CoinMarketCap. They are: Powerledger, Energy Web Token, Grid+, Efforce and SunContract. (Market capitalisation refers to the total value of a cryptocurrency based on the number of tokens in circulation and their current market price.)

Powerledger is a blockchain-based platform for the tracking and trading of electricity, flexibility services and environmental commodities. It enables households, organisations and electricity grid operators to trade with each other. The shift towards adopting renewable power generation, such as solar and wind, results in intermittent supply that needs a flexible, distributed system.
"Formed in 2016 when we saw the need to disrupt traditional energy, we now have projects in eleven countries across four continents," Powerledger says on its website.
Since its launch, Powerledger has migrated from the Ethereum blockchain to Solana, which can handle 50,000-100,000 transactions a second rather than Ethereum's 10-15. Its PowerLedger Energy Blockchain requires validators to stake its POWR tokens, replacing Sparkz, the native token of its energy chain previously called Ecochain.
The POWR sustainable energy token spiked to $0.8387 on 3 January, doubling in value from 31 December, after the price fell following a spike in November. The price has since slipped back to trade around $0.50, for a year-to-date gain of 20%.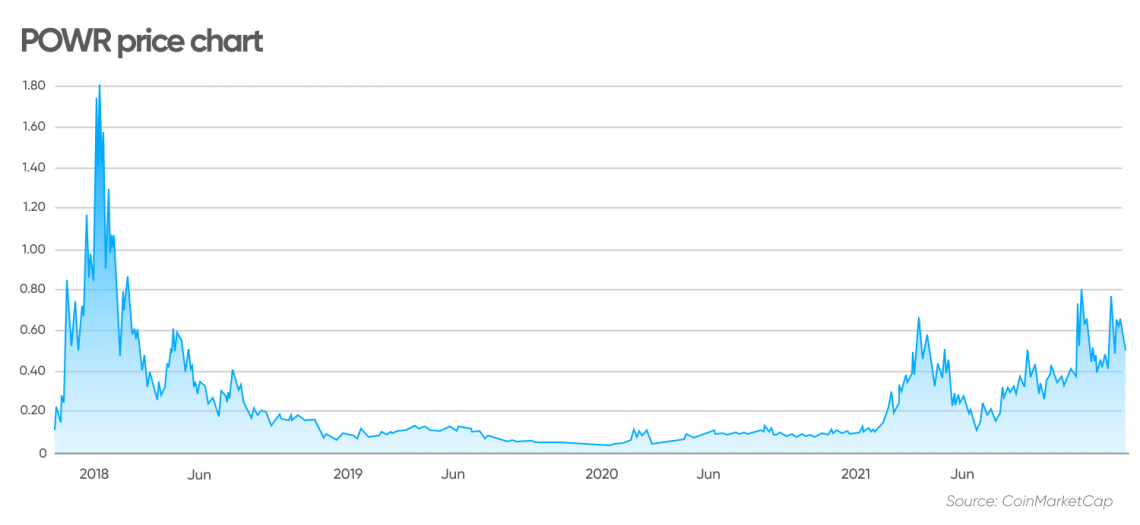 At the time of writing (25 January), there were 464.49 million POWR tokens in circulation of a maximum supply of one billion, according to CoinMarketCap, giving the cryptocurrency a total market capitalisation of $233.98m.
Launched in 2019, Energy Web was developed to build operating systems to help electricity grids manage clean energy assets. It aims to provide scalable access to grid flexibility using Decentralised Energy Resources (DERs) and create marketplaces for renewable energy purchasing.
"The Energy Web Chain is derived from Ethereum, but it is a separate blockchain using a different consensus protocol and unique governance mechanisms," according to the documentation. The Energy Web utility token EWT compensates blockchain validators for processing transactions. It's used to pay for utility services, such as registering a new asset or organisation, or validating an energy certificate.
The energy token price has fallen since it spiked in December, declining from $15.24 on 3 December to the $5.40 level. At the time of writing (25 January), it traded at $6.02.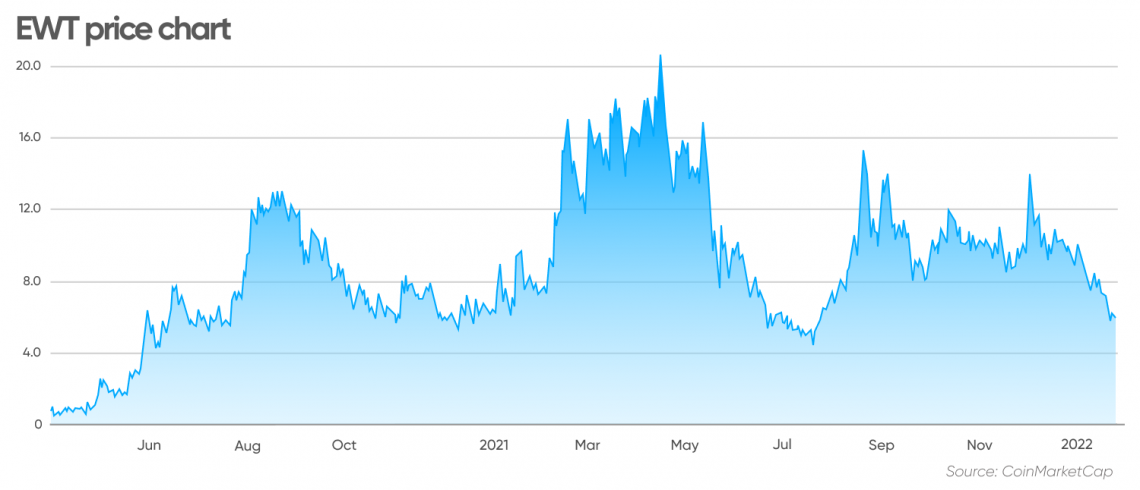 There were 30.06 million EWTs in circulation of a maximum supply of 100 million, according to CoinMarketCap, giving a market capitalisation of $181.33m.
GridPlus initially launched to provide a safe energy token for real-time payments in Texas, enabling customers to use its GRID token to gain access to wholesale electricity prices. But problems with the electricity system in the US state prompted the company to sell its energy assets in 2021 and shift its focus to developing its hardware wallet.
"Our initial plans focused on using the Lattice1 hardware (originally dubbed the "smart agent") to be used in a variety of real-world applications such as serving as a point of sale terminal, a blockchain staking node, and our initial showcase application: making our legacy energy grid more efficient," the developers said in a blog post. Instead, they are focusing on blockchain hardware security and privacy.
The GRID token price has soared since early November, rising from $0.4398 at the start of November to $2.37 on 16 December. The price has since retreated to the $1.40 level, but remains well above the November price.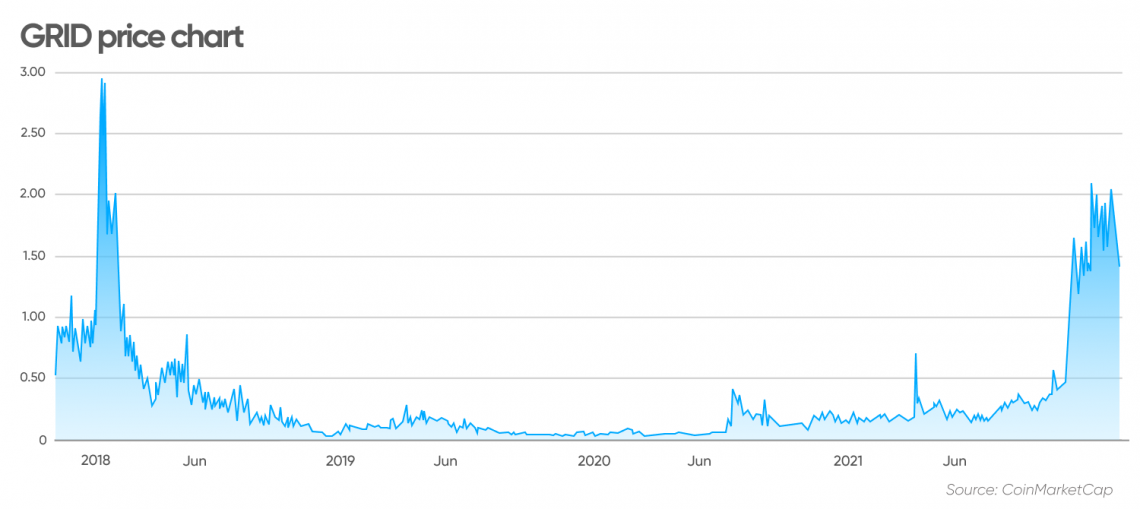 There were 39.24 million GRID tokens in circulation according to CoinMarketCap, giving the cryptocurrency a market capitalisation of $55.77m.
Efforce is a blockchain-based energy efficiency platform co-founded by Apple co-founder Steve Wozniak. "The platform brings together those who want to improve the energy efficiency of their buildings or industrial processes with a pool of contributors interested in being repaid in tokens representing the energy savings achieved thanks to efficiency improvement projects," according to the project's whitepaper.
By tokenising energy savings with an energy efficient cryptocurrency, Efforce provides liquidity and access to capital for projects.
Each WOZX token represents an Energy Performance Smart Contract, which guarantees the energy savings from a specific project over a certain period of time and turns them into a tangible asset that holders can sell or use to cut their electricity bills.
The WOZX energy saving cryptocurrency price initially spiked when it launched in December 2020, trading up from $1.53 to $3.62 in its first three days. But the price then declined to $1.09 in February 2021 before a spike to $2.57 in March. It has since been in a downward trend, falling to the $0.17 level.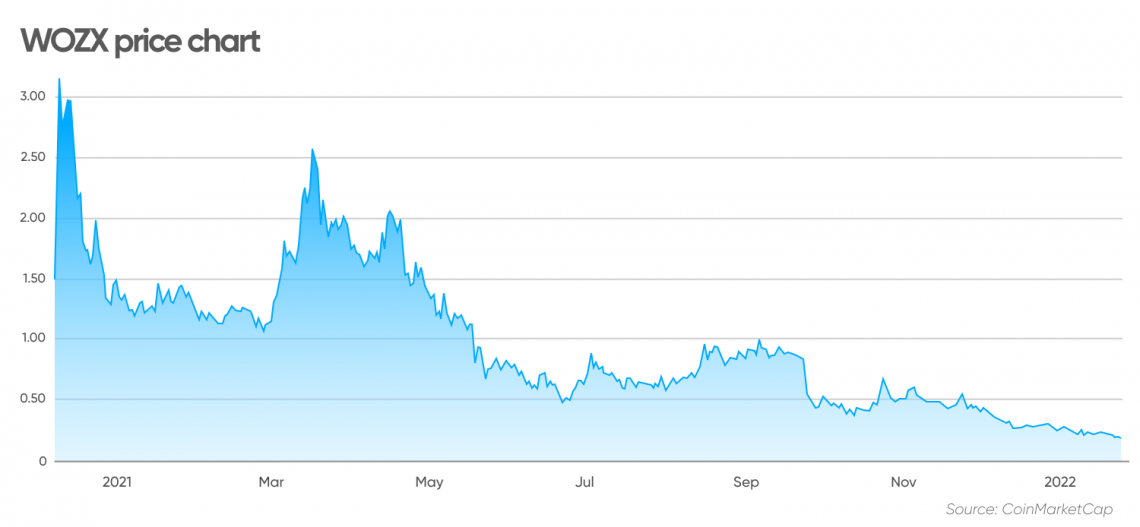 There are 156.25m WOZX tokens in circulation from a total supply of 1b, CoinMarketCap data shows, giving a market capitalisation of $28.16m.
Initially launched in Slovenia, SunContract is a blockchain-based peer-to-peer marketplace enabling energy consumers and producers to buy and sell renewable electricity. The SNC renewable energy token enables transactions on the platform. Consumers use the token to buy electricity from the pool and producers can trade the tokens they receive on exchanges for fiat currencies. Token issuance was set at a ratio of 10,000 SNCs per ether.
In 2021, SunContract increased its platform traffic by 100% and more than doubled its energy producer contracts for 2022. There were five times more transactions on the platform than in 2020 and contractors produced 120% from electricity.
The SNC price has been in decline since the April spike in cryptocurrency markets, when it traded up to $0.07032 on 7 April. SNC has been trading around $0.02-0.03 since August 2021.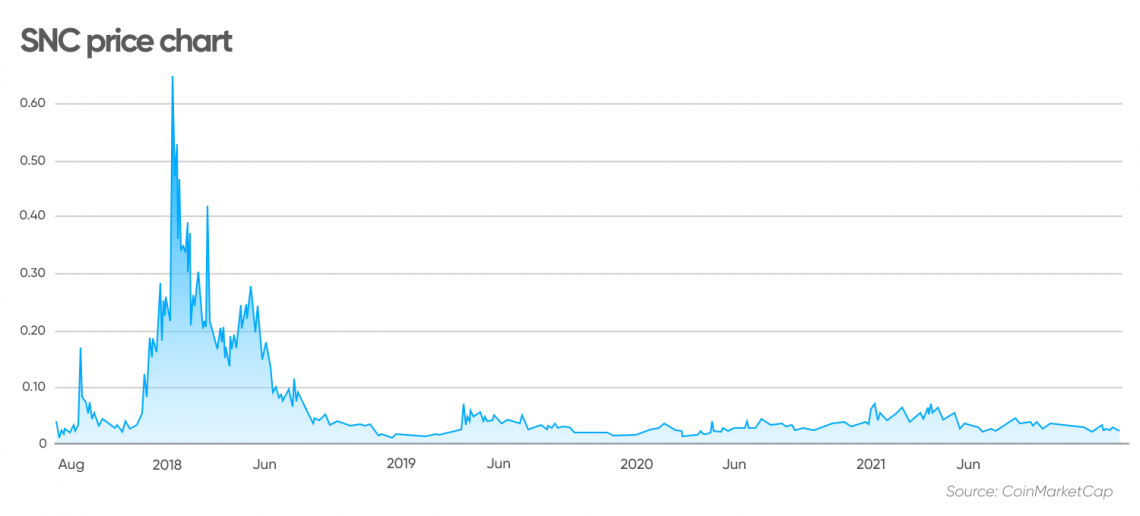 There were 122.71 million SNC tokens in circulation according to CoinMarketCap, for a total market capitalisation of $2.99m.
Note that this article does not constitute financial or investment advice. If you are considering investing in energy tokens, we recommend that you always do your own research and remember that your decision should be based on your attitude to risk, your expertise in this market, the spread of your portfolio and how comfortable you feel about losing money. Look at the latest market trends, news, technical and fundamental analysis, and expert opinion before making any investment decision. Never invest more than you can afford to lose and keep in mind that past performance is no indicator of future returns
FAQs
What are energy tokens?

Energy tokens are utility cryptocurrency tokens used for blockchain networks that aim to facilitate clean energy trading and management of renewable generation assets on power grids.
Are energy tokens a good buy?

Whether energy tokens are a suitable investment for your portfolio depends on your personal financial circumstances and risk tolerance. Cryptocurrency prices are highly volatile, making them high risk investments. You should do your own research before investing and never invest money you cannot afford to lose.