Top cryptocurrencies to invest in this February
Subscribe to Weekly Highlights
The major market events for the week ahead right in your inbox.
Subscribe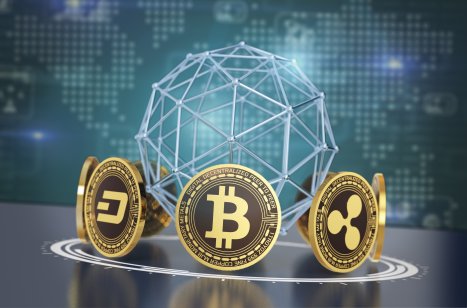 Content
Bears finally seem to be losing ground, and the mood among crypto experts is optimistic. But even during an uptrend, some coins will gain while others will lose. Which are the top cryptocurrencies in which to invest in February 2020?
Bitcoin

Whenever someone asks what crypto to invest in, Bitcoin is always the obvious answer. There are many interesting alts out there, but BTC should still be your primary target. Even though it seems like we've passed the bottom, but there's still ample room for growth from $8,100.
Most experts predict strong growth for Bitcoin in 2020. This is partly due to the upcoming halving in May. However, if investing in BTC in February 2020, one should bear in mind that the halving will only be fully priced in a few months after the event. So the overall investment horizon should be at least seven to eight months.
Growing international tensions will also likely push the price of BTC up. Trade wars; Brexit; the stock market bubble; and crises in Iran, Libya, and Iraq will all add to geopolitical instability.
In this context, many investors will look to assets whose price doesn't depend on politics. The main among these is, of course, gold, followed by other rare metals, such as lithium, palladium, and platinum. But Bitcoin also has its place on this list. Those investors who are willing to take risks for maximising profits will likely include BTC on their portfolios in 2020, even if they didn't before. This will increase the demand and drive the price upwards – perhaps even to $15,000.
What is your sentiment on EA?
Vote to see Traders sentiment!
Binance Coin (BNB)

Native exchange tokens are likely to have a strong year – especially BNB. The original native token grew by 150 per cent in 2019 – even more than Bitcoin. The key to its success is that Binance integrates its coin into all the processes on the exchange – a bit like Amazon integrates Alexa into all of its devices.
One of the reasons why BNB is almost guaranteed to grow higher in 2020 is the burn policy. By the end of 2019, the total supply was reduced by more than 7 per cent. In 2020, we can expect several more burn events, depending on Binance quarterly profits. After every new burn, the price will probably spike.
Further, as stressed in the Binance NY message, it's by far the most profitable IEO platform, with more than 150 per cent average gains on initial offerings. High-profile IEOs such as Fetch.AI, Elrond and BitTorrent certainly helped BNB, and more are definitely coming in 2020. This profitable business model easily makes BNB one of the top cryptocurrencies to invest in this February.
Finally, let's remember that Binance is now back in the US market with a special subsidiary.
It should be noted that in June 2021 the FCA, the UK financial regulator, issued a warning on Binance Markets Limited (BML) and the Binance Group, ruling that BML "is not permitted to undertake any regulated activity in the UK" as it lacks authorisation.
The watchdog also advised people to be "wary of adverts on social media promising high returns on investment in cryptoassets".
Binance, the world's biggest cryptocurrency exchange, said that "BML is a separate legal entity" and the FCA notice would have no "direct impact on the services it provides from the Binance.com".
The Binance Group acquired BML in May 2020 and has not yet launched its UK business or used its FCA regulatory permissions.
BNB price has gone down since its $37 peak in July 2019, so the coin is quite cheap now at $15. This makes BNB one of our top picks for February 2019. This is assuming you are prepared to wait at least three months before selling: BNB isn't a short-term investment asset.
Stellar (XLM)
As Bitcoin was showing good growth in the past weeks, Stellar was somewhat reluctant to follow. With a market cap of more than $950m and monthly trading volume of over $5.5bn, XLM is priced at just $0.048 right now. Sof if you like cheap (but not too risky) deals, Stellar could be a good choice if you are looking for top crypto coins to invest in February.
This makes it the most undervalued coin in the first top 20 cryptocurrencies.
Stellar's main advertised aim is to facilitate cross-border payments. The project has partnerships with such banks as the Brazilian Banco Bardesco and South Korean Bank Busan.
In November, Stellar burned over 55bn of its own tokens in order to make the network more efficient. The reduction of supply can serve as a strong growth factor. This is because many were worried about too many tokens stored by the Stellar Development Foundation. Recently, a Thai startup called Lightnet has raised over $30 million to build a Stellar-based payment transfer network for Southeast Asia to replace SWIFT. The main investors are United Overseas Bank from Singapore and a leading South Korean investment company. This initiative can seriously boost the price of XLM later in 2020.
Basic Attention Token (BAT)

BAT is already involved in a functioning – and very popular – product. That's Brave, a privacy-focused browser with more than10 million users.
In Brave, users can get paid in crypto for watching ads. This is the opposite of the model employed by Google, where the company is paid by the advertisers. There are already more than 300,000 publishers on the BAT platform.
Another thing that appeals to users is the control over privacy. By default, tracking scripts and cookies are blocked in Brave. So users don't have to worry that big corporations are watching them all the time.
In just one month – from October to November 2019 – the number of Brave users grew by almost 20 per cent. And with its new partnerships – including Amazon, Apple and Starbucks – the prospects for 2020 look good, too. BAT is relatively cheap right now at $0.19, but with a visible upward trend. February 2019 might be the right month to add it to your portfolio.
Polkadot (DOT)

DOT is a bit different from the other coins on this list – because it isn't even out yet. For now, you can buy IOUs – a sort of a futures contract.
Polkadot made it clear that actual tokens will only be available after the launch of the mainnet. Everyone was waiting for it to happen in late 2019, but it didn't. Still, the team seems quite ready and bullish, and we can expect the launch sometime in the first half of 2020.
Polkadot is an interoperability protocol that will connect various blockchains. Interoperability is the Holy Grail of decentralised technology – perhaps more so than Proof-of-Stake. Once blockchains can "talk" to each other, mass adoption will be much easier to achieve.
The IOU has also lost quite a lot price-wise since it was listing. Currently it's priced at $125, as opposed to $167 after listing. So now could be a good moment to buy them. That's if you don't mind the relatively high risk and can disentangle the complexities of buying the IOUs, of course.
Bottom line: picking the top cryptocurrencies to invest in February 2020
Which of the digital currencies in our crypto market overview you should choose depends on your appetite for risk. If you want to be on the safe side, it's better to go for BTC and BNB. But if you're willing to try new infrastructure projects that could make it big in 2020, you can also add DOT and perhaps Cosmos' ATOM. Stable developing cryptocurrencies such as Stellar, Cardano, TRON and NEO are somewhere in between and all offer good opportunities for growth.
Whatever you choose, never invest in crypto on a hunch or just because you've read a price prediction somewhere. Make sure to study the fundamentals and do a careful cryptocurrency market analysis first. Remember: even in times of a bullish market, crypto investments are always risky.