Tight supply and palladium substitution fuel platinum rally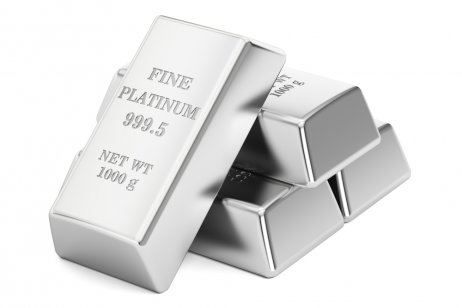 Platinum prices have risen since the onset of the Russian-Ukrainian war owing to worries about supply and export bottlenecks from Russia, which accounts for about 10% of global production.
Platinum has also benefited from the so-called demand substitution effect, which happens when the price of palladium rises, prompting buyers to seek out cheaper alternatives.
Despite Russia accounting for just 10% of global platinum production, the physical market may remain tight in 2022 owing to low levels of inventories outside Russia and global supply-demand mismatches.
In the coming days, a technical golden cross with the 50-day moving average nearing the 200-day moving average might arise, potentially adding to the platinum's momentum.
Russian disruptions and palladium's boom tightened the platinum market
Market worries of curbs on Russian shipments, as well as palladium substitution effects, have aided platinum's climb in recent weeks.
Russia is a major supplier of metals, particularly platinum group metals (PGMs) such as platinum and palladium. Russia produces around 2,900 thousand ounces (koz) of palladium (40% of world supply) and 661/koz of platinum (10% of world supply). Furthermore, Russia supplies more than 20% of global battery grade nickel output and 6% of global aluminium production.
According to a recent report by the World Platinum Investment Council (WPIC), while Russian platinum supply accounts for only 10% of global supply, with South Africa taking the lion's share of 60%, higher Chinese imports created further tightness in the platinum market, implying higher lease rates and stock drawdowns from NYMEX to alleviate shortages.
"Platinum imports into China in 2021 were higher than its identified demand and enough to absorb all of the annual global surplus", Paul Wilson, CEO of the World Platinum Investment Council said.
Moreover, palladium stocks outside of Russia are insufficient to fulfil world demand, hence further substitution effect of palladium for platinum in catalytic converters seems likely, WPIC added.
Another likely long-term driver for the rise in platinum is the increase in hydrogen production and consumption as Europe seeks to lessen its dependency on Russian natural gas. This would encourage increasing commercial use of fuel cell electric cars, which are expected to be a substantial source of platinum demand in the future.
If the Russian mining supply is excluded, the supply-demand balance for platinum in 2022 turns in a slight deficit, as the chart below shows.
Goldman Sachs currently predict platinum prices to hit $1,200/toz in 2022, which means a 10% upside from current levels.
What is your sentiment on Platinum?
Vote to see Traders sentiment!
Platinum supply-demand balance expected in 2022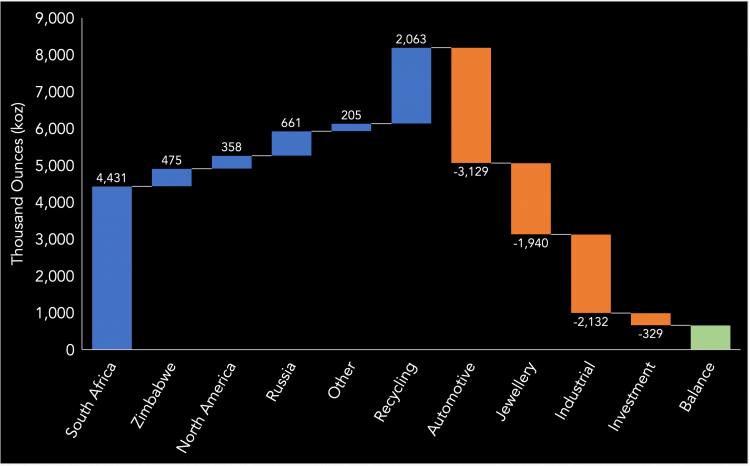 Platinum Supply-demand Balance (koz) in 2022 – Credit: Capital.com / Source: WPIC
A golden cross start to dawn on platinum
Looking at the daily platinum chart, we can see the 50-day moving average approaching the 200-day moving average from below, and a cross would give the formation of a golden-cross.
Platinum prices had risen by about 15% since the outbreak of the war in Ukraine, hitting the level of $1,180 per troy ounce (toz), before pulling back from overbought RSI levels to $1080/toz on March 9. Platinum is now trading at levels similar to the peak set in mid-November.
The Fibonacci retracement analysis, from the lows of December 2021 to the highs of November 2021, could suggest the hypothesis of an extension to $1,225/toz (161.8% level) as next target.
Platinum's key support levels are $1,056/toz (78.6% Fibonacci), $1,022 (61.8%), and $998/toz (50%). A fall below the psychological level of $1,000/toz might lead to a reversal of the uptrend.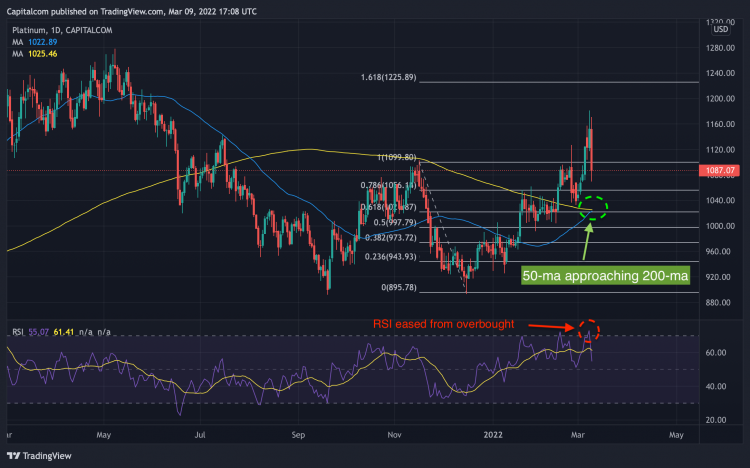 Palladium 1-day chart, technical analysis – Credit: Capital.com / Source: Tradingview