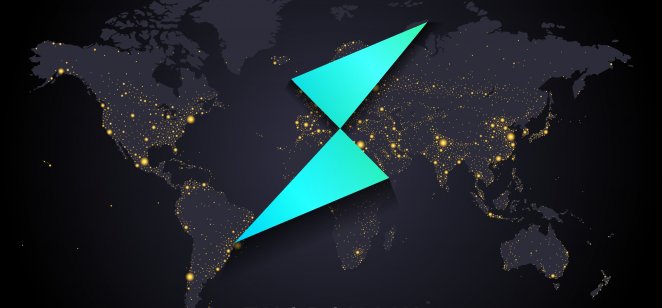 The cryptocurrency market has had a shaky start to 2022. While bitcoin (BTC) lost more than 12% in the previous week, ether (ETH) lost more than 17%, trading at $41,901 and $3,115, respectively, according to CoinMarketCap.
THORChain's price has fallen 17.05% from the start of the year to $6.08, at the time of writing (10 January).
Can it break its falling trajectory and recover in 2022? This article includes both fundamental and technical analysis to assist you in building a plausible RUNE coin price prediction.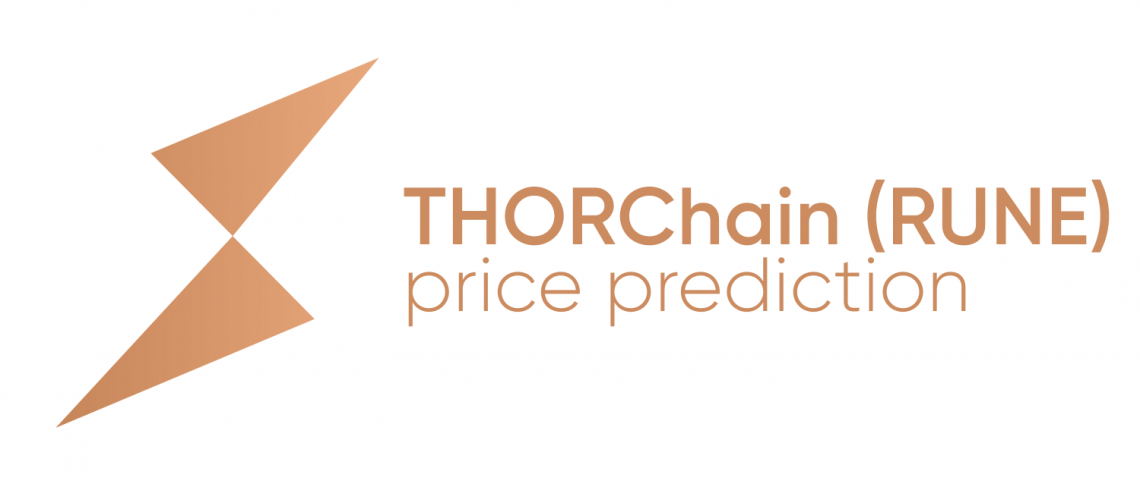 What is a RUNE coin?
THORChain is a decentralised liquidity protocol built on Tendermint and Cosmos that enables users to seamlessly trade crypto assets across various networks in a non-custodial manner.
THORChain's primary goal is to be decentralised and to promote cross-chain liquidity.
"Providing liquidity on THORChain creates an opportunity for holders of stagnant assets (e.g.
BTC
,
ETH
,
BNB
) to earn a return or
yield
on their asset", THORChain
stated
on its website. "Traditionally, with a CEX or 0x style exchange, trades require an order book of bids/asks (buys/sells) at a specific price, because if an investor wants to trade one asset for another, you need a buyer and a seller.
Decentralised exchanges
like UniSwap and THORChain utilise liquidity pools to provide more fluid access to trades. Liquidity pools are the way decentralised exchanges maintain a reservoir of assets, enabling buyers and sellers to exchange assets on demand."
The THORChain network is powered by its native utility token RUNE, which serves four critical functions as outlined below:
Liquidity: The RUNE token serves as the main settlement layer for all transactions.

Security: RUNE secures the THORChain network by providing Sybil resistance. Sybil resistance refers to the capability to prevent someone from overcoming a network by impersonating several identities.

Governance: During the liquidity pool listing procedure on THORChain, the asset with the greatest RUNE commitment is listed first.

Incentives: RUNE token is used to pay transaction fees and gas fees, and be distributed as prizes and incentives.
Additionally, the THORChain network incorporates an Incentive Pendulum, which ensures that the network remains balanced. It prevents the network from becoming insecure or inefficient by altering how node operators and liquidity pools are rewarded.
It boosts incentives for node operators and decreases payouts for liquidity suppliers when the network becomes insecure. When a network becomes inefficient, incentives for liquidity suppliers increase, while rewards for node operators decrease.
According to the latest monthly stats published on 9 January, THORChain had a total value locked (TVL) of around $378m. Total liquidity in all pools accounted for $181m. It had 6,400 monthly active users, which is 1.8% down from the previous month.
RUNE/USD price analysis
THORChain has been one of the most rewarding cryptocurrencies since its inception, delivering a ROI of 19,003.23% as of 10 January, according to CoinMarketCap's data.
THORChain's first coin offering occurred in July 2019. The RUNE token did not gain traction until October 2019.
RUNE coin spiked 718% in less than four months, rising from $0.016 on 23 October 2019 to $0.131 by 14 February 2020. Prices plummeted to $0.044 by 16 March 2020, a 66 percent drop from the February high.
An unprecedented bull run followed the March low. As a result, the RUNE coin value rose to $1.08 by 30 August 2020, a tremendous increase of 2,354% between March and August 2020.
Bears gained a minor edge, as prices fell to $0.33 on 23 September 2020. On the other hand, Bulls continued their massive rally, and the second bull run drove the THORChain's token RUNE to the all-time high of $21.26 by 19 May 2021, a 6,342% increase between September 2020 and May 2021.
By 25 July 2021, it had fallen to $3.51, a drop of 83% from the all-time high. After that, prices gradually increased on a positive trajectory, reaching $16.56 on 2 November, then bottoming out at $6.05 by 14 December. It ended the year at $6.80, as of 31 December 2021.
At the time of writing (10 January), the RUNE coin was trading at $6.08 and had a market capitalisation of $2.01bn, ranking it 63 among the top 100 cryptocurrency projects, according to CoinMarketCap.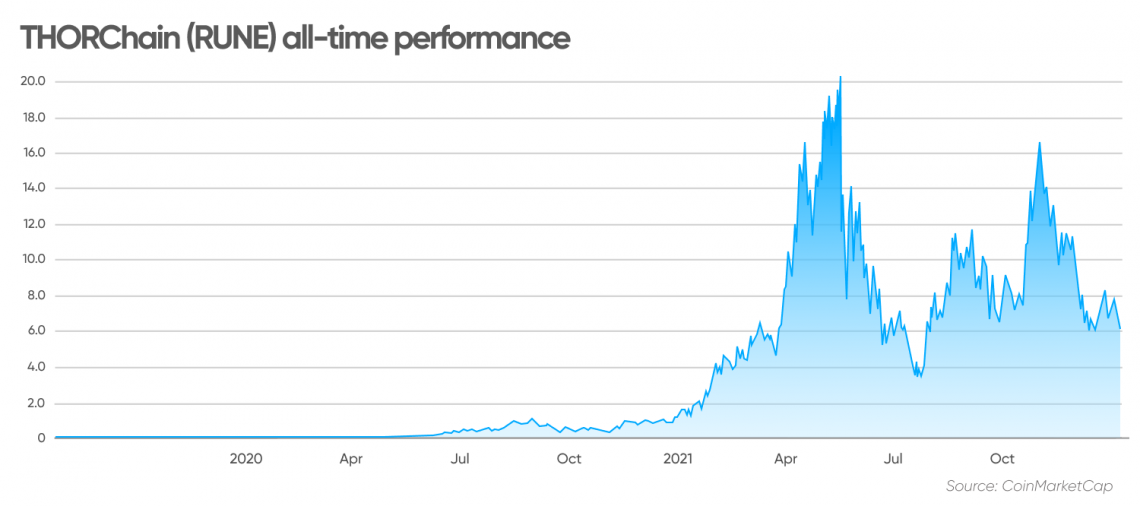 RUNE coin news and price drivers
RUNE coin's developing team has shared several significant news items lately that could drive the token price:
Partnership with Synthetix
THORChain announced a strategic collaboration with Synthetix in November 2019. Both projects benefited from the other's development tactics inside the Ethereum ecosystem due to their partnership.
Additionally, due to this arrangement, Synthetix's native token, SNC, became one of the qualifying assets for listing once THORChain debuted on Ethereum. It allowed holders of SNX to stake their coins and have access to all other supported assets on all other chains.
CertiK performed a system audit of THORChain in April 2020 to identify any system vulnerabilities and discovered 34 minor flaws in its code, which were resolved by THORChain's developers, according to an official blog post.
CertiK concluded that THORChain's conceptual framework and master-branch Cosmos SDK implementation were well-designed and displayed an understanding of key benchmarks.
While CertiK did not remark on the final performance of the mainnet, they did find the modelling and mathematical rationale to be solid.
Launch of THORName service
In June 2021, THORChain launched the THORName service, a distributed, open, and extensible name system that bridges human-readable names to machine-readable identifiers, such as cryptocurrency addresses and metadata.
A THORName address would cost ten RUNE tokens, and users could bid on them or even sell them later in a marketplace of names.
THORChain was the target of an $8m cyberattack in July 2021. The hacker duped the network into thinking it had deposited funds when it had not and subsequently secured a refund. However, the hacker sent a message warning that the hack could have been far more damaging.
THORChain has suffered a sophisticated attack on the ETH Router, around $8m. The hacker deliberately limited their impact, seemingly a whitehat.

ETH will be halted until it can be peer-reviewed with audit partners, as a priority.

LPs in the ERC-20 pools will be subsidised.

— THORChain #DOGEFI (@THORChain) July 23, 2021
THORChain (RUNE) price prediction: Targets for 2022, 2025 and 2030
CoinCodex's short-term ThorChaine price prediction was bearish, with four indicators showing bullish signals and 25 showing bearish signals, as of 10 January 2022.
All the daily and weekly simple moving averages (SMA) and exponential moving averages (EMA) gave sell signals, except for the 100-week EMA, which signaled a buy. The hull moving average (HMA) and the volume-weighted moving averages (VWMA) were also bearish.
The stochastic RSI (Stoch RSI) was giving a buy signal. Meanwhile, average directional index (ADX) and moving average convergence divergence (MACD) were neutral.
According to a RUNE crypto price prediction from CoinCodex, the coin's price could increase by 6.62% to reach $6.29 by 15 January 2022.
Meanwhile, as of 10 January, various algorithm-based forecasters shared long-term RUNE forecasts:
According to Wallet Investor, the average price could reach $13.187 by the end of 2022 and $36.854 by the end of 2025. The five-year estimate for RUNE/USD indicated that it could reach $45.341 in January 2027.

According to DigitalCoin's THORChain (RUNE) price prediction, the average price of RUNE in 2022 could be $7.9, moving up to $9.4 in 2023, $12.92 in 2025, and $25.37 in 2029.

According to Price Prediction, the average price of RUNE could reach $8.91 in 2022, $27.32 in 2025, and $182.11 in 2030.
When looking for RUNE forecasts, bear in mind that analysts and algorithm-based predictions can be wrong. Their RUNE projections are based on fundamental and technical studies of a cryptocurrency's past performance. Past performance is no guarantee of future results.
It's essential to do your research and always remember your decision to trade depends on your attitude to risk, your expertise in the market, the spread of your investment portfolio, and how comfortable you feel about losing money. You should never invest money that you cannot afford to lose.
FAQs
THORChain was ranked 63 among the top 100 cryptocurrency projects by market capitalisation, according to CoinMarketCap, as of 10 January. Its native token, RUNE, gained traction in 2021, but fell from its highs by the end of the year.
Whether the RUNE token is a good fit for your investment portfolio depends on your circumstances and risk tolerance. You should estimate the level of risk you are ready to take before investing. And never invest money that you cannot afford to lose.
According to the RUNE/USD forecast of Price Prediction (as of 10 January 2022), it could hit $182.11 by 2030.
The cryptocurrency market has undergone a massive correction, with many prominent cryptocurrencies turning negative in recent weeks. Similarly, other cryptocurrencies, such as RUNE coin, might follow the negative price trend.
Algorithmic forecasting tools, including Wallet Investor, DigitalCoin and Price Prediction (as of 10 January) suggested the coin had potential for gains. Their price targets varied greatly. Price Prediction estimated that RUNE could exceed $100 by 2029.