Theta coin price prediction: Can THETA rise again?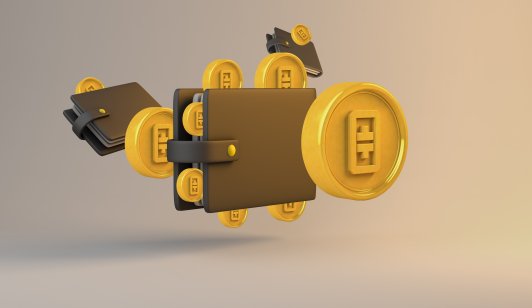 Theta Network (THETA), a peer-to-peer video distribution protocol powered by blockchain, saw a significant price slump during the crypto market crash in June and reached a 52-week low of $0.9633 on 13 June 2022.
On 8 August, the price of THETA increased by more than 77% from its 52-week low to $1.71, a 90-day high. This price increase occurred amid mildly bullish market sentiment.
The surge corresponded with Theta's introduction of the world's most extensive offline non-fungible token (NFT) utility campaign, where more than 100,000 holders could use their Theta NFT online and offline using ThetaPass technology.
THETA was trading at approximately $0.9256 at the time of writing on 25 November 2022, up 4.65% from the previous day.
How could THETA perform in the face of mounting inflation fears, an economic slump and a bear market?
Here we take a look at the coin's price analysis and the latest theta coin price predictions.
What is Theta Network (THETA)?
Theta Network is a blockchain focused on media and entertainment. Theta allows video and media platforms to increase revenues and decrease content delivery costs while rewarding end-users for sharing storage or bandwidth on any PC, mobile, Smart TV or IoT device.
Theta is fully compatible with Ethereum (ETH) and offers Turing-complete smart contracts. These smart contracts provide a new set of user experiences and attribution models for the Theta network-based decentralised apps (dApps).
Consequently, using smart contracts on the Theta Network permits digitised item ownership, new payment-consumption models, transparent royalty distributions and trustless crowdfunding techniques.
Theta's interoperability with Ethereum allows the development of various intriguing Web3 apps on the Theta Network. These applications include NFTs, decentralised exchanges (DEXs), and decentralised autonomous organisations (DAOs).
Moreover, Theta has a respected validator and governing council headed by tech giants such as Google (GOOGL), Samsung (SMSN), Sony (SNE), Creative Artists Agency (CAA), Binance (BNB), Blockchain Ventures, DHVC and Gumi.
Theta Network is a 'dual network' comprising two subsystems, the Theta Blockchain and the Theta Edge Network, which are complementary.
The Theta blockchain supports payment, reward, and smart contracts. The Edge Network is responsible for storing and delivering media assets like photographs and movies.
Theta Network also employs a multi-token architecture. The theta token (THETA) is the Theta protocol's governance token. THETA is used to stake a validator or guardian node, contributing to Theta Network block production and protocol administration.
Theta fuel (TFUEL) is the Theta protocol's operating token. TFUEL is used for on-chain activities such as payments to Edge Node relayers for video stream sharing and installing or engaging with smart contracts.
A third token, theta drop (TDROP), launched on 1 February 2022. It rewards activity on theta's NFT marketplace, Thetadrop.
By staking and operating a node, users get a proportionate share of the newly created TFUEL. The supply of THETA is hard-capped and will never expand beyond one billion tokens.
THETA/USD price analysis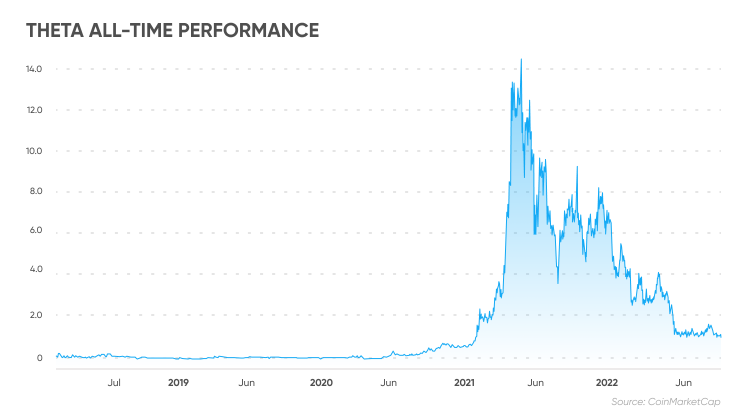 According to ICO Drops, theta's initial coin offering (ICO) concluded in January 2018 at a token price of $0.12. Since then, it has had a return on investment (ROI) of 601%, according to CoinMarketCap.
Based on theta's historical price chart, its price declined from $0.30 on 26 January 2018 to $0.04158 on 16 December 2018, a sharp decline of more than 86%. It closed the year at $0.04706.
THETA had a bullish start to 2019, spiking from $0.04969 on 1 January to $0.1854 on 10 March 2019. The price action remained bearish over the following months, and declined to $0.06985 on 24 November. It closed the year slightly higher at $0.08711.
At the beginning of 2020, global markets were shaken by the rise of Covid-19 and subsequent worldwide lockdowns. This saw several cryptocurrencies decline in value, including THETA, which fell to an all-time low of $0.03977 on 13 March 2020.
However, market sentiment turned ultra-bullish for the THETA token a few months later, as it gained more than 966% to reach $0.4166 on 26 May 2020. The momentum would continue to the end of the year, and THETA reached $1.86 on 31 December.
The broader cryptocurrency market was highly bullish at the start of 2021. This helped the THETA token reach its all-time high of $15.90 on 16 April. However, after this, the price started declining aggressively, with the THETA token falling more than 62% to reach $5.968 on 23 May. The downtrend continued for the rest of the year, and the coin closed 2021 at $4.7147.
Amid several macroeconomic concerns, the crypto market didn't find a favourable start to 2022, and several tokens declined in value. THETA token price declined from $4.9465 on 1 January to its 52-week low of $0.9633 on 13 June 2022.
THETA was trading at $0.9256 as of 25 November 2022, and had a market capitalisation of $925m, making it the 45th-largest cryptocurrency.
Theta Network news and price drivers
THETA has undergone several important milestones lately, which may drive the THETA token price in future.
Validator unstaking for ecosystem growth
In September 2022, Theta Network announced it had unstaked some THETA tokens from the project's treasury to finance ecosystem expansion.
Theta Labs unstaked a minuscule amount of their treasury, 15 million THETA out of a total of 165 million THETA. This fund intends to expedite the pace of core protocol development, community growth, and user adoption to further strengthen Theta as the premier blockchain for video, media and entertainment.
The official blog article also emphasised that this step continues to advance the network toward complete decentralisation, with Theta Labs decreasing its stake proportion from 27% to 24% of the total THETA staked by all validators and guardians.
Partnership with trooVRS
Theta Network collaborated with trooVRS, the first metaverse partner for the Theta Metachain, in August 2022. Of the partnership, trooVRS CEO Adrian Whant said:
"We couldn't be more excited to partner with Theta Labs and be part of the launch of its next-generation Mainnet 4.0 Metachain. Partnering with a leader in the blockchain space in media and entertainment is a crucial step for the continued development of the trooVRS platform. It's equally essential for building our Web3 community-driven strategies powered by Theta Video API, NFT marketplace and other infrastructures."
trooVRS is an immersive media platform for men to interact with content focused on self-care and practical knowledge through virtual editorial settings, experiences, NFTs and eCommerce.
THETA coin price prediction: Targets for 2022, 2025 and 2030
With the release of Ethereum 2.0, dubbed 'The Merge', the cryptocurrency industry is poised for a significant ecosystem transformation. This might be a turning point for recovering cryptocurrency prices, but nothing in the cryptocurrency market is inevitable.
As of 25 November 2022, the Crypto Fear & Greed Index hit 20, indicating 'extreme fear'. This index evaluates the current attitude of the cryptocurrency market and converts the data into a simple zero to 100 scale – 100 indicates great greed, whereas zero indicates severe fear.
According to the theta coin price prediction from CoinCodex, the coin price could increase to $1.2270 by 26 December 2022.
Meanwhile, algorithm-based forecasters gave mixed long-term theta crypto price predictions.
Wallet Investor's theta coin price prediction for 2023 suggested the coin could be a bad long-term investment. It expected the average price to hit $0.115 by next year.
DigitalCoinPrice's Theta Network price prediction said that the average price in 2022 could be $1.07, rising to $2.33 in 2023 and $3.08 in 2024. Its theta coin price prediction for 2025 suggested the token could rise to $4.17, before climbing to $9.23 in 2029, $13.05 in 2030 and $17.90 in 2031.
According to Price Prediction's theta coin price prediction, it could average $0.96 in 2022 and $3.03 in 2025. Price Prediction's theta coin price prediction for 2030 indicated that the coin could reach $19.21.
When looking at any theta coin price prediction, remember that analysts' and algorithm-based expectations can be wrong. They are based on technical analysis and historical price action. Past performance is no guarantee of future results.
It's essential to conduct your own research before trading. Remember that your decision to trade depends on your expertise in the market, the spread of your portfolio and how comfortable you feel about losing money. Never trade or invest any money that you cannot afford to lose.
FAQs
Is theta coin a good investment?

Theta Network (THETA) is a decentralised video distribution network that offers a vast array of blockchain-enabled solutions to the problems affecting the conventional video streaming industry. Since 16 April 2021, when its price reached a record high of $15.9, THETA's price action has been bearish.

Whether this makes THETA a suitable investment for you depends on your risk tolerance and how much you intend to invest. Keep in mind that past performance is no guarantee of future returns, and never invest money that you cannot afford to lose.
Will theta coin go up or down?

According to the THETA/USD forecast from PricePrediction (as of 25 November 2022), THETA could hit $28.47 by 2031. However, Wallet Investor suggested the coin is a bad long-term investment option.

Note that these predictions can be wrong and have been inaccurate in the past. Always do your own research before making any investment decisions.
Should I invest in Theta Network?

Whether the THETA token is a suitable investment for you will depend on your personal circumstances and risk tolerance. You should do your own research to come up with an informed view of where the token could trade in the future.

Keep in mind that past performance is no guarantee of future returns, and never invest what you cannot afford to lose.