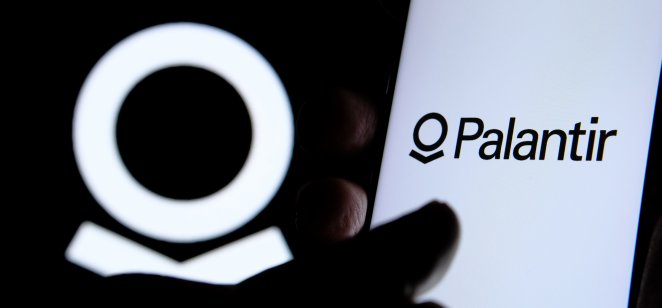 Content
Executives at Palantir Technologies (PLTR) have shared the key reasons why it reported an increase in new business on a conference call after reporting quarterly earnings earlier this week.
Founded in 2004, Palantir has set its sights on becoming the data operating system for companies and industries. It offers products such Gotham and Foundry to aggregate data from disparate sources and then analyses it to help organizations make better decisions.
Palantir stock is up 3% over the past month. For the year to date, the stock is down 47%.
What is your sentiment on PLTR?
Vote to see Traders sentiment!
Palantir Technologies (PLTR) stock price
Palantir executives see gains from macro headwinds
"Palantir reported mixed results with June-quarter revenues coming in line, while revenue and margin guidance declined for the year," William Blair analyst Kamil Mielczarek wrote in a note.
Despite the revision on guidance, executives were upbeat on the company's outlook.
"I personally remain very optimistic that the next three years will look a lot like the last three years," CEO Dr Alex Karp said on the call.
Karp is former financier fluent in French and German who holds a PhD in social theory from a leading German university.
Ryan Taylor, Palantir's Legal and Business Affairs Officer said macroeconomic headwinds would work in the company's favour over the longer term
"As organizations around the world face more pressure and experience more pain, there will be a slowdown in the rate of spending and lengthening of sales cycles," Taylor said.
"But it will also reveal gaps in an enterprise's operation, gaps our software can solve. In the short term, this means less revenue now but on longer time horizons it accelerates our business."
Outlook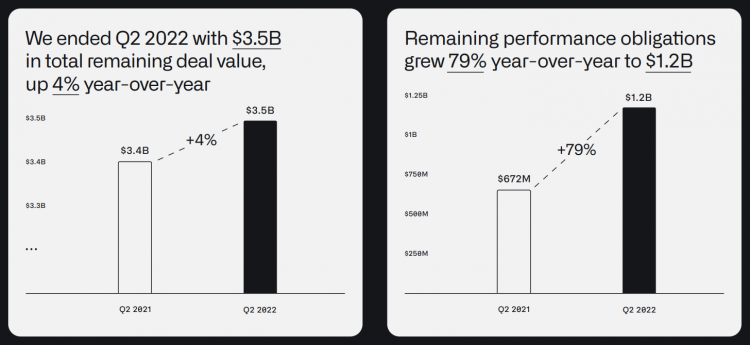 Palantir Technologies
'Growth potential unchanged'
One analyst still sees potential in the company.
"Despite our more conservative estimate, Palantir remains undervalued, in our view, and our strong belief in its long-term growth potential is unchanged," Morningstar analyst Malik Ahmed Khan wrote in a note.
"We are also encouraged by Palantir's continued effort to diversify its revenue streams, particularly within its commercial business to help mitigate lulls in revenue derived from contract timing."
Customers returning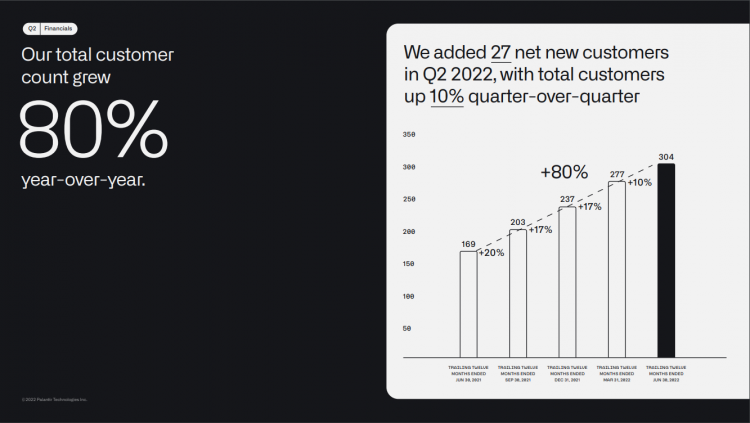 Palantir Technologies
Year-on-year, the company's customer count was up 80%. On the call COO Shyam Sankar outlined a reason for the jump.
"We are seeing former customers, particularly those in the US including some of the world's largest transport, banking and retail enterprises return to our platforms in increasing numbers after periods of experimentation with other platforms and approaches," Sankar said.
| | |
| --- | --- |
| Long position overnight fee | -0.0064% |
| Short position overnight fee | -0.0059% |
| Overnight fee time | 21:00 (UTC) |
| Spread | 0.31 |
| | |
| --- | --- |
| Long position overnight fee | -0.0308% |
| Short position overnight fee | -0.0137% |
| Overnight fee time | 21:00 (UTC) |
| Spread | 0.33 |
| | |
| --- | --- |
| Long position overnight fee | -0.0064% |
| Short position overnight fee | -0.0059% |
| Overnight fee time | 21:00 (UTC) |
| Spread | 0.05 |
| | |
| --- | --- |
| Long position overnight fee | -0.0308% |
| Short position overnight fee | -0.0137% |
| Overnight fee time | 21:00 (UTC) |
| Spread | 0.22 |
"Customers are often returning because they have tried other options and those options have failed to deliver needed results."
Unique products
Palantir executives explained that one reason for revenue-rich customers returning was the uniqueness of their software products.
Karp described Palantir's core products – Gotham, Foundry, Apollo and MetaConstellation - as "the most interesting, important, and crazy baller impactful products in the world."
Gotham, the company's first product, was built for analysts at US defence and intelligence agencies to enable them to identify patterns within datasets such as intercepted signals intelligence (known as "sigint") to reports from informants.
It expanded into commercial markets with its Foundry software platform in 2016, enabling commercial institutions to manage and interpret the data involved in large projects.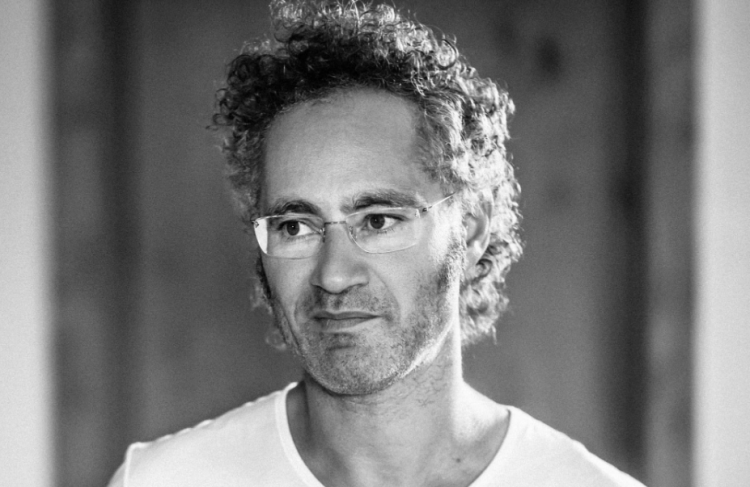 Palantir Technologies
"These products should be measured not just in their ability to throw off free cash flow and generate outsize revenue but most importantly in their quintessential attribute that large companies cannot easily copy them at all."
"They are too intricate and difficult to be replaced by larger incumbents and then distributed through their chain," Karp said.
"[Our products] have one thing in common: it would take many, many years of the world's best engineers to build them and you would be building them as we have improved our products as we capture the market."
Palatir's Karp also shared the key fact of how lean and agile his company's salesforce was.
"We have a lot of people compete with us. Most of those companies are built for Wall Street which have perfect financials and have perfect proclamations of what they're going to hit and very thin products [who employ] sales forces that are 50% of their total people."
For US commercial revenue - which was up 120% year on year in most recent quarter - Palantir relies on only 42 sales people.
"Those [salespeople] have actually learned our product and are able to sell it."
Further reading...