The nuclear reactor market from Rolls-Royce to Bill Gates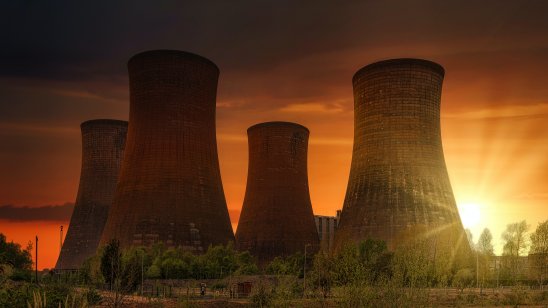 Almost 200 countries have pledged to stem the tide of industrial-age impacts on climate and prevent the earth's mean temperature from rising more than 1.5 degrees compared with the preindustrial period.
That's given rise to electric vehicles, solar and wind power and other alternative energy sources, and nuclear energy is attempting to find a place in the green movement.
Now, British manufacturer Rolls-Royce has entered the nuclear reactor field amid debate as to where nuclear power fits within the toolbox of nations seeking to meet CO2 emissions goals.
Rolls-Royce is joining a field that includes GE Hitachi and TerraPower, chaired by Bill Gates, as well as major state-backed entities like the China National Nuclear Corporation and Électricité de France.
"Nuclear has a really important role to play in getting to net zero for many countries," said Tom Samson, chief executive of Rolls-Royce SMR, to The New York Times.
Energy for the future
Small nuclear reactors, roughly the size of two soccer pitches, have become favourable due to lower costs, higher efficiency and new-generation safety features. Rolls-Royce will develop them in conjunction with the British government, with Britain among several world powers, including Europe's largest nuclear energy producer, France, and the United States, expanding their forays into nuclear energy.

Other nations, however, are less enthusiastic. With historic disasters such as Chernobyl and Fukushima within memory, Germany has deescalated its own program and been an advocate for other nations, particularly within the EU, to do the same.
Germany is involved in a political dispute with Poland, which could cause cross-border contamination in the event of a spill or other accident. It is also one of the many nations facing criticism for its slow pace in meeting lofty climate targets over this decade.
"It's true, of course, that we now face the very ambitious and challenging task of completing the energy transition while phasing out coal and nuclear power," German Chancellor Angela Merkel told Reuters. "But it's also true that this will be worth it for our country if we do it right."
What is your sentiment on RR.?
Vote to see Traders sentiment!
Advocacy and opportunity
Proponents of nuclear energy bill it as a means of reducing dependence on non-renewable energy. Detractors point out that construction time and regulatory constrictions mean that facilities can take 10 years or more to become operational. That's the case for Rolls-Royce, whose plants will be up and running in 2031.
Nevertheless, France and a bloc of nuclear-friendly nations have been urging the EU to classify nuclear energy as "sustainable." If they are successful, billions of Euros could be mobilised toward the nuclear energy sector between national governments, banks and other pertinent parties.
Credit Suisse has been among the major entities that have established a sustainability arm of its operation and has begun to embrace the potential nuclear and hydrogen power.