Both Tesla (TSLA) and Twitter (TWTR) stock gained Thursday, after Elon Musk secured an additional $6.25bn (£4.96bn) in equity financing for his $44bn Twitter acquisition. The new equity financing reduced a margin loan secured by Musk's Tesla stock holdings, which expired on 4 May, according to records filed with the US Securities & Exchange Commission (SEC).
Tesla, Twitter inverse relationship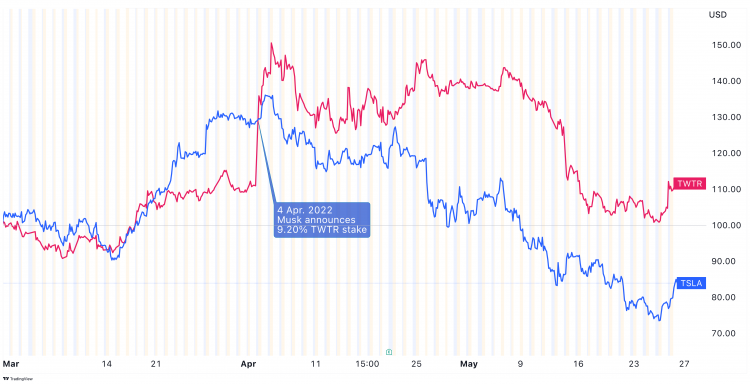 Tesla, Twitter stock since Musk's 4 Apr. announcement
Tesla stock traded as high as $718 on the day versus Wednesday's $658 closing share price before ending the day up 7.46% to $707 per share. Twitter stock traded as high as $39.6,ver sus Wednesday's $37.1 closing share price, before ending the day up 6.47% to $39.54 per share.
Due in large part to Musk's pledging Tesla stock to finance the Twitter acquisition, the stocks have had an "inverse relationship" since Musk announced his initial 9.20% equity stake in the social media platform. "The inverse relationship between Twitter and Tesla remains brutal and frustrating spiderweb for Tesla investors," noted Wedbush Securities analyst Dan Ives over Twitter Thursday. "[Tesla] bounce today good sign, risk on trade but also shows the hypersensitive nature of the stock to Twitter overhang."
Tesla Inc. (Nasdaq: TSLA) price chart
Margin loan cut in half
"[T]he foregoing reduction in margin loan commitments, [Musk] committed to provide an additional $6.25 billion in equity financing to fund a portion of the Merger," the amended Schedule 13D filing states. "On May 24, 2022, [Musk] allowed the remainder of the margin loan commitments...to expire."
As a result, Musk increased the equity portion of his buyout to $33.5bn in equity from the previous $27.25bn. The margin loan, provided by Morgan Stanley, now totals $6.25bn, the filing adds.
The filing signals Musk's planned acquisition of Twitter is no longer "on hold" as Musk said on 13 May, in a dispute over the percentage of fake, or spam, accounts on the platform. Additionally, Musk disclosed ht is in talks with current Twitter shareholders – notably founder Jack Dorsey – to contribute their existing stock to the overall financing.
"[Musk] (on behalf of himself) is having, and will continue to have, discussions with certain existing holders of [Twitter] Common Stock (including Jack Dorsey) regarding the possibility of contributing such shares of Common Stock, at or immediately prior to the closing of the Merger, in order to retain an equity investment in Twitter following completion of the Merger," the accompanying Equity Commitment Letter adds.
Twitter Inc. (NYSE: TWTR) price chart
The spike in Twitter stock pushed musk above water on his investment, which had briefly dipped below the $36 per share break-even point, reaching as low as $35.34 per share on Tuesday. Since Musk announced his intention to take Twitter private, Tesla shares have lost up to 47% year-to-date, from the Jan 3 $1,999.78 closing share price.
What is your sentiment on TSLA?
Vote to see Traders sentiment!
"Even though this is non-fundamental to Tesla's story, it's a lingering overhang," added Ives. "Bwst case scenario for Tesla stock on Twitter front: Musk walks and pays the $1bn; Deal price lowered to $42 - $45 [per share] (less of a burden for Musk); partners on equity portion including Dorsey."
"This Twitter storm will pass but right now its caused a bear festival on Tesla stock – not impacting longer term but in the near term perception is reality."
Ives lowered his 2022 Tesla price Target to $1,000 from $1,400 per share earlier this week, citing "the musk-Twitter saga," as well as Covid-19-related lockdowns in Shanghai, China.
Further reading: