SuperFarm price prediction: can it make NFTs mainstream?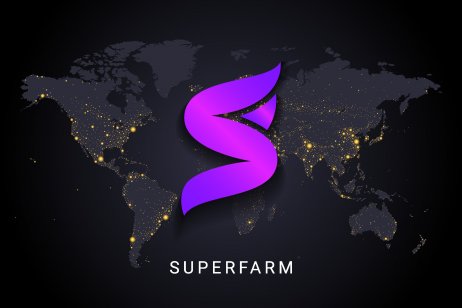 SuperFarm's utility token (SUPER) has fallen over the past month after surging in the fourth quarter last year.
According to cryptoassets price-tracking website CoinMarketCap, the SuperFarm cryptocurrency is listed on the following exchanges:
Binance

Uniswap (V2)

Gate.io

MXC.COM

1inch Exchange

Bilaxy

HitBTC

QuickSwap
SUPER prices were at $0.96 on 18 January, down almost 22% from $1.23 on 18 December 2021, data from CoinMarketCap shows.
SUPER hit a record-high at $4.5063 on 31 March 2021, a month after the project's launch. Prices tumbled to as low as $0.2842 on 22 June 2021. The token was mostly trading below $1 between the end of May to October 2021.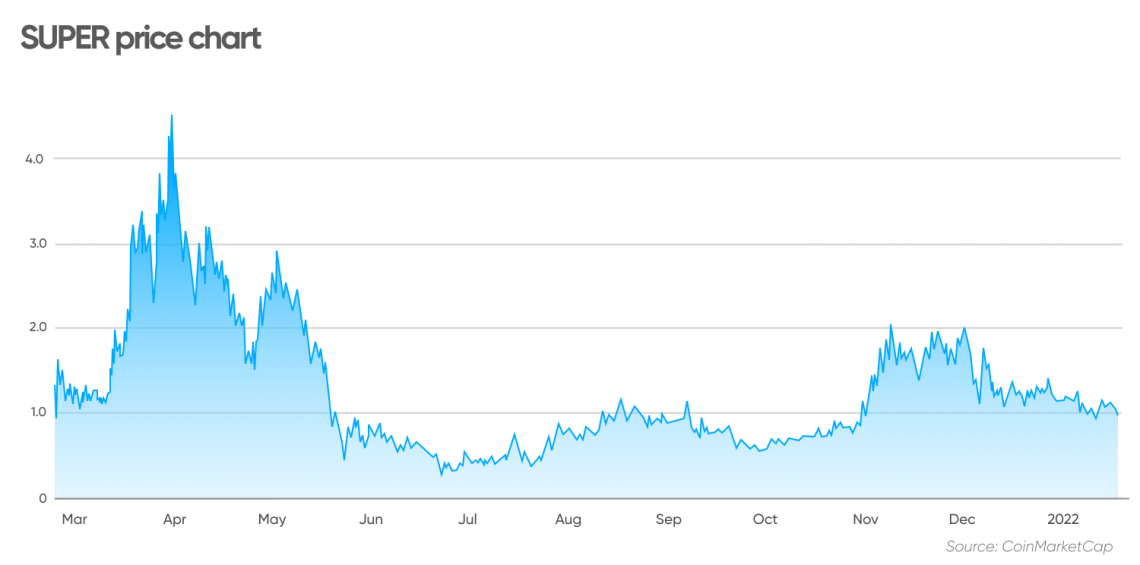 If you're interested in this token, read this analysis to find out the latest SuperFarm coin news and SuperFarm crypto price prediction before making any decision.
What is SuperFarm crypto?
According to SuperFarm's website, the project is a "a cross-chain DeFi protocol designed to bring utility to any token by turning it into an NFT farm with no code required". The project is targeting "crypto's first billion users" by "providing a home for NFT Farming mixed with crypto-to-crypto farming on a platform that is as easy to use as Uber."
Citing Statista, SuperFarm claimed that the 2.6 billion gamers worldwide will provide "the most immediate mainstream use case for nonfungible tokens (NFTs) within video games".
The project, launched in March 2021, is on the Ethereum network. Users need ERC20 tokens to gain access to farms. SuperFarm claims that the platform provides tools for creators to launch NFTs and earn NFTs by staking coins. The project plans to launch NFT Generation, Marketplace and a trading platform, but it does not specify the timeline for their implementation.
Roadmap with no timeline and technology
According to the SuperFarm roadmap published on 23 November 2021, there are three phases in the project's development. No timeline was specified.
Phase 1: Launch
In the first 12 months, only users with SUPER tokens can participate in the governance process by submitting proposals, but it will be non-binding. According to SuperFarm, these proposals "will strongly inform how SuperFarm evolves and assesses its progress, but will not be guaranteed to take effect".
Phase 2: Ascension
After the launch phase, elections will select which members sit on the governing council. The council and the SuperFarm Foundation "will maintain the power to deny proposals, for an estimated period of 12 months. During this period, proposals with the necessary votes can still be vetoed by any of the appointed entities, but will otherwise be binding." The implementation of approved proposals will depend on available development and network resources.
Phase 3: Orbit
After phase two, "proposals can only be vetoed by a majority of the elected council. In this phase, community proposals have a structured path to full adoption and eventual implementation."
There is a slightly more detailed roadmap on the SuperFarm website but it does not indicate any timeline or mention the technology it plans to utilise for the implementation.
SUPER coin supply and token economics
The utility token SUPER is used in governance, to pay fees, make purchases, stake rewards, in NFT farming (users stake an NFT to receive rewards in tokens or stake tokens to receive an NFT as a reward) and to access exclusive NFT drops.
According to SuperFarm, it has a supply cap of 1 billion coins, one-quarter of which is used for staking – 10% is reserved for founders and advisors.
According to CoinMarketCap, SuperFarm has a circulating supply of 404.41 million coins and a market cap is $427.23m (as of 17 January).
SuperFarm completed its first NFT drop on 15 November 202. It presented the NFT series Rave Pigs in January. SuperFarm says Rave Pigs is a collection of 6,666 unique generative audio-visual characters illustrated by an anonymous Berlin-based graffiti artist.
Who is behind SuperFarm?
The CEO of SuperFarm is Elliot Wainman, founder of trading platform Elliot Trade. According to Wainman's LinkedIn profile, he's based in Los Angeles and worked in Tictoklabs from 2013 to 2016.
Although Wainman talked about his development team in SuperFarm's introduction video, the website has not published any details of the team members.
Project risk profile
According to cryptocurrency research and data site Is This Coin A Scam, the SuperFarm project has a poor safety score of 3.94, data at the time of writing on 17 January 2022 shows. SuperFarm scored 7/10 on sentiment and 5.4/10 for trading volume but zero on development.
The other metrics (community, awareness and credibility) were awarded less than five. The score is based on the site's research on social media platforms such as Reddit and Twitter.
SuperFarm has not published its whitepaper, a key indicator of the project's technical feasibility.
It's unclear how SuperFarm intends to achieve the promised features and functions on the NFT infrastructure platform.
Analysis published by blockchain technology publication Blockalive on 25 March 2021 questioned the project's legitimacy. Bitcoin enthusiast Martin Rosulek wrote:
"SuperFarm is quite a new project that has great ambition, but there isn't much information published except the information from the co-founder Elliot Wainman. To be honest, during our research we haven't been able to clarify if there is any other team member involved in the project.
"What concerns me a lot is that a whitepaper hasn't been released and there isn't any mention about it. The only official channel that creates any content about SuperFarm is a Medium blog."
Nonetheless, several price forecast sites expect SUPER prices to rise in the next decade.
SuperFarm price prediction
Despite the risks in this early-stage project, the market outlook and forecast was bullish. Price Prediction and Tech News Leader thought SUPER could surpass $6 in the next five years. Price Prediction forecast that it could reach an average of $31.50 by 2030. Tech News Leader suggested a figure of $29.69 by 2030.
Gov Capital had a more bearish SUPER price prediction, predicting that it would fall to $0 by 24 September 2022.
Note that analyst forecasts can be wrong. Cryptocurrencies are highly volatile. Forecasts shouldn't be used as a substitute for your own research. Always conduct your own due diligence before investing. And never invest or trade money you cannot afford to lose.
FAQs
Is SuperFarm a good investment?

SuperFarm claimed the platform can provide users with an easy and 'codeless' way to launch NFTs and trade them on a marketplace. It does not provide technical details on the implementation. The project's whitepaper has not been published.

Whether it is a good investment or not will depend on your investing goals and portfolio composition. Cryptocurrency is an extremely high-risk investment and capital will be at risk, you should do your own research. And never invest what you cannot afford to lose.
How many SuperFarm coins are there?

According to SuperFarm, there is a maximum supply of one billion SUPER tokens but only 404.41 million coins are in circulation.