Stock markets: UK, European stocks rebound despite Omicron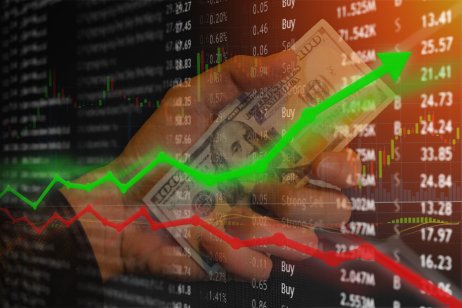 UK stocks inched up by midmorning Monday, as shares recovered from Friday's shockwaves caused by new concerns about the new Omicron strain of Covid-19. The market was further bolstered by reports of faster than expected rollouts of booster vaccination programmes and the UK taking immediate precautions to quell a potential surge in new Covid-19 cases, by banning flights from several African countries where the new strain was detected.
European stocks also reflected the same sentiment with the Euro Stoxx 50 gaining on the back of Omicron sell-offs even as the market braced for a jittery week ahead.
Overnight in Asia, Hong Kong's Hang Seng index fell.
The S&P 500 opened almost 1% higher as US trading began for the week.
What's interesting today: AG Barr announced that it believes its full year earnings will be higher than earlier forecasted, on strong trading activity seen since September, but cautioned "the fast moving situation in relation to Covid-19 remains a risk." Banco Santander announced that Mike Regnier, the chief executive of Yorkshire Building Society would be their new UK head.
Why are stocks up today?
Sell-offs due to the Omicron stain: UK and European indices are refbounding following selloffs Friday over the recent discovery of the Omicron strain of Covid-19 in South Africa.
What is your sentiment on UK100?
Vote to see Traders sentiment!
What this means:

Investors have been more concerned about the uncertainty that global markets face due to this new strain, which have led to widespread sell-offs as they wait for more information on how this could potentially affect markets. With scientists working on determining how infectious the Omicron strain is, speculations of markets facing turbulence for at least another two weeks have surfaced.
Stock markets: key highlights
The FTSE 100 gained 1.19%, to touch 7127.7 points

The Euro Stoxx 50 reflected the same sentiment by gaining 1.32% to reach 4140.6 points

Germany's DAX index climbed up 0.83% to 15384.0 points

France's CAC 40 index inched up 1.25% to 6823.8 points

The leading sectors were retail and electronic technology, whereas finance and mining lagged behind
Market sentiment
The CBOE Volatility Index, or VIX, a measure of expected fluctuations in US stocks, dropped 14.57% to 24.43, as the market stabilised after a surge in investor anxiety Friday

The US dollar index dropped to $96.330

The US 10-year bond yield index inched down to 1.548%
Top stock gainers: UK and Europe
In the UK, the best performing companies were BT Group, Johnson Matthey and Compass Group

BT Group shares rallied on speculations of renewed interest by Indian conglomerate Reliance Industries

Johnson Matthey shares gained following the group's discussions with Tata Chemicals in order to purchase their battery arm

In Europe, the top stock gainers were Munich Re, Allianz and SAP

Munich Re shares rose after the insurance group planned to raise term insurance premiums by approximately 40%

Allianz recently announced the appointment of a new chief operating officer, Colm Holmes
Top stock losers: UK and Europe
On the FTSE 100, the worst performing companies were Hargreaves Lansdown, Polymetal International and London Stock Exchange Group

Hargreaves Lansdown shares suffered after a number of hedge funds bet against them

On the Euro Stoxx 50, the top stock losers were AXA, Inditex and EssilorLuxottica

AXA recently announced a share repurchase programmeworth approximately

€

1.4 bn

Inditex recently announced some corporate restructuring plans worth approximately

€

30m
Stocks news: what you need to know today
Read more: Omicron: UK introduces measures to combat Covid-19 variant