Stock markets: UK, European stocks fall on travel tightening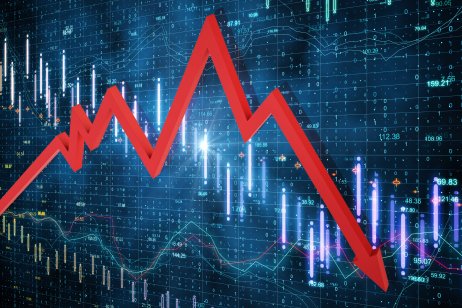 UK stocks inched lower Thursday morning, as investors looked forward to the release of important US consumer inflation data for November, due out Friday. The US consumer price index in October posted the largest 12-month increase since 1990. Investors were also concerned about the effect of additional travel and other Covid-19 restrictions on businesses and the financial markets.
European stocks reflected the same dampened sentiment. The Euro Stoxx 50 dipped as more countries on the continent bolstered travel curbs, which could further set back a travel and hospitality sector which has still not recovered fully from previous lockdowns.
Overnight in Asia, Hong Kong's Hang Seng (.HK50) index gained.
US S&P 500 (.US500) futures are lower.
What's interesting today: Wizz Air, British Airways parent IAG and EasyJet all dipped over 2% as new travel restrictions are imposed in the UK. Transportation company First Group also dipped approximately 4.6% amidst uncertainty about passenger numbers if restrictions tighten further.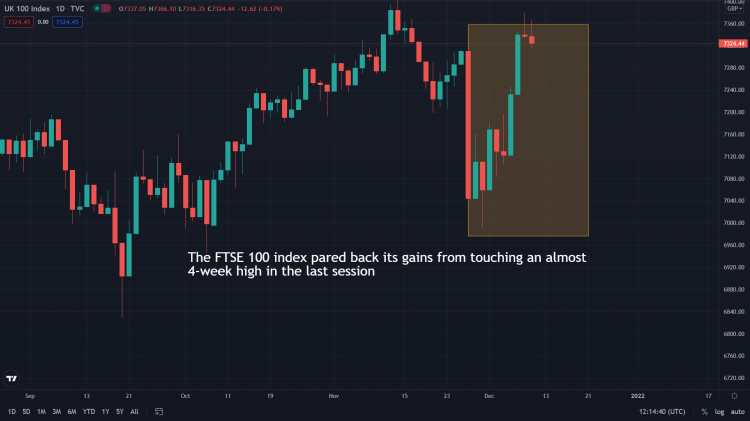 Stocks chart – Credit: TradingView
Why are stocks up/down today?
Increased travel restrictions: The UK has imposed additional travel restrictions on inbound travelers, such as RT-PCR tests before coming into the country as well as on the second day after arrival.
What is your sentiment on UK100?
Vote to see Traders sentiment!
What this means:

Travelers who previously hoped their double vaccinated status may grant them some relief from testing procedures will be disappointed, as the UK tightens its coronavirus restrictions on inbound travelers following the discovery of the new Omicron variant. This also deals a blow to the businesses with significant overseas activity as well as the travel and hospitality industry in general, which has suffered greatly since the beginning of the pandemic.
Stock markets: key highlights
The FTSE 100 (.UK100) index inched lower 0.02% to 7,335.4 points

The Euro Stoxx 50 (.EU50)index dipped 0.42% to 4,215.4 points
Germany's DAX (.DE40) index traded mostly flat at 15,686.6 points
France's CAC 40 (,FR40) index edged up 0.22% to 7,030.3 points

The leading sectors were consumer durables and communications, whereas retail trade and technology services lagged behind

US S&P 500 futures inched down 0.39% to 4680.50
Market sentiment
The CBOE Volatility index, or VIX (.VIX), a measure of expected fluctuations in US stocks inched up to 20.65

The US dollar index dropped to $96.17

The US 10-year bond yield index traded flat at 1.54%
Top stock gainers: UK and Europe
BT Group has recently been the subject of takeover speculation

Berkeley Group Holdings recently increased its earnings forecast by 5% for every year until 2025

Informa recently announced a share buyback program of approximately £1 bn
SAFRAN recently announced that it would be acquiring Orolia
BlindLook partnered with BBVA in order to provide a better banking experience for the visually impaired
Airbus is expected to overtake Boeing as Dutch KLM's primary supplier, leading with the supply of A321neo jets
Top stock losers: UK and Europe
Stocks news: what you need to know today