UK stocks dipped on fresh concerns of rising Covid-19 cases, with the FTSE 100 dropping after a brief upswing yesterday. Investors were also looking forward to eurozone and UK PMI data due out later today.
Europe stocks reflected the same sentiment, with the Euro Stoxx 50 also dipping as the US advised against travel to Germany and Denmark, leading to widespread anxieties of a new round of lockdowns and travel restrictions.
Investors were concerned that the US advice may lead to Germany imposing more curbs, leading to a fall on the DAX index.
What's interesting today: AO World shares dropped sharply after the company readjusted its 2022 profit targets, taking supply-chain constraints into consideration and warning of product shortages as the holiday season draws closer and the year winds down.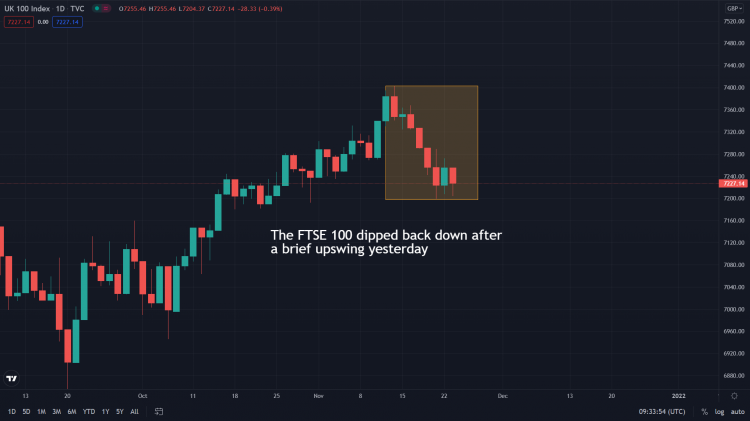 Stocks chart – Credit: TradingView
Why are stocks down today?
Increasing Covid-19 cases: The number of Covid-19 cases has increased significantly over the past few weeks, causing increased investor anxieties.
What this means: With the number of Covid-19 cases increasing steadily over the past few weeks, especially in mainland Europe, investors have been increasingly concerned at the possibility of a winter resurgence that would hit the economy.
As countries such as Austria impose new lockdowns, and the US advises against travel to countries such as Germany and Denmark, this possibility seems increasingly likely, causing investors to brace themselves for a weak fourth quarter.
Stockmarkets: key highlights
T

he FTSE 100 index inched down 0.09% to 7248.8 points
The Euro Stoxx 50 index also fell 0.97% to 4296.0 points
Germany's DAX index dipped 1.05% to 15946.5 points
France's CAC 40 index edged lower 0.6% to 7062.2 points
The leading sectors were mining and consumer non-durables in the UK, whereas technology services and process industries lagged
The US S&P 500 index dropped 0.32% to $4,682.9
Market sentiment
The CBOE Volatility Index, or VIX, climbed up to 11% 19.91, reflecting a marked increase in market anxieties
The US dollar index was down slightly at $96.48
The US 10-year bond yield index edged up to 1.643% as well
Top stock gainers: UK and Europe
The best-performing companies on the FTSE 100 were CRH, Compass Group, BHP and Rio Tinto
BHP Group shares rallied following its recent merger with Woodside to form a global energy company
Rio Tinto shares gained after the company announced it had taken full ownership of Diavik Diamond Mine, Canada's largest diamond mine
Anglo American shares increased as the company set a target for 2040 to reach net-zero emissions from their shipping operations
The top stock gainers in Europe were Airbus, BNP Paribas and BASF
BNP Paribas shares increased after Credit Suisse revealed that it would be referring prime clients to the bank
Airbus shares rallied after their A340 plane landed in Antarctica for the first time
BASF shares gained after their carbon capture and storage project with Air Liquide was gra
Top stock losers: UK and Europe
The worst-performing companies on the FTSE 100 were Flutter, Halma, Spirax-Sarco and Segro
Croda International shares fell as the group's general counsel sold approximately £200,000 worth of shares
The top stock losers on the Euro Stoxx 50 were LVMH Moet Hennessy, Roche and Santander
Roche shares suffered after the company recently ended its partnership with Atea Pharmaceuticals to make its own Covid-19 pill
Santander shares fell as their online banking system crashed, locking a number of clients out of their accounts
Stocks news: what you need to know today
What is your sentiment on UK100?
Vote to see Traders sentiment!