Stock markets: FTSE 100 gains led by mining and telecom shares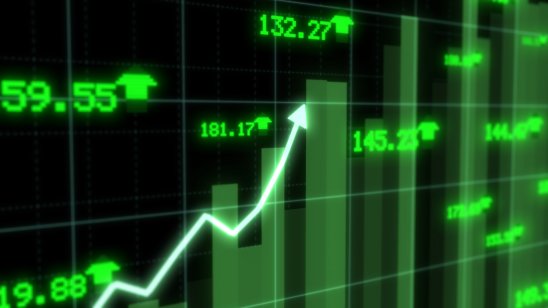 UK stocks climbed up on Monday, with the FTSE 100 gaining on the back of increased dealmaking activity, with several mergers in the works, such as mining company BHP's merger of its petroleum division with Woodside. This merger is expected to create a new global energy company.
European stocks reflected the same sentiment with the Euro Stoxx 50 inching up, as the telecommunications industry gained with Vodafone and BT Group shares pulling up the market.
Overnight in Asia, Hong Kong's Hang Seng index dipped as well, with the US S&P 500 index following suit.
What's interesting today: Private equity company, Apollo Global Management, based in New York, revealed that it was considering buying out retail giant Marks and Spencer. This caused the latter's shares to rally on Monday, as the deal could open up a whole new market for the company.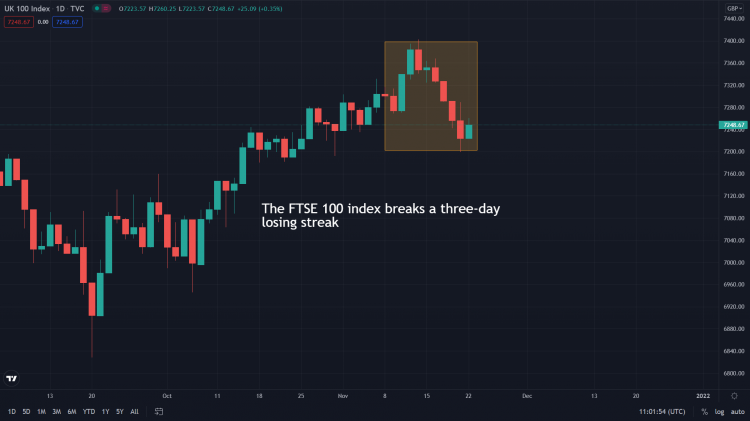 Stocks chart – Credit: TradingView
Why are stocks up today?
Telecom companies shine: Telecom companies such as Vodafone and BT Group pulled up the market today with shares gaining on the back of new dealmaking activity.
What is your sentiment on UK100?
Vote to see Traders sentiment!
What this means:

The telecommunications sector has been one of the few which has been doing well since the start of the pandemic, as more companies moved to remote and flexible working, requiring a major overhaul of communication and technology systems. Thus, companies such as Vodafone and BT Group extending their gains inspired investor hopes that this might be a trend that is likely to continue for the foreseeable future.
Stock markets: key highlights
The FTSE 100 inched up 0.30% to touch 7245.0 points

The Euro Stoxx 50 reflected the same sentiment by inching up 0.22% to reach 4366.2 points

Germany's DAX index also edged up 0.20% to 16191.9 points

France's CAC 40 gained 0.24% to 7129.4 points

The leading sectors were transportation and technology services, whereas mining and consumer non-durables took a hit

US S&P futures inched up 0.29% to $4708.0
Market sentiment
The CBOE Volatility Index, or VIX, a measure of expected fluctuations in US stocks, climbed up to 17.91

The US dollar index inched down to $96.23

The US 10-year bond yield index fell to 1.572%
Top stock gainers: UK and Europe
In the UK, the best performing companies were Royal Mail, Rightmove and Reckitt Benckiser Group

Royal Mail shares have been rallying for the last few days, as the group turned a profit of GBP 311mn on the back of a surge in the parcel business

Rightmove shares inched up as singer Robbie Williams' mansion became one of the most-viewed properties on the property website

Reckitt Benckiser saw shares increase after a better-than-expected third quarter

In Europe, the top stock gainers were Adyen B.V Parts Sociales, Kone and Schneider Electric

Kone shares gained after the company recently introduced its DX Class elevator

Schneider Electric shares increased after advancements in their new liquid cooling technology, which will work towards making the company more efficient and sustainable
Top stock losers: UK and Europe
On the FTSE 100, the worst performing companies were Antofagasta, Polymetal International and Sage Group

Antofagasta shares fell after the group revealed concerns about rising political tensions in Chile

Polymetal International shares were downbeat after it recently reported lower-than-expected third quarter performance

Sage Group shares suffered as profit margins were tightened

On the Euro Stoxx 50, the top stock losers were Iberdrola, Danone and SAP

Iberdrola recently announced that it was building two new solar farms in Spain

Danone shares tumbled after the company announced that they were planning to convert one of their biggest dairy factories to produce plant-based drinks in the coming year

SAP shares inched down, as its Embedded Steampunk system failed to impress users
Stocks news: what you need to know
Read more: UK stocks advance as GDP surprises on the upside