Stock buybacks reach a record $234bn in Q3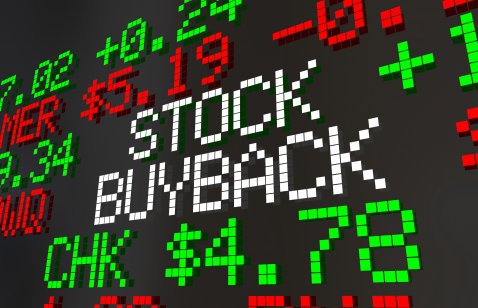 Stock buybacks reached an all-time high of $234.6bn (£177.06bn) in the third quarter of this year, according to preliminary data released by the S&P Dow Jones Indices on Tuesday.
That total is 5% above the previous record high set in the fourth quarter of 2018 at $223.4bn, S&P Global said. It also represents an 18% increase from Q2 2021 and a 130% increase on an annualised basis.
"While companies bought back shares in record numbers in Q3 2021, their expenditures appear cautious when measured against their earnings and market value," Howard Silverblatt, Senior Index Analyst at S&P Dow Jones Indices, said in a statement. "Additionally, the impact on share count remains significantly lower compared to previous years as higher stock prices have reduced the number of shares companies can buy back with their current expenditures."
Buyback details
According to S&P Global's data, 309 companies reported buybacks of at least $5m during Q3 2021 while another 371 approved buyback plans.
Most of the buybacks occurred in the information technology sector, the data shows. For the 12-month period ending in September, the sector represented 32.5% of all buybacks.
Companies such as Apple (AAPL) and Alphabet (A) dominated stock buybacks during the quarter. Apple bought more than $20bn of its stock, marking the eighth-highest quarterly total that S&P Global has recorded.
Alphabet purchases $15.1bn
Meanwhile, Alphabet purchased $15.1bn of its stock, nearly doubling its total spending from a quarter ago.
Financial services companies spent the second-highest total on stock buybacks during the quarter with total spending of $69.1bn. In comparison, the sector spent a little over $40bn on stock buybacks last quarter.
One sector that decreased its buybacks was consumer staples. Spending on buybacks in that sector declined by 8.9% to $16.2bn during Q3, S&P Global said.
Outlook
Looking ahead to next quarter, Silverblatt expects company expenditures to increase despite the uneven road ahead.
The Securities and Exchange Commission recently proposed new rules to increase transparency surrounding stock buybacks, but the impact of the rules remains to be seen.
"At this point, a slight market downturn or correction could also see additional buying, as companies with strong (and expected strong) cash-flow stock up on shares," Silverblatt said.
Read more: Alphabet reports record profit and bn share buyback