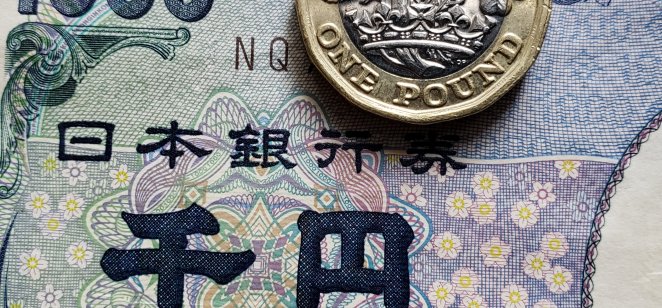 Take two rain-soaked, tea-drinking, royal family loving island nations and work out what else they have in common.
Both are members of the Group of Seven leading economies; both issue their own currencies and each of those currencies is part of the reserve basket maintained by the International Monetary Fund (IMF).
Sterling and the yen have a closer resemblance to each other than either does to other exchanges in the reserve basket. The dollar and China's renminbi are issued by superpowers, while the euro is a multi-national currency managed by the European Central Bank on behalf of the 19 members of the euro-zone.
Support from vaccination programme
But the similarities end when the relative "weight" of the two currencies is compared. Currently, one pound buys 149.94 yen, meaning the Japanese currency unit has more in common with the British penny, of which there are 100 to the pound, than to sterling.
The success of Britain's coronavirus vaccination programme has seen the pound strengthen on foreign exchanges, and it value against the yen is no exception. One month ago, a pound bought 151.18 yen on 26 March, and a year ago, the rate was just 134.97 yen on 30 April 2020.
Momentum would seem to be upwards, with the 12-monthly low seen back on 20 May 2020, at 131.67 and the 12-monthly high of 153.04 seen as recently as 1 April.
Both the vaccination programme and the easing of lockdown restrictions have supported the pound.
In its most recent World Economic Outlook, published last month, the IMF said Japan's economy had shrunk by 4.8% last year and was set to grow by 3.3% this year and 2.5% next year. The UK economy, it said, had declined by 9.9% last year and would grow by 5.3% this year and 5.1% next year.
Japanese inflation flat
On average, the IMF said, advanced economies shrunk by 4.7% last year, growing by 5.1% this year and 3.8% next year.
What is your sentiment on USD/JPY?
Vote to see Traders sentiment!
According to independent research group Consensus Forecasts, the average prediction by financial and academic economists is for Japan's gross domestic product (GDP) to expand by 2.8% this year and 2.4% next year, with consumer prices being flat this year and rising by 0.5% next year.
Core consumer prices, excluding food and energy, are expected to be flat this year and to rise by 0.2% next year. Japanese unemployment is predicted to total 3% of the workforce this year and 2.8% next year.
For the UK, averaged GDP forecasts are for 5.4% growth this year and 5.6% next year, with consumer prices rising by 1.6% this year and 2.1% next year. The unemployment rate is predicted at 5.9% of the workforce this year and 5.8% next year.
Read more: The yen: happy to be out of the spotlight