State Street M&A looms over 3Q earnings results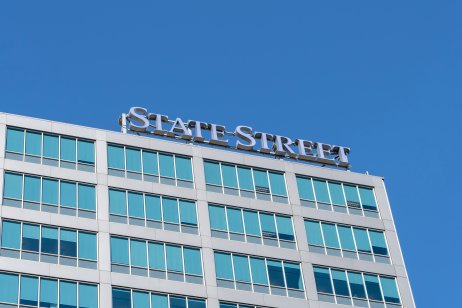 State Street reported strong earnings that beat analyst expectations as the company provided more commentary about its recent $3.5bn (£2.56bn) acquisition of investment bank Brown Brothers Harriman & Co (BBH).
Total revenue was up 7% year over year to $2.99bn, which was slightly higher than analyst expectations of $2.96bn. Likewise, diluted earnings per share rose 35% year over year to $1.96 and beat analyst predictions of $1.89 per share.
Shares in the Boston-based bank were up more than 4% following the earnings report to a price of around $96.5 per share. Year to date, the shares are more than 34% higher.
Mergers and acquisitions
While the prior quarter's results were strong, much of the call focused on future earnings from the BBH acquisition, which the company funded through a $1.9bn common stock issuance last month.
The acquisition includes BBH's custody, accounting, fund administration, global markets and technology services units. A custodian bank holds customers' securities for safekeeping to prevent them from being stolen or lost and the acquisition of BBH will add $5.4trn in assets under custody, adding to State Street's $31.9trn.
At that size, State Street will start to challenge Bank of New York Mellon for supremacy in the custody space where BNY Mellon held $45bn assets under custody or administration at the end of the second quarter, according to earnings reports.
"We announced in the third quarter our intention to acquire BBH Investor Services, which will further strengthen our competitive positioning and market leadership in asset servicing, deepen our international reach, propel our Alpha strategy and create long-term value for our shareholders," State Street CEO Ron O'Hanley said in a statement.
Asset management sale
Media reports surfaced last year that State Street may look to sell its asset management business called State Street Global Advisors, which is one of the largest in the world at nearly $4trn in assets under management.
Last month, The Wall Street Journal reported that investment management firm Invesco is in early talks to acquire the business. Invesco has some $1.5trn in assets under management already and has seen its shares increase by 3.4% since the rumors surfaced in mid-September.
Asset management fees are one of State Street's largest revenue drivers. In the third quarter, management fees brought in $526m of revenue, up 9.8% year over year and up 4.4% from the previous quarter.
Likewise, its investment management assets under management as of quarter-end increased 23% to $3.9trn.
"Our differentiated solutions and operational capabilities are yielding client benefits across the franchise, as evidenced by another strong quarter of AUC/A servicing wins and a record quarterly revenue performance at Global Advisors," O'Hanley said.
Read more: Merger and IPO underwriting cloak weak loan growth at banks