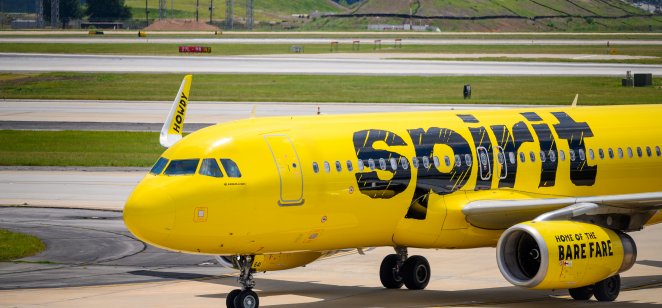 Content
Spirit Airlines (SAVE) stock is getting a boost this week as rivals Frontier Holdings Group (ULCC) and JetBlue Airways (JBLU) sweetened their respective acquisition offers for the low-cost airline, ahead of a shareholder vote sceheduled for Thursday.
Additionally, Shareholder proxy group Institutional Shareholder Services (ISS) reversed course, to a certain extent, now saying JetBlue made the more favourable offer for Spirit shareholders, while maintaining its own "yes" vote for the competing Frontier merger.
Spirit Airlines Inc. (NYSE: SAVE) this week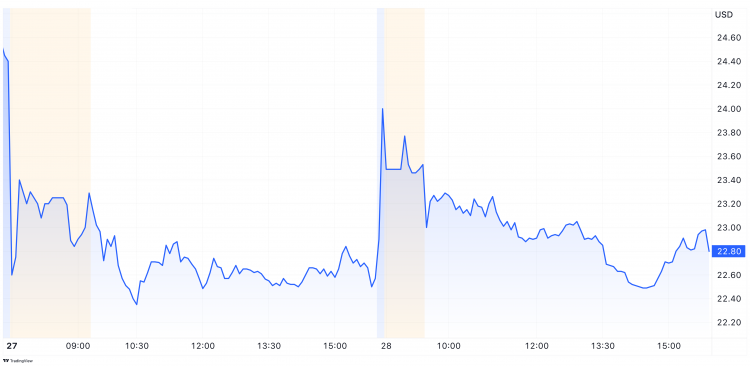 Spirit Airlines Inc. (NYSE: SAVE) this week - Photo: TradingView
JetBlue stock moved up to 4.56% higher Tuesday to a $9.17 session high from Monday's $8.77 closing share price, while Spirit stock moved 4.25% higher to $23.53 from Monday's $22.57 per share close. Even Frontier Holdings stock got a boost, trading 5.02% higher to $9.83 from Monday's $9.36 closing share price.
"Since April 2021, when prices hit the pre-2020 lockdown resistance at $21.80 to $21.90 per share, JetBlue has been trading within a bearish channel," said Capital.com analyst Piero Cingari. "Recent price activity has established fresh yearly lows, with JetBlue approaching the lower line of the bearish channel and attempting a lackluster rebound."
JetBlue Airways (Nasdaq:
JBLU
) price chart
The revised JetBlue buyout offer increases the bid to $34.15 per share, a 51.3% premium on Frontier's stock, and adds a $0.10 per share "ticking fee" paid monthly to Spirit shareholders until the transaction closes. Frontier's competing $22.03 per-share merger offer values Spirit at $2.70bn (£2.21bn).
After JetBlue upped its per share bid from the original $33.50 per share offer, ISS stated that while it is too late in the process for it to change its recommendation, it stated, "the gap between the headline offers has not only widened since Spirit and Frontier modified the deal terms late last week, but the prepayment dividend" – referring to the so-called ticking fee – "a provision without a counterpart in the Frontier offer – provides a further level of regulatory risk mitigation."
ISS also instructed shareholder clients how to change their vote ahead of Thursday's tally.
What is your sentiment on JBLU?
Vote to see Traders sentiment!
Frontier Holdings Group Inc. (NYSE: ULCC) 2021-YTD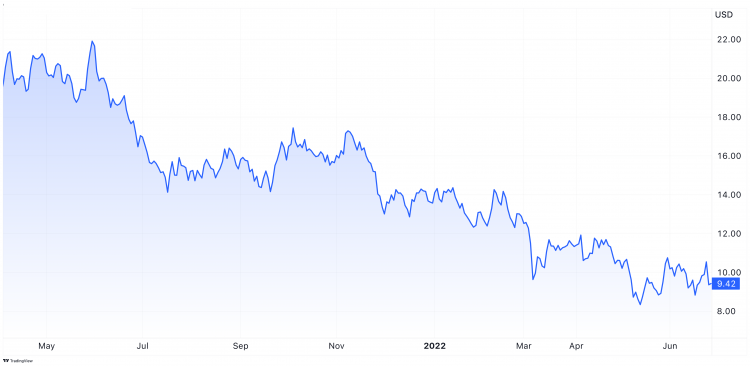 Frontier Holdings Group Inc. (NYSE: ULCC) 2021-YTD - Photo: TradingView
Spirit investor voting against Frontier
Jumping on JetBlue's bandwagon, Spirit shareholder TIG Advisors announced in a letter to Spirit's Board it would vote against the Frontier tie-up.
Citing JetBlue's all-cash offer eliminates execution risk and maximises value via $470m in upfront payments Spirit's Board "is being rather cavalier to assume that Frontier's stock will appreciate by 80% to equal the JetBlue offer… Spirit shareholders have an opportunity more easily participate in an airline recovery without being tied up in the complex Frontier deal scenario."
Spirit's board, however, has unanimously recommended shareholders vote for the Frontier merger during Thursday's shareholder meeting.
"The Board believes a merger with Frontier is the most financially and strategically compelling path forward for Spirit stockholders and has a greater likelihood of closing," Spirit said in a release ahead of the vote. "[T]he Frontier merger offers Spirit stockholders compelling value now, plus the economic upside of continued ownership at a time when the airline industry outlook is only getting brighter."
Race for fifth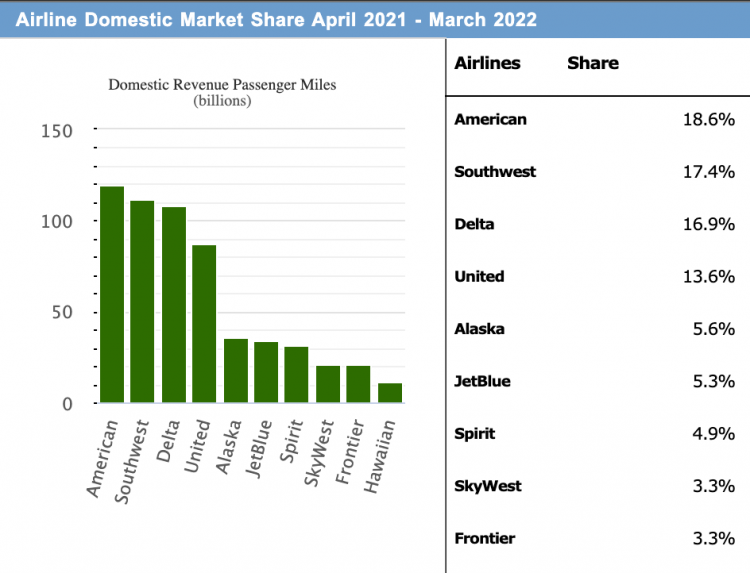 US air carriers by Mkt % - Photo US Bureau of Transportation Statistics
JetBlue's $3.6bn all-cash offer is 25% higher than Frontier's roughly $2.7bn bid, but Spirit would be folded into JetBlue's operations, whereas Frontier's merger offer would allow Spirit shareholders to maintain equity ownership in the new company. Spirit believes the proposed Jetblue acquisition would not receive regulatory approval, as JetBlue is currently fending off charges from the US Department of Justice that a terminal-sharing agreement with American Airlines (AAL) is anti-competitive.
Should Spirit be either acquired by JetBlue or merge with Frontier, the combined entity would be the fifth-largest US air carrier by market share, according to data maintained by the US Department of Transportation.
Spirit Airlines (NYSE: SAVE) 2020 - YTD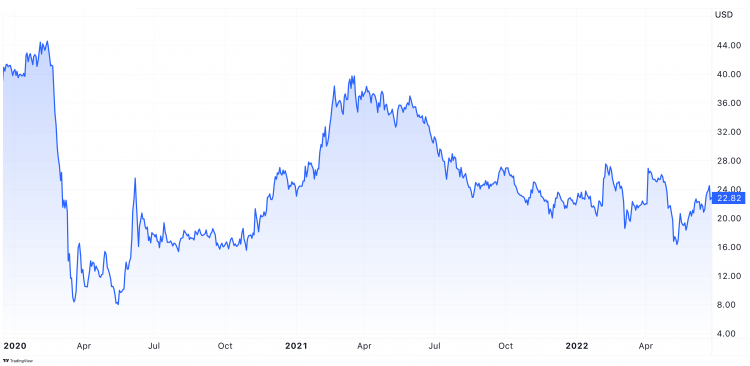 Spirit Airlines (NYSE: SAVE) 2020 - YTD - Photo: TradingView
JetBlue: 'May affect our competitiveness'
JetBlue, on the other hand, believes the combined Spirit and Frontier represents a threat to its profitability, stating in its 2021 Form 10-K filing with the US Securities & Exchange Commission, "[T]he combined airline is expected to be a larger competitor to JetBlue, which may affect our competitiveness."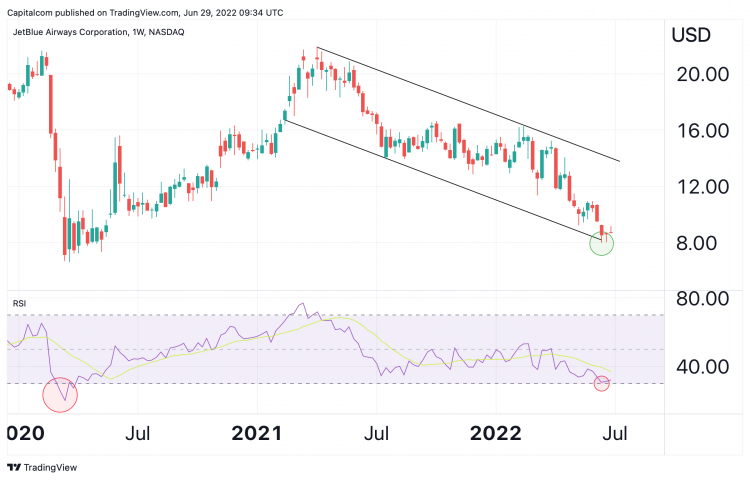 JetBlue Airlines (Nasdaq: JBLU) 1-Wk - Photo: TradingView
"Additionally, if a traditional network airline were to fully develop a low-cost structure, or if we were to experience increased competition from low-cost carriers or new entrants, our business could be materially adversely affected."
Added Cingari: "looking at the weekly chart, the relative strength index [for JetBlue] —one of the key momentum indicators—showed values that were approaching oversold levels for the first time since the March/April 2020 period. This may indicate that the sellers' impetus is waning and that the $8 per share level provides support for JetBlue's stock price, as buyers begin to eye it."
Further reading: