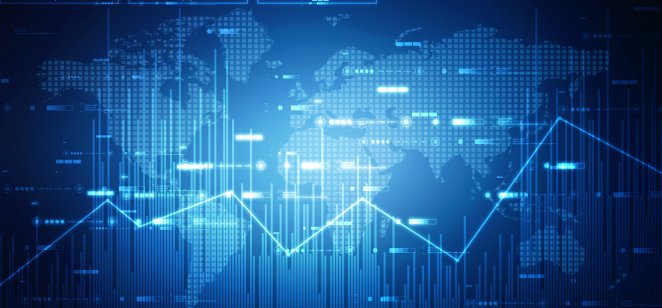 Content
Spell Token (SPELL), a decentralised finance (DeFi) platform token, has plunged in value since the start of the year.
Trading at $0.001681 on 16 August 2022, it is nearly 98% below its all-time high of $0.0751, achieved on 16 November 2021. According to DeFi LIama, Spell Token's total value locked (TVL) has also crashed to $465.62m from a high of $6.42bn, hit on 5 January 2022.
Will the SPELL token recover its lost momentum? This article rounds up recent news and developments surrounding the token and carries out a SPELL cryptocurrency price analysis — together, they could help you form a plausible SPELL crypto price prediction.


What is Spell Token?
Abracadabra.Money is a decentralised lending platform that has two tokens. The native token is Spell Token (SPELL), whereas Magic Internet Money (MIM), a USD-pegged stablecoin, is used to provide loans to users.
Abracadabra's stablecoin MIM can be used in the same way as any other conventional stablecoin. The protocol accepts interest-bearing tokens (ibTKNs) in exchange for MIMs.
For instance, users can give collateral in a variety of interest-bearing crypto assets, including yvUSDT and yvUSDC, enabling users to borrow MIM tokens. Users can get yvUSDT and yvUSDC by depositing the stablecoins USDT and USDC in yield-generating capital pools on DeFi platform Yearn Finance.
Additionally, Abracadabra provides farming opportunities in which users can stake their liquidity provider (LP) tokens to farm SPELL tokens. This method is used to maintain high liquidity on specific pairings. On Ethereum, farming is presently available for ETH-SPELL and MIM-3CRV LP tokens.
The primary function of Spell Token is for staking. In return, the platform users receive reward tokens called Staked Spell (sSPELL) tokens.
sSPELL tokens grant holders voting rights on the platform and a claim to interest generated on MIM lent by Abracadabra. According to the protocol, 75% of the interest fees are used to purchase SPELL tokens awarded to sSPELL holders.
Spell Token's maximum supply is 196 billion, 30% of which is for team members; another 63% of SPELL tokens are given over to global farming incentives, with a number of liquidity pools.
The outstanding 7% of total SPELL was allocated through an initial decentralised exchange offering (DEX) on Uniswap (UNI) and Sushiswap (SUSHI). SPELL token has a 10-year halving model, whereby the rewards distributed are halved annually.
What is your sentiment on SPELL/USD?
Vote to see Traders sentiment!
SPELL token news: Sharp fall amid massive controversy
Spell Token experienced a massive bear market in January 2022 due to a major scandal around Frog Nation. DeFi platforms such as Abracadabra.Money, Wonderland and Popsicle Finance are all part of the Frog Nation consortium of blockchain initiatives managed by developer Daniele Sestagalli.
In late January, tokens linked to Frog Nation witnessed a sell-off following reports that the treasury manager of DeFi project Wonderland was allegedly Michael Patryn, an alleged former convict and co-founder of the fraudulent and now defunct Canadian crypto exchange QuadrigaCX.
An account apparently run by Sestagalli later tweeted that he was aware of Patryn's past:
"Today allegations about our team member @0xSifu (Patryn) will circulate. I want everyone to know that I was aware of this and decided that the past of an individual doesn't determine their future. I choose to value the time we spent together without knowing his past more than anything."
Ashwath Balakrishnan, VP of research, wrote about the effects of the scandal in a report for blockchain research firm Delphi Digital:
"Naturally, this didn't go down well with the community and people began to lose confidence in the project. MIM briefly broke its peg but recovered quite quickly. On 28 January, nearly $1.4bn of MIM changed hands over Curve, most of which seems to have been holders selling into the Curve pool."
Wonderland's community quickly voted to remove Patryn as their treasury manager, but the damage was already done and Wonderland's TIME token fell by more than 50% in the last week of January.
With Abracadabra's SPELL token seeing a similar slump, the platform released a clarification to reassure investors and its community.
"Firstly, 0xSifu was never, at any time, directly or indirectly managing the Abracadabra Treasury," the organisation said a blog post, which has since been removed.
"During the past week, the Abracadabra contracts have been pressure tested and the system that we have put in place has proven to be extremely resilient. Large amounts of liquidity were pulled by large players, and many large Abracadabra positions were unwound. Despite all of this, the MIM peg has consistently and quickly rebounded to levels where trading has been sustainable."
It's important to note that a day before the revelations about its treasury manager's past, a merger between Wonderland and Abracadabra was also proposed. But since the news came to light, Wonderland is on the verge of closure.
Despite the majority of Wonderland's community voting against the project winding down, founder Sestagalli has signalled its end.
Writing in a tweet, he said: "Wonderland experiment is coming to an end. It is clear from the vote that the community is divided. The core and heart of Wonderland is still the community. If we cannot find agreement on wether [sic] to continue or not, it means that we failed."
Investor confidence and community morale within Frog Nation projects have hit rock bottom following the scandal. The sell-off in Abracadabra.Money's SPELL token shows no signs of easing, with the Spell Token price down 95.68% year-to-date.
The massive decline in the token's value can be attributed to the controversies surrounding Frog Nation. Around three months ago, prolific DeFi developer Andre Cronje – a former partner of Daniele Sestagalli – decided to leave the organisation, and announced that he was leaving the crypto space for good.
The loss of interest in SPELL falls in line with that of other leading DeFi apps. In the past few months, the TVL of all DeFi applications has crashed from over $250bn to less than $70bn.
The collapse of Terra and its ecosystem has also affected the sell-off of the SPELL token, fuelling scepticism in DeFi projects.
SPELL/USD price analysis
Based on the earliest available price data on the SPELL chart from 2021, the SPELL token price spiked from $0.0006 on 17 August 2021 to $0.0345 on 3 November – a massive increase of 5,650% in less than three months.
The bullish momentum continued further, and SPELL reached $0.0751 on 16 November. The market sentiment was very bullish during November 2021. For example, Ether (ETH), the world's second-largest cryptocurrency by market cap, reached its all-time high of $4,891 on 16 November 2021.
However, after the rally, a retracement brought the SPELL price to $0.0239 on 31 December 2021, a decline of more than 68%.
At the start of 2022, the broader cryptocurrency market was bearish. Moreover, the controversy surrounding the involvement of Patryn caused the SPELL token to decline from $0.0228 on 1 January 2022 to $0.0052 on 28 January, a fall of more than 78%.
The downtrend continued, and the SPELL token price plummeted to $0.0035 on 24 February 2022. It further declined to a 90-day low of $0.0032 on 14 March 2022.
After a long period of bearishness, the SPELL token price finally gained momentum and reached a 30-day high of $0.006297 on 4 April 2022, but then fell to the $0.001 level in mid-May and continued to trade around that price point for close to two months.
Following a broader uplift across cryptocurrency markets, the SPELL token rose close to 20% on 15 and 16 August.
As of 16 August 2022, SPELL was trading at $0.001681 and had a market capitalisation of $164.16m, making it the 162nd-largest cryptocurrency in the world, according to CoinMarketCap.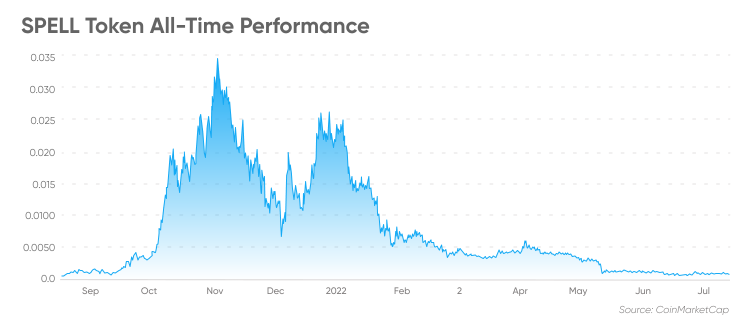 SPELL token price prediction: Targets for 2022, 2025 and 2030
Based on technical analysis, the short-term SPELL coin price prediction from CoinCodex was neutral as of 16 August 2022, with 18 indicators giving bullish signals and nine maintaining bearish signals.
The majority of daily Simple Moving Averages (SMA) and Exponential Moving Averages (EMA), along with the Volume-Weighted Moving Average (VWMA) and Hull Moving Average (HMA), gave out 'buy' signals. The Williams Percent Range and the Moving Averages Convergence Divergence (MACD) stayed neutral.
According to the short-term SPELL token price prediction from CoinCodex, the price could rise by 10.41% to reach $ 0.001849 by 21 August 2022.
Meanwhile, several algorithm-based forecasting services gave longer-term SPELL price predictions as of 16 August.
WalletInvestor's SPELL token price prediction for the coming years was bearish. It said the coin could be a "bad" long-term investment. According to the platform, the price of SPELL could reach $0.000135 by the end of 2022 and $0.000188 by the end of 2023.
According to WalletInvestor's SPELL token price prediction for 2025, the coin could hit $0.0000415 by the end of that year. Its five-year SPELL/USD target price suggested the coin could reach $0.0000526 by August 2027.
DigitalCoinPrice's SPELL token price prediction for 2022 estimated that it could hit an average of $0.00231 by the end of the year. The website forecast the token to average $0.00240 in 2023, $0.00247 in 2024, $0.00334 in 2025, $0.00307 in 2026, $0.00384 in 2027, $0.00552 in 2028 and $0.00697 in 2029.
Its SPELL token price prediction for 2030 expected the coin to average $0.00777 that year, going on to a higher average of $0.00901 in 2031.
PricePrediction supported a moderately bullish long-term outlook on the SPELL token. It projected that the average price of SPELL could average $0.001 in 2022, $0.002 in 2023, $0.004 in 2025, $0.028 in 2030 and $0.040 in 2031.
When looking at a SPELL price outlook, do bear in mind that analysts' and algorithm-based expectations can be wrong. Their future projections for Spell Token are based on fundamental and technical studies of a cryptocurrency's past performance. Past performance is no guarantee of future results.
It is essential to do your research. Always remember your decision to invest in SPELL or any other coin depends on your attitude to risk, your expertise in the market, the spread of your investment portfolio and how comfortable you feel about losing money. You should never trade with more money than you can afford to lose.
FAQs
How many Spell Tokens are there?

According to CoinMarketCap, the circulating supply of SPELL tokens, as of 16 August 2022, stood at over 97.61 billion, while its total supply exceeds 103.2 billion.
Is Spell Token a good investment?

Spell Token (SPELL) is the native token of Abracadabra.Money, a DeFi lending platform. Its price action has been bearish since making an all-time high of $0.0751 in November 2021. As of 16 August 2022, it is close to 98% below that mark.

Whether SPELL deserves to be in your portfolio depends on your circumstances and risk tolerance. Before trading SPELL, you should estimate the level of risk you are ready to take.
Will Spell Token reach $0.10?

Most price prediction websites would say no, at least in the next 10 years.

Forecasting service WalletInvestor suggested the token could reach $0.0000526 by August 2027, while DigitalCoinPrice gave a projection of an average price of $0.00901 in 2031.
Will Spell Token go up or down?

In their SPELL coin price predictions, algorithmic forecasting services WalletInvestor, DigitalCoinPrice, and PricePrediction all, as of 16 August 2022, suggested the coin was on a mildly bullish trajectory. WalletInvestor said the coin could be a "bad" long-term investment.
What is Spell Token used for?

SPELL serves as the governance and incentive token of the Abracadabra.Money ecosystem.
Further reading