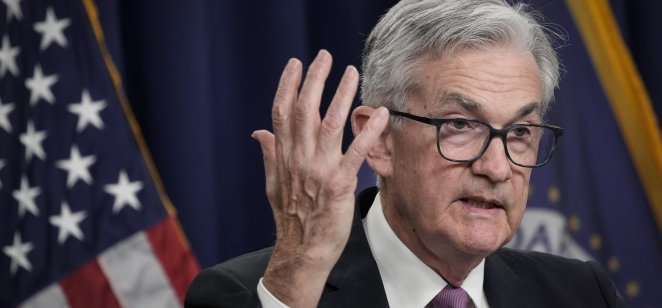 Content
For an economy in recession – see two previous consecutive contractions – the US is holding up, as is the dollar (DXY). More than holding up as red-hot nonfarm payroll numbers showed on Friday, flattening expectations.
Around 258,000 new jobs were expected but 528,000 jobs showed up – stunning numbers. A tightened labour market and stronger wage growth can only mean more chances of rate rises – inflation is at almost 10% yet interest rates at 2.5% – from the Fed.
But not before scrutiny of Wednesday's Consumer Price Index data from the US Bureau of Labor Statistics. The CPI is a predictor of US consumer confidence across key areas such as food, energy and medical help and influences Fed rate decision making.
In June the CPI lifted to 9.1% – the largest 12-month increase since the 12-month period to November 1981.
July headline inflation is forecast to have eased to 8.7% but of more concern for the Fed, says Thanim Islam, market strategist at Equals Money, "will be the core inflation print, excluding food and energy prices, which is forecast to have risen to 6.1%".
And a higher inflation print here could add to USD strength; DXY was 0.27% lower at 106.0095 at lunchtime on Monday.
What is your sentiment on DXY?
Vote to see Traders sentiment!
Not near a US recession – yet
With more confidence in the economy and an apparently resilient US labour market the Fed is swivelling attention to inflation and more aggressive rate rises, possibly.
"The market is already pricing in additional future Fed rate hikes, with a 70% chance of a 75-basis point increase in September," Capital.com's FX strategist Piero Cingari says.
The Fed's aggressive approach with interest rates, as seen in the first half of this year, has acted as a USD tailwind. Now US Treasury yields, thinks Cingari, may rise further and the dollar could benefit from widening rate differentials with other currencies, particularly the euro and yen.
But if investors believe raising interest rates alone aren't enough to keep inflation under control, the dollar faces fresh risk.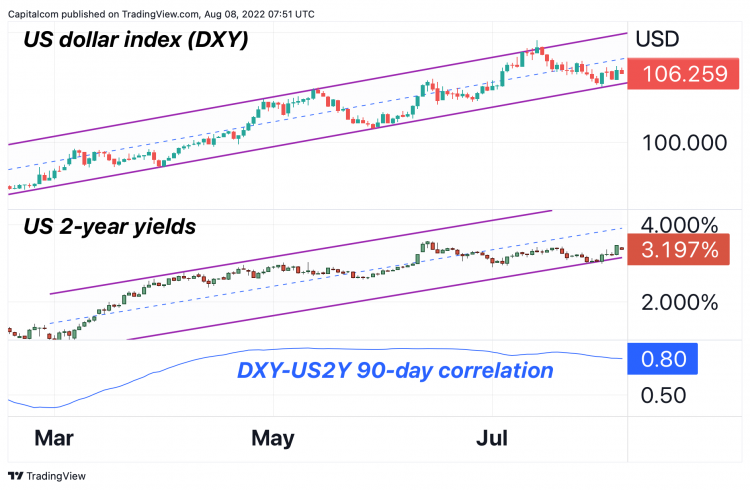 Fed Faith questions
"Loss of faith in the Fed's ability to rein in inflation," he warns, "could cause massive selling pressure on the US dollar, driving demand towards safe havens such as gold and the Swiss franc, as well as commodity-backed currencies."
| | |
| --- | --- |
| Long position overnight fee | -0.0062% |
| Short position overnight fee | -0.0017% |
| Overnight fee time | 21:00 (UTC) |
| Spread | 1.0 |
| | |
| --- | --- |
| Long position overnight fee | -0.0140% |
| Short position overnight fee | 0.0041% |
| Overnight fee time | 21:00 (UTC) |
| Spread | 3 |
| | |
| --- | --- |
| Long position overnight fee | -0.0141% |
| Short position overnight fee | 0.0041% |
| Overnight fee time | 21:00 (UTC) |
| Spread | 1.5 |
| | |
| --- | --- |
| Long position overnight fee | -0.0139% |
| Short position overnight fee | 0.0042% |
| Overnight fee time | 21:00 (UTC) |
| Spread | 1.2 |
Marc Chandler at Bannockburn Global Forex believes Fed chairman Jerome Powell's path for a soft touch down is narrowing but the July CPI may offer some comfort – it's expected to edge up by just 0.2%.
"If so, it would match the smallest monthly increase since November 2020. It would also be consistent with a small decline in the year-over-year rate, which has only happened one other time since last August. However, the core rate may tick up."
The core rate strips out more volatile food and energy inflation rates. But some other economic bolsters for the US economy are about, even if they look weaker. There was a positive S&P manufacturing sector July print with improving – though slowing improvement – conditions, down to 52.8 compared to 53.0 in June. A number over 50.0 remains in growth territory.
The Institute for Supply Management (ISM) survey for the services industry in July saw a boost with new orders, rising to 56.7 in July compared to 55.3 in June.
Macro shadow
But the macro picture remains difficult: "Firms' expectations regarding the outlook for output over the coming 12 months remained at their lowest since October 2020 amid inflation and supply chain concerns, as well as a gloomier global economic outlook," said S&P.
Politically, some broader economic US resilience is good news for the Democrats as November midterm elections approach.
The US Senate has approved – it squeaked through on a margin of 51 to 50 – Joe Biden's new Inflation Reduction Act which should lower healthcare and energy costs for consumers also.
The economic data soup 'out there' is hard to gauge with Commerce Department numbers claiming that the US economy is shrinking, despite big labour market gains, both in job creation and rising wages. The NASDAQ has also soared.
Yet last week the Labor department also said the number of Americans claiming unemployment climbed to 260,000 the previous week, up from 254,000 the previous week. The disconnect continues.
Soft power
FX strategist at Rabobank Jane Foley thinks a soft landing will be the outcome in the US. "However, it is our central view that a US recession next year will be the outcome of the Fed's determination to tackle inflation," she told Capital.
"Our view that the USD is set to remain well supported for the next 6 months or so has more to do with concerns around global growth and the weak outlook for emerging markets. In our view the USD will find support in safe haven flows next year even if a recession looks imminent."
Further reading