Six weeks in, El Salvador's big experiment hits bumps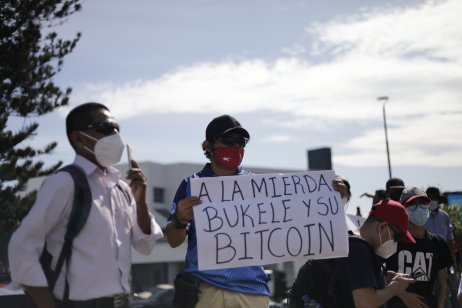 Six weeks into its great economic experiment, it appears that the Central American country of El Salvador – which previous estimates showed more than half of its 6.8 million population had no bank account – is now skipping a step in economic development, going directly from unbanked to digitally banked after the country started accepting bitcoin as legal tender this September.
If the government's numbers are accurate – and that's a big if – this means that nearly 2.73 million Salvadoreans downloaded the Chivo wallet app. However, how many of the purported downloads are from residents and how many might be Salvadoreans living abroad who wished to use it to send remittances is unknown.
Bitcoin progress in the country
Meanwhile, apparently only a small percent of businesses in the Central American country have actually accepted bitcoin payments and technical issues have hindered the government bitcoin app.
Since its 7 September launch, only 12% of consumers have used the cryptocurrency, according to the Salvadoran Foundation for Economic and Social Development. El Salvador's other legal currency is the US dollar.
"Since yesterday, Salvadorans are inserting more cash (to buy #bitcoin) than what they are withdrawing from the @chivowallet ATMs," El Salvador's President Nayib Bukele tweeted last Wednesday. "This is very surprising so early in the game."
The country now owns 700 bitcoins valued at more than $42.2m. However, the foundation's poll also found that 93% of the 233 companies questioned reported no bitcoin payments. Major retailers indicate that Bitcoin transactions account for less than 1% of business.
What is your sentiment on BTC/USD?
Vote to see Traders sentiment!
Crime and bitcoin
El Salvador is a harsh country with high crime and poverty rates. Even a currency that doesn't physically exist is being targeted by thieves.
Ernie Grijalva, practitioner in residence at The Institute of the Americas, explained to Capital.com that Salvadoreans are now reporting identity fraud by way of bitcoin funds being stolen from Chivo wallets.
In order to register for use of Chivo, you have to provide either your El Salvadorean Tax ID or your non-Salvadorean passport number, the latter presumably to show you are exempt from El Salvadorean taxes. For various reasons, tax ID numbers are not as closely guarded in Latin America as social security numbers are in the US.
"Misappropriated El Salvadorean tax ID numbers are being used by third parties to register an account before the actual owner of that ID number does," Grijalva explained.
With the registration of a tax ID number, a user can extract the $30 of bitcoin being deposited by the El Salvadorean government into any new Chivo account. When the actual owner of that tax ID number attempts to login, Grijalva said, the user receives a notification that "this number is already being used".
There are also reports that people who are not interested in opening a bitcoin account for themselves are selling access to their accounts for around $20. The purchaser can then access the $30 deposited by the government.
A misappropriated account can be used by narco-traffickers for laundering money. There is scant information on what the government is doing to prevent this from happening, said Grijalva.
The dichotomy between the number of downloads and low usage in commerce could indicate that people are downloading the Chivo Wallet App to withdraw the $30 deposited by the government, but are then not using it thereafter, he said.
World is watching
But those negatives haven't stopped nations across the world from following El Salvador's economic developments closely. Grijalva said the bigger picture must be explored.
"I think this transition of the unbanked to digital wallets will ultimately be far more significant than the final assessment of the bitcoin experiment in El Salvador," he said, adding that he believes that in the future, digital wallets will eventually replace most brick-and-mortar banks.
"With the exception of China, few countries in the world are attempting to ban cryptocurrency. Countries around the world, including the United States, are instead racing to regulate it. The governments' interest in regulations is mostly designed to ensure cryptocurrency can be taxed. It is easier to regulate – and tax – your own currency than to regulate and tax cryptocurrency," said Grijalva.
An estimated 100 countries are considering issuing their own central bank digital currency (CBDC), a fully digital version of their national currency, to compete with cryptocurrency.
Grijalva explained that nations that have so far expressed their intent to issue CBDCs include Sweden, Uruguay, France, Korea, Russia, Canada, Brazil and South Africa. India is expected to launch theirs before the end of the year and China could do so at any time, having tested it for over a year.
"China banned bitcoin because it hopes its CBDC will be the world's predominant digital currency," added Grijalva.
Stablecoin
As countries race to launch CBDCs to counter cryptocurrencies, the cryptocurrency industry is also racing to launch stablecoins to counter CBDCs.
Stablecoins are cryptocurrency that get added stability from being pegged to tangible assets. The race between CBDCs and stablecoins is testimony to the fact that everyone is betting on digital wallets soon dominating worldwide banking, Grijalva said.
"It is too soon to predict how things will settle out, but early indications suggest that CBDCs and stablecoins will coexist," he explained.
Positive effect
Grijalva said that having access to digital wallets – whether people are using national legal tender for mobile banking or cryptocurrency, CBDCs or stablecoins for digital banking – will pull millions of previously unbanked Latin Americans from the informal economy (strictly cash transactions) into the formal economy.
"As has happened in El Salvador with the Chivo app, governments will be able to use digital wallets to track and tax commercial transactions. The amount of the resulting increase in tax revenues is speculative.
"However, given that an estimated 70% of all commercial transactions in Latin America are all cash and untaxed, even if only a small portion of those 70% of transactions are captured, the positive fiscal impact should be historic and transformational," he said.
Read more: El Salvador loses millions in cryptocurrency law
Read more: Digital wallet crash day one of El Salvador's Bitcoin uptake
Read more: Bank of America sees upside to El Salvador's bitcoin bet