Shipping service ZIM had record breaking third quarter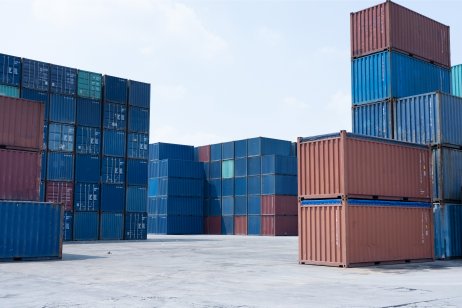 ZIM Integrated Shipping Services (ZIM) reported its best quarterly earnings ever Wednesday of $1.46bn (£1.09bn), compared to $144k a year ago, after seeing a 16% increase in its cargo business.
On Wednesday, the company's stock spiked almost 10% to $55.01 before moving lower. Its 52-week high was $62.20 set on 16 September, while its low was $10.87, set on 28 Jaunary.
On a per-share basis, the Haifa, Israel-based company said it had net income of $12.16, well above Wall Street's estimate of $8.99. Earning per share for the third quarter of 2020 was $1.36.
The largest shipping company in Israel reported $3.14bn of total revenues, up from $1.01bn during Q3 2020.
Adjusted EBITDA was $2.08bn compared to $262m in the year ago period. Adjusted EBIT, or operating income, was $1.86bn, up from $189m a year ago.
The healthy bottom line led the company to increase its 2021 guidance. ZIM now expects full year adjusted EBITDA of $6.2bn–$6.4bn (up from $4.8bn–$5.2bn) and adjusted EBIT of $5.4bn–$5.6bn (up from $4bn–$4.4bn).
Adjusted EBIT is earnings before interest and tax. Adjusted EBITDA is earnings before interest, taxes, depreciation, and amortisation. Both are measures of profitability.
Cargo increase
As the world faces a cargo container crisis, there's simply not enough ships available and those that are available frequently sit along coast lines waiting for unloading at ports. The crisis has driven up the cost of contains by thousands of dollars and that has proven providential for ZIM.
During the quarter, TEUs, twenty-foot equivalent units, cargo containers measuring 20-feet long, 8-feet wide and 8-feet tall, which can hold between 9–11 pallets and the standard shipping container, usage was up 16% from Q3 2020, higher than market growth, the company said.
ZIM reported shipping 884,000 TEUs during Q3 2021 compared to 762,000 during the same period in 2020.
Additionally, the average freight rate per TEU during the quarter was $3,226, up year-over-year of 174%, from Q3 2020 of $1,176.
To help carry the increased cargo, ZIM purchased eight second-hand vessels during the quarter costing roughly $355m.
Cash flow
The Israeli company's total cash flow jumped by $2.18bn from $572m as of 21 December 2020 to $2.76bn on 30 September 2021.
ZIM's capital expenditures totalled $288m for Q3 2021, compared to $8m for the same quarter of 2020.
The company made serious efforts to pay down its debt, decreasing net borrowings by $1.21bn to just $22m compared to $1.24bn at the end of 2020. As a result, leverage decreased to zero times, from 1.2x.
Dividends
ZIM changed its dividend policy and will now make pay-outs quarterly, rather than annually. The board declared a cash dividend of $2.50 per share, payable on 27 December to shareholders of record as of 16 December.
Read more: Caargo container crunch creates supply chain crisis