Shell Q3 earnings: Weaker refining margins drags on profits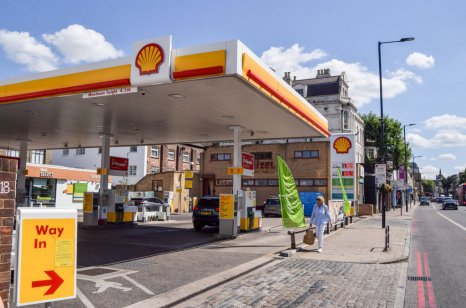 Shell (RDSa) released its third-quarter (Q3) earnings on Thursday morning and reported weaker profit compared to its last results – and announced a new share buyback programme, as well as plans to boost its dividend by the year end.
What is your sentiment on Oil - Crude?
Vote to see Traders sentiment!
Royal Dutch Shell (RDSa) price chart
Adjusted earnings of $9.5bn below Q2 results
The Anglo-Dutch company posted adjusted earnings of $9.5bn for the three months through to the end of September, with adjusted earnings before interest, taxes, depreciation and amortization (EBITDA) of $21.5bn. In Q2, the group reported a record $11.5bn in adjusted earnings – and $9.1bn in Q1. For further comparison, for the same period in 2021, it reported earnings of $4.1bn.
Shell said the profit decline reflected lower liquid natural gas (LNG) trading, as well as lower chemicals and refining margins. It also noted higher underlying operating expenses.
"We are delivering robust results at a time of ongoing volatility in global energy markets. We continue to strengthen Shell's portfolio through disciplined investment and transform the company for a low-carbon future. At the same time we are working closely with governments and customers to address their short and long-term energy needs," Shell's chief executive, Ben van Beurden, said in a press release.
Profit still better than expected
Despite profits being down from the highs seen in its last two quarters, earnings are still more than twice that reported in the same quarter last year – as also highlighted by Piero Cingari, Capital.com market specialist.
"Actually, Shell earnings have been quite strong and better than expected. Earnings per share (EPS) were 1.326 vs 1.20 expected (10.5% higher), while revenues also surprised.
"Earnings in Q3 2022 more than doubled those in Q3 2021. So it was a strong quarter for Shell, way better than forecasts," he said.
New $4bn share buyback and dividend payments
Shell's new share buyback programme announced will result in an additional $4bn of distributions, which it expects to complete by its Q4 2022 results announcement.
"Furthermore, we plan to increase the dividend per share (DPS) for the fourth quarter, which will be paid in March 2023, by an expected 15%, subject to Board approval," Ben van Beurden added.
The company also highlighted in its results a drop in cash flow in the quarter to $12.5bn from $18.6bn in the previous quarter. It said this was due to a large working capital outflow of $4.2bn as a result of changes in the value of European gas inventories.
Shell also noted that production was lower than in Q2 2022, mainly due to the derecognition of Salym in Russia.
The energy giant also highlighted that refining margins were lower than in Q2 because of a recovery in global product supply to meet demand – and said chemicals margins were lower due to higher feedstock and utility costs.
Q4 expectations
Looking ahead, Shell forecast capital expenditure to be in the region of $23bn to $27bn for the whole of 2022 – and anticipates corporate adjusted earnings to be a net expense of around $450m to $650m in Q4.
Shell, along with other energy majors, couldalso face a profit setback with the European Commission (EC) proposing on 14 September a temporary tax on the bloc's fossil fuel producers to help offset soaring power bills.
The EC said the contribution will be taken from their excess profits generated from activities in the oil, gas, coal and refinery sectors – and will be applied for one year after entering into force with a review by 15 October 2023.
"The levy will be collected on 2022 profits which are at least 20% above the average profits of the previous three years, charged at a rate of at least 33%, the commission said, adding the tax could bring in around €25 billion ($25.2 billion) of public revenues," S&P Global Commodity Insights said in a report to clients.
New British Prime Minister, Rishi Sunak, has also come under pressure from lobby groups to do the same – as has the US government.
Shell share price rises
At the time of writing, in early London trade, Shell stock was up nearly 4% to €27.56, following the update. The oil and gas company has seen its share price climb roughly 40% so far in 2022.
The group has enjoyed record profits so far this year overall, like many of the energy majors, as a result of soaring oil and gas prices following Russia's invasion of Ukraine in February.
US natural gas price chart
However, since June, oil has posted four consecutive months of declines with Brent crude oil down by about 25%, despite OPEC+ announcing a recent cut to output in a bid to boost prices and keep crude above the $90 level.
Brent crude oil price chart
US crude oil (WTI) price chart
The group also announced on Thursday that Wael Sawanto will succeed Ben van Beurdenas as chief executive officer, effective from 1 January 2023.