Shares up in Molten Ventures (GROW) as profit jumps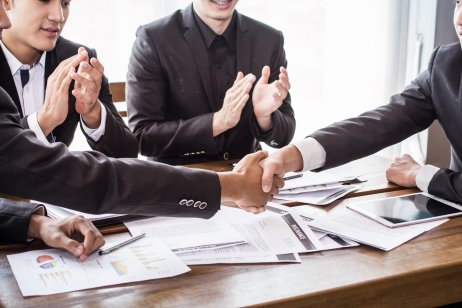 Shares were up 4.80% in Molten Ventures, formerly Draper Esprit, on Monday morning after the venture capital company reported a jump in its portfolio value and a profit boost in its latest interim results.
The business said its gross portfolio value was at £1.35bn ($1.8bn), up 27% for the six-month period to 30 September 2021.
It also reported profit after tax of £218m, up from £54m from the six months to 30 September 2020.
The company, which floated on London's main market in July, also said the value of its tech investments had grown to £366m.
Portfolio valuations
It said its main drivers of the fair value increase were Revolut, Trustpilot, Form3 and Ledger.
"Our portfolio valuations are set against the backdrop of a strong recovery from the COVID-19 pandemic, especially in the technology sector as businesses embrace 'digital transformation' and where equity markets are trading at close to their all-time highs and with a record number of companies achieving 'unicorn' status," said CEO Martin Davis.
"At the end of FY2021, Trustpilot, one of our core companies, successfully IPO'd at £2.65 per share. During the first half of FY2022, UiPath (April 2021 IPO at US$56.00 per share) and Cazoo (August 2021 via a SPAC merger) also became quoted investments within our portfolio. Their valuations are based on their quoted share price at 30 September 2021," he added.
Molten Ventures also noted that its core portfolio was made up of 17 companies representing 68% of the gross portfolio value.
"New entrants to the core are CoachHub, Form3, ISAR Aerospace, and N26, whilst Perkbox, Freetrade and Endomag are not above the threshold for the core in this period and we exited SportPursuit," the statement said.
New companies
The firm highlighted that it had invested £49.9m into new entrants to its portfolio during the period, taking advantage of opportunities to lead rounds in areas such as climate tech, fintech and the future of deliveries.
FintechOS was among its new investments listed after it led a $60m Series B funding round in the business, supported by existing investors, including Earlybird Digital East.
"FintechOS is a global technology provider for banks, insurers and other financial services companies, whose low-code approach to digital transformation has seen rapid adoption in Europe. It allows institutions to build, test and scale new digital products and services in weeks rather than months," Molten Ventures said.
The company also led a $30m Series A round in Cervest during the period – the creator of the world's first AI Climate Intelligence platforms. "The platform combines public and private data sources, machine learning and cutting-edge statistical science to present a unified view of climate risk that has been previously impossible. Its EarthScan™ product gives enterprises and governments on-demand access to current, historical and predictive views of how combined risks, such as flooding, droughts and extreme temperatures can impact the assets they own or manage," the venture capital group said.
Company outlook
The group said that despite the pandemic a pattern was emerging that helped it envisage how life may operate in a post-pandemic world.
"Our exploration of a potential growth fund continues to progress and will be a continued focus for the next six months of the year. This is intended for growth stages aimed at Series B+ deal flow using third-party funds alongside our own to provide a greater ability to lead deals and secure influence and allocation," CEO Davis said.
"As we see the impact on the technology sector of the fundamental shift in our way of living and working as a result of the accelerated transition to digital, I feel greatly encouraged by the strength of our position in the market. I am confident that Molten Ventures is well positioned to continue to support the most promising companies and to continue to drive value for our shareholders and 'Make More Possible'," he added.
The company also noted that portfolio growth was already well ahead of its stated financial objective of 15% for this financial year and said it continues to perform strongly.
"We therefore anticipate fair value growth in the region of 35% for the full year to 31 March 2022, subject to wider market conditions," it said.
Chief executive review
Martin Davis further commented on the results, saying: "We have achieved a huge amount over the last six months both from a financial and operational point of view. We have been active in investing, building on the increased investment cadence we experienced in H2 FY2021, culminating in deployment being in excess of what we initially anticipated for H1. This was due to an acceleration of rounds for some of our existing companies, but also through new investments, taking larger stakes and, crucially, leading rounds."
"Market conditions remained buoyant during the period. The shift to online, accelerated by the pandemic, has remained a permanent fixture of our daily lives largely due to advances in the technology infrastructure, which was available during previous investment cycles. While we cannot be certain about what the future holds in the technology landscape, I am confident in venture capital as an asset class and in our strategy, enhanced investment platform, and diversified, resilient portfolio which spans climate tech to health tech and fintech. We are sufficiently diversified to counter volatility. We anticipate fair value growth in the region of 35% for the full year to 31 March 2022, subject to wider market conditions," he added.
Read more: Oil prices rebound on hopes OPEC suspend output increase