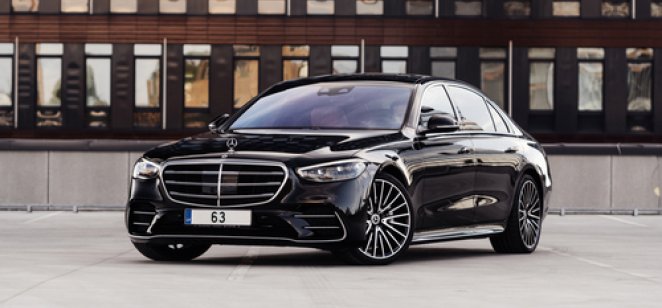 Mercedes-Benz (MBGn) has pledged to focus on selling high-end models and believes the new focus will boost profitability.
In a strategy update issued this month the company says it has long-term ambitions to reshape its portfolio to focus on three product categories: top-end luxury, core luxury and entry luxury. It will dedicate more than 75% of its investments to top-end and core luxury segments.
Shares in Mercedes-Benz have remained relatively flat since the announcement, rising only 0.80% over the last week, and is currently trading at 64.52p. (Mercedes was formerly a subsidiary of Daimler AG but the company changed its name to Mercedes-Benz Group AG in February after spinning off its Daimler Truck division as a separate company. The stock exchange symbol has changed from 'DAI' to 'MBG'.)
So, is the move to focus on luxury enough to convince investors?
Mercedes-Benz (MBGn) share price
Trimming the tree at the bottom
The renewed strategy is set to curb what the company has to offer in terms of entry-level vehicles in the future, as well as end its grudge match with German rivals BMW and Audi.
It wasn't clear from its update which low-end models would be axed but an Autovista report claims that the A and B-class compact cars could see an end to their production.
Mercedes-Benz added that its entry-luxury segment would be reduced from seven to four model variants. It added: "These changes will reposition Mercedes-Benz in the segment, honing in more precisely on the wishes of discerning customers."
A good move?
Some believe that Mercedes-Benz' exit from the entry-level market could be a shrewd move on its part. "Given the entry-level market will be impacted most by the cost-of-living crisis, the strategy to re-establish itself as a luxury brand is clearly an attempt by Mercedes to emulate the success of out-and-out luxury carmakers like Porsche and Ferrari," said Klaus Schinkel, Edison Group director and head of Germany.
Schinkel added: "Entry-level models such as their A and B class vehicles are becoming increasingly difficult to produce at a low cost and in a way that meets strict emissions laws and maintains profitability.
"With Mercedes pledging to shift to a fully electric range by 2030, this investment in the high-end market can also be seen as a challenge to Tesla, who are steadily increasing their share in the luxury electric market."
Mercedes-Benz's focus on luxury products will also be twinned by a drive to go fully electric. It highlighted: "The all-electric G-Class will be the first Mercedes-Benz vehicle to feature advanced battery cell chemistry from Sila Nanotechnologies as an option."
What is your sentiment on MBGn?
Vote to see Traders sentiment!
Challenges ahead
Original equipment manufacturers (OEMs) are still facing semi-conductor shortages and Mercedes is not immune to this issue.
"Repeated Covid restrictions in China are slowing the supply further, while analysts predict a prolonged shortage until at least the second half of financial year 2023. Using the limited supply of semiconductors available to Mercedes in higher-end models is therefore also part of a medium-term plan to increase profitability in the wake of continued shortages," said Schinkel.
The conflict between Russia and Ukraine is also having a negative impact on the business. Schinkel added: "Mercedes-Benz suspended the export of passenger cars and vehicle parts to Russia over a month ago, which will undoubtedly have a financial impact on the company, especially if the conflict continues for a lengthy period of time. Further, energy and material prices spiking in the context of the Ukraine conflict will have hurt most car manufacturers."
Customer demand for luxury
While Mercedes Benz's exit from the entry-level market will reduce consumer choice, it could translate into a smart move for the business as rising prices hit discretionary income.
Mercedes claims customer demand for high-end models is there and that it now has ambitions to grow its top-end vehicle sales share by roughly 60% by 2026 compared with what it achieved in 2019. It said the greater focus on high-end models should enable it to deliver strong financial results.
It's certainly an area in which it feels comfortable. "What has always been the core of our brand is now also the core of our strategy: the luxury segment," said Ola Källenius, chairman of Mercedes-Benz Group.
"We are further sharpening the focus of our business model and product portfolio in order to maximise the potential of Mercedes-Benz even in challenging conditions. At the heart of that is our goal to build the world's most desirable cars."
Read more