Shanghai Covid-19 lockdown grips Tesla, Apple, Alibaba and more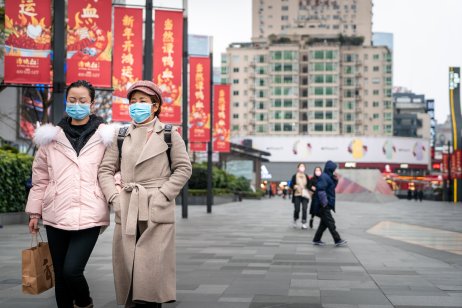 A new surge of Covid-19 in China has created huge problems for the Chinese economy, causing major Chinese stocks to drop this week and "wreaking havoc" on global supply chains.
As of today (Friday 8 April), Chinese health authorities announced that 21,000 locally transmitted Covid infections have been reported in Shanghai, bringing the number to approximately 130,000. As a result, the Chinese government extended lockdowns in Shanghai.
The ripple effect was felt across the stock market, with the Hang Seng Index (HK50) down by 0.7% this week, experiencing its biggest loss on Wednesday 6 April, when it dropped by 1.8%.
The Shanghai Shenzen CSI 300 Index also tumbled by 1.06% this week.
Hong Kong 50 – HK50
As the fresh wave of lockdowns are creating pressure for the economy, Chinese stocks also began to feel the side-effects of this unwelcome medicine. Alibaba Group Holding (BABA) lost over 5%, alongside JD.com (JD), which shed more than 4%.
"Chinese consumer stocks are being battered and athleisure wear favourite Li Ning (2331) has already warned that Covid outbreaks will limit growth this year," says Danni Hewson, financial analyst at AJ Bell.
However, the lockdowns are not just putting Chinese stocks under threat, as US and European companies are also being impacted. As Hewson told capital.com: "China's Covid lockdowns are already wreaking havoc with global supply chains.
What is your sentiment on HK50?
Vote to see Traders sentiment!
Global stocks also affected
As Chinese manufacturers struggle to keep their operations going now that the Covid lockdowns have been extended, global supply chains are feeling the knock-on effects. The latest restrictions have stopped output, forcing several factories to close as workers stay home.
As a result, leading component makers for Apple (AAPL) and carmakers Tesla (TSLA) have been unable to operate.
Said Hewson: "The European Union Chamber of Commerce in China has said cargo volumes at Shanghai Port are likely to drop by 40% – [which is] some number when you consider this is the world's number-one container port.
"While many chipmakers have managed to keep factories open, a lack of drivers means those valuable bits of tech are stranded, which will have a knock-on for global businesses like Advanced Micro Devices (AMD), HP (HPQ) and Apple."
Big brands under threat
Hewson also points out that carmakers such as Toyota (7203), Volkswagen (VOW3) and Tesla are also caught up in this mess due to factories closing. Even when things do open back up, these companies may struggle to recover.
With the fresh wave of Covid cases, Chinese consumers now have no choice but to stay home as factories and companies close. As more consumers remain indoors, big global brand names such as Nike (NKE), Burberry (BRBY) and Starbucks are also losing vital revenue.
The shutdowns are also affecting several casinos in Macau, Hewson noted. "American casino giants Wynn Resorts (WYNN), MGM (MGM) et al. are also seeing their stocks plunge, along with the wider travel sector as investors anticipate how long the Chinese lockdowns will last," she said.
Another side-effect is being seen in the slowdown in demand for commodities like oil, which has seen the price of Brent crude kept in check. According to Hewson, this will no doubt impact the big oil giants such as BP (BP) and Shell (RDSa).
All may not be lost
But it's not all bad news, at least for some stocks that are likely to see a pandemic-induced uptick.
"Chipmaking giant Taiwan Semiconductor Manufacturing Company (TSM) believes the pause in consumer demand from China might just help the business catch up with order backlogs," Hewson said.
Despite this, the supply-chain issues caused by the lockdowns will likely cause already high prices to increase even more.
As more consumers are forced to stay home, there may be some stocks that will thrive in this pandemic environment. As we've seen with previous lockdowns, home food-delivery companies and entertainment groups such as Netflix (NFLX) gained because more people were at home.
"People need to keep busy, so stocks like Weibo (WB) might just enjoy a decent lockdown bump," Hewson said.
There is no doubt the current Shanghai lockdowns have come at a difficult time. With China's projected gross domestic product (GDP) growth looking a little lacklustre, inflation rising around the world and the word 'recession' being used ever more frequently, the economy is certainly on shaky ground.
We are already starting to see the knock-on effect of this latest Covid news on global stock markets, and it's clear to see that Covid worries may be far from over – yet.