Serum price prediction: What next for SRM after the fork?
Subscribe to Weekly Highlights
The major market events for the week ahead right in your inbox.
Subscribe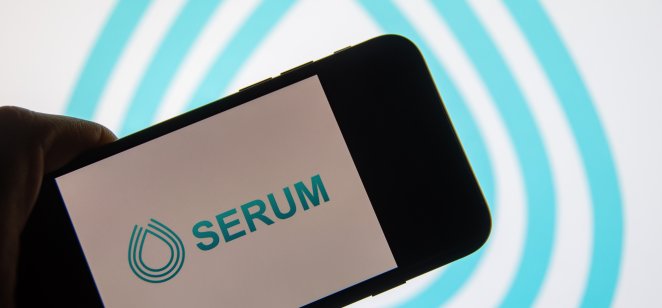 Content
The Serum decentralised exchange (DEX) has undergone a fork over fears that it may have been compromised by a hack of the bankrupt FTX (FTT) exchage.
The news was announced on 13 November 2022, the day after FTX was attacked.
In a tweet, Solana co-founder Anatoly Yakovenko said: "The devs that depend on serum are forking the program because the upgrade key to the current one is compromised. This has nothing to do with SRM… A ton of protocols depend on serum markets for liquidity and liquidations."
One of the developers working on the fork, who used the pseudonym Mango Max, explained on Twitter that Serum's update key was controlled by FTX. Since this private key was crucial in making updates, Serum had to make a hard fork in order to maintain security.
Serum's native serum (SRM) token has also come under pressure because the crypto was a crucial part of the Solana (SOL) blockchain's ecosystem – and thanks to Solana's links to former FTX CEO, disgraced former billionaire Sam Bankman-Fried, SRM has been affected by recent market movements.
SOL/USD price chart
That said, what is serum (SRM)? Let's examine the crypto and take a look at some of the serum price predictions that were being made as of 14 November 2022, too.
Serum explained
If a cryptocurrency is to have any value at all, then it needs to be able to be bought, sold or traded. The most common place for this to happen is on a crypto exchange. There are ultimately two kinds of crypto exchange.
The most common is a centralised exchange (CEX), which are established and run by de facto organisations. People are only able to operate with the currency pairs that the exchange lists. Most of the time, people need to go through Know Your Customer checks before they can start operating.
The restrictions of CEXs mean that there is another kind of exchange, the decentralised exchange, or DEX. These allow people to trade whatever coins and tokens they want, although a DEX can be more complicated to use than a CEX.
Decentralised exchanges, as their name suggests, are all part of the wider world of decentralised finance (DeFi). There are billions of people in the world with no bank account who own a mobile phone. They still need to financial services.
This is, ultimately, one of the key drivers behind both cryptocurrencies and the world of blockchain technology as a whole. If people without access to a bank account can still access savings and loans, DeFi supporters say, there will be more financial inclusion, which can only be a good thing. Since cryptocurrency is designed to take control away from centralised institutions, then DeFi is the concept at the heart of crypto.
Serum is one of the many DEXs set up over the past decade or so. The platform operates on the Solana (SOL) blockchain and is permissionless, which means that two different users can carry out a transaction without having to gain the permission of a central authority figure on the network.
Solana was picked, at least in part, because it had a reputation for being fast and, as a result, cheap to use, meaning that Serum's users should not have to worry too much about high transaction fees. However, as we will see later on, this may well have ended up causing problems for SRM.
The platform utilises a limit book and matching engine in order to help transactions take place. This means that the system's customers can decide how big a trade is and the price that the trade will go for.
The system's whitepaper says: "Serum provides a fully on-chain orderbook, allowing applications such as trading interfaces to 'plug into' Serum's composable ecosystem.
"Serum lives in the heart of the ecosystem, providing services to its ecosystem applications, each with their own technology and set of users. Anyone can create a trading application that leverages Serum's
liquidity
and its ecosystem benefits.
"To illustrate this concept: an order made on one decentralised application (dApp) composing with a Serum orderbook market can be matched with an order made on completely separate dApp composing with that same market."
"Retail traders, developers, and algorithmic traders can all connect to Serum and leverage its shared liquidity, or build a marketplace."
Every blockchain-based platform needs its own crypto, and Serum has the serum token, also known by its ticker handle, SRM. The crypto is used to give holders a discount on fees on the network. In addition, people who hold SRM can take part in votes on changes to the network.
There are no official founders of SRM listed, which might deter potential investors who want to know who they can hold accountable for the crypto's performance.
| | |
| --- | --- |
| Long position overnight fee | -0.0500% |
| Short position overnight fee | 0.0140% |
| Overnight fee time | 22:00 (UTC) |
| Spread | 60.00 |
| | |
| --- | --- |
| Long position overnight fee | -0.0500% |
| Short position overnight fee | 0.0140% |
| Overnight fee time | 22:00 (UTC) |
| Spread | 0.0012310 |
| | |
| --- | --- |
| Long position overnight fee | -0.0500% |
| Short position overnight fee | -0.0500% |
| Overnight fee time | 22:00 (UTC) |
| Spread | 0.00000681 |
| | |
| --- | --- |
| Long position overnight fee | -0.0500% |
| Short position overnight fee | 0.0140% |
| Overnight fee time | 22:00 (UTC) |
| Spread | 5.00 |
However, according to the whitepaper: "Project Serum is built by the Serum Foundation, a group of experts in cryptocurrencies, trading, and decentralised finance. While they have built the Serum protocol, it is permissionless: they do not hold special power anymore."
Because SRM is based on both the Solana and Ethererum (ETH) blockchains, it is a token, rather than a coin. You might see references to such things as a serum coin price prediction, but these are, technically speaking, wrong.
Serum price history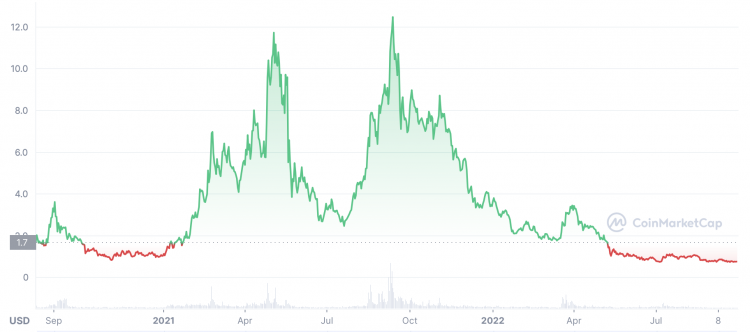 SRM price history from launch to present – Credit: CoinMarketCap
While past performance should never be taken as an indicator of future results, knowing the SRM price history can help give us some much-needed context when it comes to either interpreting a serum price prediction or else making one of our own.
Serum first came onto the open market in 2020 and opened at $0.11 on 11 August before quickly rising to $1.69 a day later. A booming crypto market at the start of 2021 helped SRM, and it reached a periodic high of $12.89 on 3 May.
On 11 September 2021, around the time that it was announced that 131,000 SRM had been burned in a week, the token hit its all-time high of $13.72. It was a descent from there, though, and SRM closed the year at $3.42.
Things have gone downhill for SRM in 2022, much like they have done with the crypto market as a whole. The token experienced peaks and troughs in the first few months of the year but, following the depegging of the UST stablecoin and the collapse of the associated LUNA cryptocurrency, serum plunged to $0.9794 on 12 May.
Things got worse the next month when the Celsius Network (CEL) crypto lending platform cancelled withdrawals and SRM dropped to $0.7517 on 19 June.
There was a recovery after that, with the token breaking back past the dollar level, but in the middle of August it fell down and by 29 September 2022, serum traded at a daily low of $0.75.
Things then seemed to be on the up in early November, with SRM reaching a high of $0.869 on 5 November, but then the collapse of FTX and the news of the enforced fork saw it down to just $0.171 early on 14 November 2022, before it recovered to around $0.245 later that day.
At the time of writing, there were just over 263 million SRM in circulation out of a total supply of a little under 1.1 billion. This gave the token a market cap of around $65m, making it the 319th largest cryptocurrency by that metric.
Serum price prediction round-up
Let's now take a look at some of the serum price predictions that were being made as of 14 November 2022. It is important to remember that price forecasts, especially when it comes to something as potentially volatile as cryptocurrency, very often end up being wrong. Many long-term crypto price predictions are made using an algorithm, which means that they can change at a moment's notice.
CoinArbitrageBot was incredibly bullish at the time of writing with its serum price prediction for 2023 – and it suggested SRM could have risen to $1.78. By 2024, the token could have traded at a fraction of a cent under $3.17 and could have gone on to just under $5.13 in 2025. The SRM price could then have approached $8.30 in 2026. How much you trust the CoinArbitrageBot forecast for 2023 will depend on whether, having made sure to do your own research, you believe that the token can grow by more than 600% over the course of the next year or so.
CoinsKid was cautiously optimistic with its SRM price prediction and suggested the token could have closed 2022 at $0.1551 and jumped $0.2082 in November 2023 and $0.3453 a year later. The site went with its serum price prediction for 2025 that said the token could have started the year at $0.4233, rose to $0.5336 in November and closied the year at $0.5691. By November 2026, CoinsKid thought serum could have dropped to $0.5395, before going back up to $0.5974 in December 2026.
Meanwhile, PricePrediction offered a serum crypto price prediction that argued SRM could have reached $0.44 this year, $0.64 next year and $0.92 the year after that. By 2025, the site said, serum could have been worth $1.27, and gone on to $1.89 in 2026, $2.85 in 2027 and $4.14 in 2028. PricePrediction suggested that SRM could have closed the decade trading at a $5.67. The site's serum price prediction for 2030 set out it could have increased to $8.40 that year and reached $12.09 in 2031.
Finally, WalletInvestor had a rather more downcast and bearish serum price prediction for 2023. The site said that the token's price could have fallen away over the next year, and it could have sunk to just $0.0688 in November 2023.
When considering an SRM token price prediction, it is important to keep in mind that cryptocurrency markets remain extremely volatile, making it difficult to accurately predict what a coin or token's price will be in a few hours, and even harder to give long-term estimates. Analysts and algorithm-based forecasters can and do get their predictions wrong.
If you are considering investing in cryptocurrency tokens, we recommend that you always do your own research. Look at the latest market trends, news, technical and fundamental analysis, and expert opinion before making any investment decision. Keep in mind that past performance is no guarantee of future returns. Never trade with money that you cannot afford to lose.
FAQs
Is serum a good investment?

It is hard to say. In truth, with so many different DEXs out there, it will be interesting to see what Serum can do to stand out from the crowd and give its token a boost. Also, a lot will depend on the overall performance of the crypto market.

Remember, you should always carry out your own thorough research before making an investment. Even high market cap cryptocurrencies have proved vulnerable to bear markets. So investors should be prepared to make losses and never ut at risk any money you cannot afford not to get back.
Will serum go up or down?

It is difficult to tell. While CoinArbitrageBot was optimitic and offered a price prediction that SRM could have risen to $1.78 by 2023, WalletInvestor was far more negative and felt serum could have reached $0.0688 in November 2023 . It is important to remember that price predictions very often turn out to be wrong because prices can go down just as easily as they can go up.

In volatile cryptocurrency markets, it is important to do your own research on a coin or token to determine if it is a good fit for your investment portfolio. Whether SRM is a suitable investment for you depends on your risk tolerance and how much you intend to invest, among other factors. Keep in mind that past performance is no guarantee of future returns. Never stake money you could not afford to lose.
Should I invest in serum?

Whether you should invest in serum is a question that you will have to answer for yourself. Before you do so, however, you will need to conduct your own research and never invest more money than you can afford to lose because prices can go down as well as up.
Related reading