SEGRO reports £26m of new rent as demand for space goes up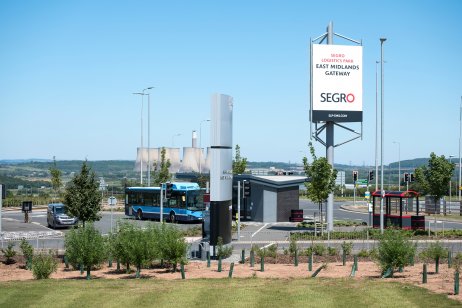 SEGRO Plc posted a trading update on Wednesday and reported a successful third quarter as it continues to capitalise on strong occupier and investment market conditions, with high leasing volumes across the business.
The UK property investment and development company's update covered the period from 1 July 2021 to 19 October 2021.
Strong rent-roll growth
SEGRO reported £26m ($35.8m, €30.8m) of new headline rent signed during the quarter, compared to £16m for the same period in 2020, as post-lockdown demand increased. This took the total for the nine months to 30 September this year to £64m, up from £50m in 2020.
New rents on review and renewal were up more than 13% on previous passing rent in the nine months to 30 September 2021, as ongoing asset management continues to capture reversionary potential from its existing portfolio, the company said.
Property vacancy rate reduced further to 3.2%, predominantly due to strong demand for recently completed and speculatively developed spaces.
While customer retention was at 76% for this year-to-date after the business said it took the opportunity to take back some space in its urban estates in London and Paris with a view to executing identified asset-management initiatives.
Development programme growth
The company said its development programme had also continued to deliver high-quality growth and returns, with potential to increase annualised rent roll by 20% from the pipeline of space under construction and projects in advanced discussions.
So far in 2021, it said it has completed new developments capable of generating £25m of rent, with further developments capable of generating an additional £31m of rent expected to be completed in the fourth quarter, with a total £26m of which already secured, it added.
As of 30 September 2021, space under construction could equate to potential future rent of £68m, the company also highlighted.
European and UK properties in development
SEGRO said that, so far this year, it has acquired over £260m of land to top up its land bank and provide further growth opportunities.
During the third quarter, it acquired £66m of land for future development. This includes sites in Italy and Poland, as well as two further plots of land in London it acquired in early October.
The company also said it had taken advantage of strong market conditions to dispose of £98m of assets, including a portfolio of urban warehouses in Italy and a stand-alone big-box warehouse in Spain.
Earlier this month, it also completed an asset swap, which resulted in the acquisition of an urban warehouse estate in West London for £140m. As part of the transaction, it disposed of a portfolio of stand-alone UK big boxes and urban warehouses for £205m, it said.
The business said it remains on course to invest in excess of £750m in its development pipeline (excluding land acquisitions) during 2021.
CEO comments
David Sleath, SEGRO chief executive, commenting on the trading update, said: "We have made significant progress with our profitable development programme and have completed projects equivalent to £25m of potential rent, of which over 90% is already let.
"We currently have one million square metres of space under construction, and during the period have added to the active pipeline and secured further land to extend our bank of future development opportunities.
"We head into the final months of 2021 with confidence in our ability to drive further sustainable growth in rental income, earnings and dividends."
The company said its provisional date for 2021 full-year results is Friday, 18 February 2022.
SEGRO shares were down by 0.72% to 1,279.25p in mid-morning trading on Wednesday on the London Stock Exchange.
Read more: UK inflation dips unexpectedly in September