SEC chair defends agency actions over digital assets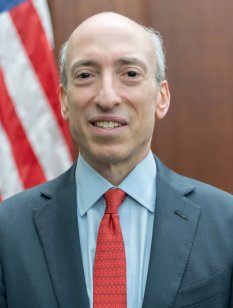 The head of the US Securities and Exchange Commission (SEC) expressed support for his agency's enforcement efforts against digital asset and cryptocurrency companies during testimony Tuesday before the Senate Committee on Banking, Housing and Urban Affairs.
Gary Genseler's comments came one day after the SEC announced charges against New York City-based GTV Media and Saraca Media for conducting an illegal unregistered offering of a digital asset security referred to as either G-Coins or G-Dollars.
GTV and Saraca, along with Phoenix, Arizona-based Guo Media, were further charged with conducting an illegal unregistered offering of GTV common stock.
The companies agreed to pay more than $539m to settle the SEC's action.
The SEC chair told lawmakers today the SEC needs additional employees and legislation to handle cryptocurrency compliance. Gensler didn't delve into details, nor did committee members follow up. Today's digital currency markets resembles those of 90 years ago, when the federal government had little oversight and investors had no recourse, he said.
What is digital currency?
The question senators from both parties asked is whether digital assets and cryptocurrency are securities.
A key contention during the two-hour hearing was over the definition of securities. The committee's ranking member, Republican senator Pat Toomey from Pennsylvania, asked Gensler which digital assets are defined as securities and which are not.
"There's a small number that aren't. And very many that are," Gensler replied, adding the SEC views most digital assets as a security under the Howey Test, a 1946 US Supreme Court decision.
The Howey Test defines a security as an investment contract where the "investment of money in common enterprise with a reasonable expectation of profits to be derived from the efforts of others."
Further, the high court said a security is subject to US securities laws.
The nearly 75-year-old opinion is outdated, because it doesn't address digital assets. Republicans have repeatedly stated they want to see clear guidelines and definitions of what constitutes cryptocurrency and digital assets. They claim the SEC has not done enough to issues guidelines over the past several years.
Different approach
Republican committee members also expressed concerns about the SEC's treatment of cryptocurrency companies. Senator Steve Daines, R-Montana, said the commission "needs a lighter touch" when dealing with the cryptocurrency industry.
In response, Gensler said the SEC isn't taking a heavy hand towards the industry. Instead, the agency is asking companies to register with the SEC and follow its rules and regulations. When SEC officials meet with the cryptocurrency industry, "we ask them to work in an investor protection" environment, the chair said.
Daines expressed concern the "heavy handed" approach will send jobs overseas, adding "America could be a leader" in the cryptocurrency field. Emails to cryptocurrency groups seeking the number of Americans currently employed in the industry were not immediately returned Tuesday.
Market technology
Technology, committee Republicans said, is key in driving a healthy economy and cryptocurrency is one way to advance personal wealth and entrepreneurship.
Speaking in broad terms, Senator Cynthia Lummis, R-Wyoming, asked where the agency stands on technology.
"I think it's the heart of our economy. Look at the last 90 years in the markets," Gensler responded.
Lummis was a key sponsor of a failed Senate amendment to revamp language favourable to the cryptocurrency industry in the $1trn infrastructure bill. She asked what is keeping the SEC from acting on digital currency,
In addition to staffing and funding issues, Gensler said there were gaps of responsibility between federal agencies who oversee the digital asset markets. For example, should federal agencies that regulate banks, the SEC or the Commodity Futures Trading Commission (CFTC) also regulate digital assets? To buttress his point, Gensler pointed out the CFTC has oversight, but little enforcement powers.
Investor protection
Gensler said the SEC approach is to protect investors. The agency has taken enforcement action against digital access companies that did not register with regulators after selling digital assets to consumers.
"This Congress could change the laws, but the laws we have right now have a very broad definition of a security," he said. "There is a very specific litany of the instruments that constitute securities."
Senator Elizabeth Warren, D-Massachusetts, cited last week's steep price decline of Bitcoin and other digital asset and the sellers being offline for hours, not allowing investors to sell their assets.
"What options did they have to sell their investment?" she asked.
Gensler shook his head, saying cryptocurrency is a "highly speculative class" of investment.
Inside the SEC
The two Republican SEC commissioners agreed with GOP committee members that the current rules are ambiguous.
"There is a decided lack of clarity for market participants around the application of the securities laws to digital assets and their trading, as is evidenced by the requests each of us receives for clarity and the consistent outreach to the Commission staff for no-action and other relief," Commissioners Hester Peirce and Elad Roisman wrote in a July public statement.
Read more: Crypto market cap down 11% on bitcoin rout