Seasonal shoppers drawn to lower-alcohol products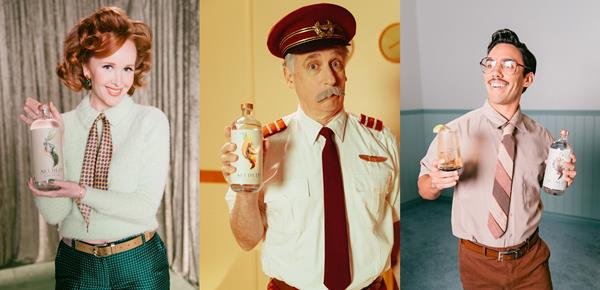 Shoppers headed for the beverage aisle this festive season have more options to choose from, as alcohol producers aim to quench the growing public thirst for healthier alternatives to traditional favourites including champagne, rum and spiked eggnog.
Today's suppliers of so-called "better for you" drinks are captivating consumers with products such as no- or low-alcohol (NOLO), organic, low-carb and vegan beverages – products now no longer buried on the bottom shelf with plain labels and dusty bottles.
Top 20 trend
The new issue of Food and Wine magazine labelled no and low-alcohol drinks one of the Top 20 trends for the coming year. Quite simply, "Alcohol-free cocktails will continue booming", touted surveyed chefs in the publication's January 2021 edition.
John Gillespie, founder of US market-research company Wine Opinions, said studies show the trend of alcohol-free drinks is expected to grow 32% next year. His team of experts work with wine companies doing qualitative and quantitative analysis including research into potential markets.
According to Gillespie, today's post-Covid-19 consumers, especially women, have physical activity and lowering calorie consumption in mind after overindulging on something during the pandemic.
"That's all they're looking for on the label, the carbs and the calories," Gillespie said in a phone interview with Capital.com. "It's a compromise."
What is your sentiment on HEIO?
Vote to see Traders sentiment!
Global industry interest
In fact, a trade show devoted to alcohol specialty products was held in June in London, England and interest was high enough that a second has been scheduled for June 2022.
"I think we're going sign some agreements with some pretty cool Japanese clients, they haven't really explored that market in Asia, so it's definitely open for business," said one conference participant, who asked not to be named for client confidentiality.
In Canada, a number the larger chains have expanded their products to add no- or low-alcohol fare, while globally on social media there's plenty of opportunity
Interest is definitely high in Asian and Mideast market, said Joshua Carlos, sales vice-president for Lyre's Spirit Co, whose high-end beverages include dark and light rum, whisky and orange liquor that are consumed over ice, sipped or made into cocktails. The company has offices in the UK. Australia, the US and New Zealand.
"Most people around the world do not want alcohol."
by
Joshua Carlos, Lyre's Spirit Co
Moderation
"Most people around the world do not want alcohol," Carlos said, while noting Lyre uses many of the same extracts, juices, herbs and flavourings used in traditional distilling.
Wine Australia, a national statutory body, recently said growth of low- to no-alcohol products is an important shift in the industry, noting that 40% of wine drinkers said they are reducing alcohol consumption.
Popular Aussie Wine producer Wolf Blass determined nearly half of consumers in that country are moderating their intake.
"Wine drinkers are crying out for products that provide the same sensory experience of traditional wine, but without the alcohol," said research scientist Dr. Wes Pearson, who is leading the study.
"If we want to take advantage of this growing category, we need to achieve the wine-like qualities consumers are looking for."
Investor interest
Publicly traded spirits companies have entered the NOLO space. Pernod Ricard purchased a majority stake in Ceder's in 2018. Ceder's is a non-alcoholic gin alternative made from classic gin botanicals such as juniper, coriander or citrus and exotic botanicals from the Cederberg Mountains in South Africa's Western Cape.
Diageo has invested over $120m in drinks accelerator Distill Ventures since its founding in 2013. The investments include Ritual Zero Proof, the first spirit alternative distilled in the US that echoes the taste and smell of spirits and Seedlip, the world's first non-alcohol distilled spirits brand, which exited into the Diageo portfolio in 2019.
Heineken offers Heineken 0.0, an alcohol-free malt beverage.
Read more: Diageo (DGE) expects 16% sales growth in first half of 2022