Salesforce (CRM) sinks 6% on EPS miss and outlook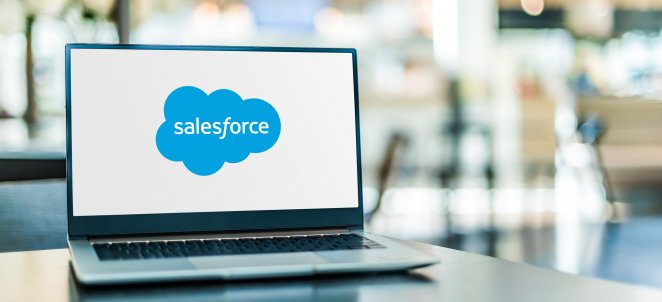 Salesforce's stock lost more than 6% in value during after-hours trading on Tuesday after the company missed Wall Street's per-share earnings estimates and lowered its outlook in its quarterly earnings statement.
CRM stock is down 5.8% over the last four weeks but it is still up more than 20% over the last six months despite the recent downturn.
Earnings details
According to the company's fiscal third quarter 2022 earnings, Salesforce brought in $6.8bn in revenue and diluted earnings per share (EPS) of $0.47.
The San Francisco, California-based company's revenue total represents growth of 27% on an annualised basis while its EPS totals shrank by approximately 60%.
For comparison, 37 analysts surveyed by Yahoo Finance estimated the company would report $6.8bn in revenue and EPS of $0.92.
The company saw its cost of revenue increase significantly during Q3 to $$1.8bn, up from the $1.3bn figure it posted last year. At the same time, the company's total operating expenses grew to $4.9bn compared to $3.8bn in Q3 2021.
Marc Benioff, CEO of Salesforce, described the company's financial results as a "phenomenal quarter."
"Salesforce is more relevant and strategic than ever as every company accelerates their digital transformation journey," Benioff said. "Just as we've helped our customers navigate the pandemic, we're now guiding them toward greater growth, customer success, health and safety, and trust."
Benchmark woes
Despite the solid revenue growth, Salesforce has struggled to keep up with its benchmarks in recent trading sessions.
Ahead of the earnings announcement, Salesforce stock dropped 3.9% or more than $11 per share compared to the 2.46% drop for the Dow Jones Software Index.
Salesforce's 5.8% decline over the last month also leads the index by more than 2%.
Outlook
Looking ahead to the fourth fiscal quarter, Salesforce expects to bring in revenue between $5.66bn and $5.67bn, representing approximately 17% year-over-year growth.
For the full year, the company expects to earn $21bn in revenue. This projection is more than $5bn below its full-year projection of $26bn from last quarter.
Read more: Salesforce (CRM) stock price climbs on upcoming report