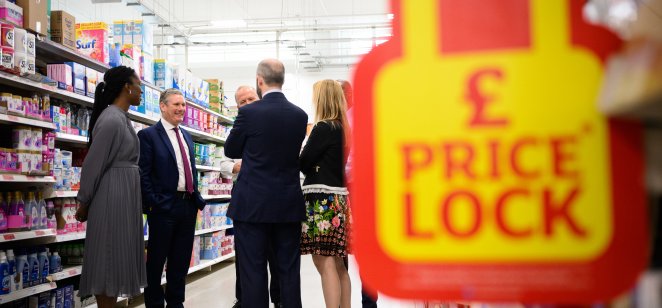 Content
UK supermarket chain Sainsbury's (SBRY) reported a 4% fall in underlying sales for its first quarter. Grocery sales fell 2.4% over the quarter to June 25 and general merchandise sales fell 11.2%.
CEO Simon Roberts commented:
"The progress we are making on improving value, quality, innovation and service is reflected in our improved grocery volume market share.
"The pressure on household budgets will only intensify over the remainder of the year and I am very clear that doing the right thing for our customers and colleagues will remain at the very top of our agenda."
Sainsbury's said it still expected its underlying pretax profit for the year to be between £630m and £690m.
The company also said its chief financial officer Kevin O'Byrne would retire in March 2023 and be suceeded by commercial and retail finance director Blathnaid Bergin.
What is your sentiment on SBRY?
Vote to see Traders sentiment!
Supermarket share prices: one year and five years (in brackets)
Tesco share price +15.1% (+18.9%)
Sainsbury share price -23.7% (-15.7%)
M&S Group share price -11% (-57.4%)
Sainsbury shares, in fact, are trading barely any higher than they were in early 1989.
Russ Mould, investment director at AJ Bell, says investors are unconvinced the FTSE 100 grocer is getting its game right, especially as 2016's £1.4bn purchase of Argos is no longer the nifty move it looked at the time.
Consumers are struggling as prices soar above pay growth and the economy weakens: food inflation is predicted to hit 15% this summer, grocery body IDG warns.
The price tension has already seen Tesco, burnishing its sharp price cred, get into a rather public price spat with supplier Heinz over beans and ketchup.
Is Sainsbury's out of fresh ideas?
Sainsbury's share price reflects its battle not just against German discounters and Tesco and Asda but also the one-hour delivery services, plus Amazon Fresh.
Mould argues that like-for-like figures are key.
The pandemic and lockdowns have bent the year-on-year comparisons badly out of shape he says "but in the year to March 2022 like-for-like sales were down 2.3% year-on-year, excluding fuel, and the rate of decline was 5.6% in the fourth quarter alone".
Profits – middling?
Sainsbury's CEO Simon Roberts thought underlying pre-tax profits for the year to March 2023 would land at between £630m-£690m.
"That would represent a drop," says Mould, "from the £730m registered last year when the firm estimated COVID-related volumes added £100m to profits but it would still represent an advance on the £586m generated in the pre-pandemic year of 2019-20."
Bid talk subdued
Sainsbury has ditched plans to sell its banking arm and bid talk – revived for the umpteenth time after private equity firm Clayton, Dubilier & Rice's swoop on Morrisons – has come to nothing says the AJ Bell director.
Sainsbury's financial services arm made £38m profits in fiscal 2022 "and the bank paid its first-ever dividend to the group. Analysts will be watching for any comment here on the loan book and for any signs of any increase in impairments".
Especially as customers really feel the cost-of-living burn.
Lower debt, nectar buzz
However, Sainsbury generates more sales online than it did pre-pandemic which gives it a bit more digital insulation against the likes of Lidl and Aldi, who continue to take market share.
There's also some customer 'stickiness' attached to Sainsbury's Nectar card (though other supermarkets have their own card schemes).
Sainsbury's net debt is down, by around £1.4bn over three years and a 6.3% dividend, 24% up on 2021, is a pension fund and private shareholder show-stopper.
But the discounters will come in hard over the next 9-12 months. Investors may be tempted to try something new.
Sainsbury in the aisles
Grocery did solidly in the year to March 2022, with a 7.6% like-for-like increase in sales.
General Merchandise saw a 4.6% drop; Argos was down 3% and Sainsbury's own stores 12% lower.
Clothing started healthily but "badly lost momentum as the year wore on, ended with down quarters in Q3 and Q4 and just a 3.1% increase for the year overall," says AJ Bell.
Updated with files from Reuters.
Further reading