S&P 500, Nasdaq, DAX 40 setups: December data in focus as bulls struggle to keep hold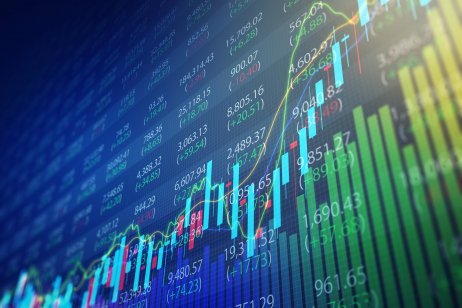 US equity markets finished off the year with a last-minute selloff as the December FOMC meeting evidenced that Fed members are less dovish than hoped despite reducing the size of rate hikes to 50bps.
Chairman Powell kept to his stance of wanting to see more data that supports the US economy is cooling before reducing his grip on monetary conditions which was a disappointment for equity bulls that were hoping two months of falling CPI would have been enough.
This week will see the ISM manufacturing data on Wednesday as well as the December FOMC meeting minutes, which I expect markets will be keeping a close eye out for. The week will culminate with the December jobs data, including the unemployment rate - expected to remain unchanged at 3.7% - and the non-farm payrolls. A reminder that the November NFP dropped slightly from the month prior, but still held above 200k, which has been the default expected monthly reading for the past few months.
So far the new year has seen some upside consolidation in US equity indices which started late last week when we saw continuing jobless claims come in higher than expected during a week with reduced liquidity because of the holidays. This morning we've seen some strength in the US dollar which has weighed on equities but there seems to be a lack of direction as traders come back online. I would expect this to continue until the latest data comes out this week.
Both the S&P 500 (US 500) and the Nasdaq (US 100) remain below their key moving averages which suggests buyers are going to continue facing resistance up ahead. In fact, the positioning in the Nasdaq has now turned bearish with the moving averages placed in descending order (200, 100, 50, 20) as the price drops below its ascending trend line support from the October lows (green dashed line) which is now acting as immediate resistance (11,095).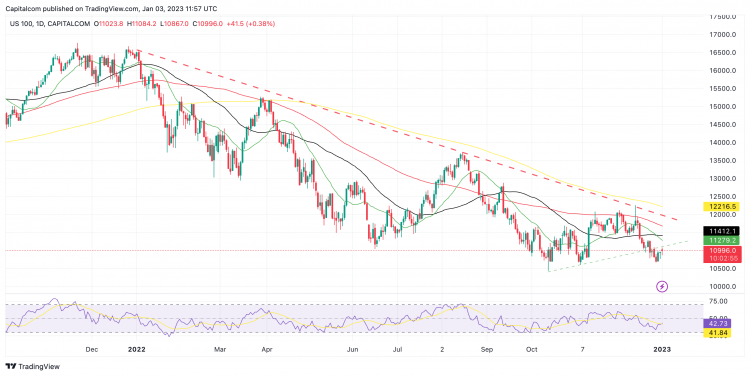 Nasdaq (US 100) daily chart. Photo: capital.com. Source: tradingview
Meanwhile, we continue to see that reluctance to give in to sellers in the S&P 500 but the support to move higher may be running out of steam. The prospect of lower earnings in Q1 alongside a stubbornly hawkish Fed is weighing on bullish sentiment, which is finding resistance around 3,890 once again. Just up ahead, alongside the 3,900 mark, there is a confluence of key moving averages (20, 50, 100) so there will need to be a strong catalyst for an attempt to break above this area. This may come in the form of more dovish-than-expected FOMC meeting minutes on Wednesday, or weaker-than-expected jobs data on Friday. In absence of these, the path of least resistance looks to be lower although losses also seem to be limited as the S&P 500 moves in a sort of sideways consolidation pattern, holding steady above 3,770.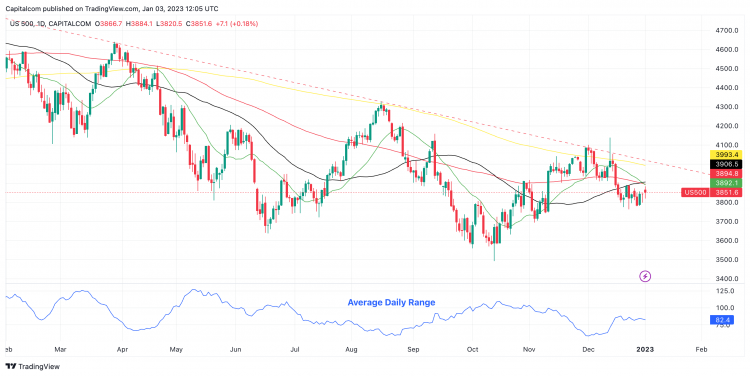 S&P 500 (US 500) daily chart. Photo: capital.com. Source: tradingview
Compared to the US, bullish momentum has held up better throughout the holiday period in Europe. The DAX 40 (DE 40) has managed to consolidate sideways and avoid any further losses after the December ECB meeting and so far has seen a bullish tilt this morning. This was on the back of the North Rhine Westphalia CPI coming in lower than the previous month at 8.7% versus 10.4%, which caused a 2% rally in the DAX.
Momentum was quickly corrected lower as the latest German jobs data came in bettered than expected, with the unemployment rate dropping to 5.5% (vs 5.6%) in December which likely made traders afraid of how this would play into the ECB's hawkish policy. But the December reading for the German CPI has cemented the move higher as it has also come in below the previous month and also below expectations, dropping to 8.6% from 10%.
Technically, the DAX 40 is holding better compared to its US counterparts, notably still trading above its 200-day SMA, which has been a key resistance throughout the latter part of 2022. The path of least resistance looks to be higher but buyers should be aware of the area around 14,400 where we saw strong consolidation back in November/December. If this area is clear, the next focus will be the range between 14,813 and 15,00.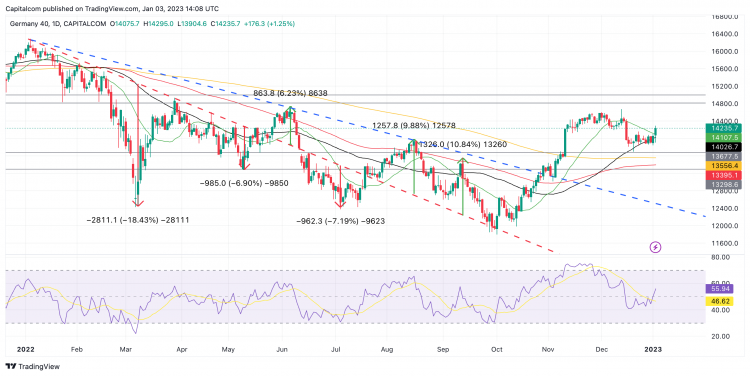 DAX 40 (DE 40) daily chart. Photo: capital.com. Source: tradingview