Robinhood stock forecast: What's next for HOOD?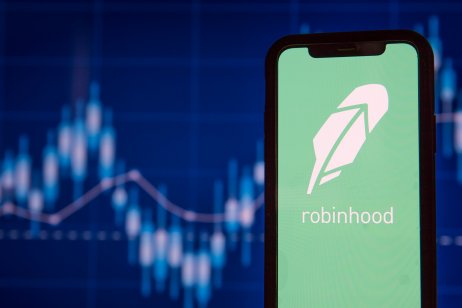 Investors in Robinhood Markets (HOOD), the online trading platform, have endured a tough year with the stock price falling 60%. Can its fortunes turn around?
The US financial services company, which facilitates commission-free trades via a mobile app, has seen falling user activity in a challenging economic environment. It cited the "broad crypto market crash" and the deterioration of the macro environment as contributory reasons for a recent reduction in its headcount.
However, analysts believe HOOD stock has the potential to rise by almost 40% over the coming year, especially if there is an increase in cryptocurrency trading numbers.
In our HOOD stock forecast we take a look at the company's recent results, examine the performance of its stock, and consider the longer term Robinhood stock predictions of analysts.
What is Robinhood?
Robinhood is a US-based financial services firm that facilitates commission-free trades of stocks, exchange traded funds and cryptocurrencies via a mobile app.
It was founded in April 2013 by Vladimir Tenev and Baiju Bhatt, with their declared mission being to "democratise finance for all".
"We believe that everyone should have access to the financial markets, so we've built Robinhood from the ground up to make investing friendly, approachable, and understandable for newcomers and experts alike," they have stated.
The company generates its revenue through sources such as market makers and trading venues, margin interest, income generated from cash and general cash management. It also makes money from selling Robinhood Gold subscriptions, which give investors access to a suite of tools, data and features.
What is your sentiment on HOOD?
Vote to see Traders sentiment!
Stock price analysis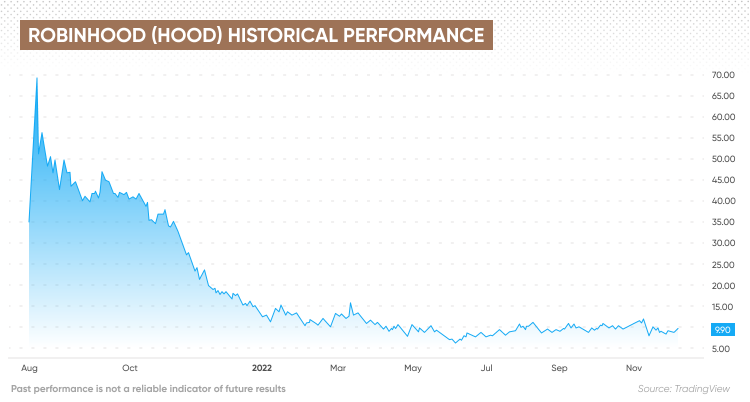 Any Robinhood share price forecast needs to consider how it has been performing in recent years – and this doesn't make great reading for investors.
Robinhood went public on the Nasdaq on 29 July 2021 at $38. After dropping as much as 12% at one point, the stock finished its first day down 8% at around $34.82.
The Robinhood stock price surged to a record intraday high of $85 on 4 August, before tumbling to close the next trading day at $50.97.
Its all-time high stock closing price of $70.39 was achieved on 4 August 2021. Its performance since then has been volatile.
At market close on 30 November 2022, the Robinhood stock price was down to $9.59 – 86% lower than its all-time high and 48% lower than the start of this year.
There have been a number of contributory factors behind the struggling stock price. For example, while total net revenues came in at $365m in the third quarter of 2021, they were down to $361m for the corresponding period this year.
Similarly, while Robinhood achieved total net revenues of $978m for the nine months ended 30 September 2022, this was 33% down on the $1.45bn achieved over the same period in 2021.
Staff cutbacks
Robinhood has also felt the effects of the worsening global economic environment, which has helped trigger a wave of cost-cutting in recent months.
In a blog post published in August, Vlad Tenev, Robinhood's co-founder and CEO, announced the company was reducing its headcount by approximately 23%.
While all areas could be affected, the changes would be "particularly concentrated" in the operations, marketing and program management functions.
"In this new environment, we are operating with more staffing than appropriate. As CEO, I approved and took responsibility for our ambitious staffing trajectory – this is on me," Tenev wrote.
The CEO also acknowledged its "mandate to drive greater cost discipline and accountability" had made it clear that changes are needed to the company's organisational structure.
"This change will flatten hierarchies, reduce cross-functional dependencies, and remove redundant roles and positions."
Latest news
What is the latest news that could affect the Robinhood stock forecast?
BlockFi, the bankrupt cryptocurrency lender, is suing FTX founder Sam Bankman-Fried in an attempt to seize his shares in Robinhood, according to legal papers filed in New Jersey, US. The action alleges Bankman-Fried pledged the shares as collateral before his exchange collapsed last month.
Bankman-Fried's Emergent Fidelity Technologies vehicle reportedly bought a 7.6% stake in Robinhood earlier this year.
Bankman-Fried has been in the firing line since the collapse of FTX, the cryptocurrency exchange that was founded in 2019 and once had around one million users. In an interview at the New York Times' DealBook Summit, he told the paper's Andrew Ross Sorkin that huge management failures and sloppy accounting were to blame.
Latest earnings
In early November, 2022, the company announced Q3 financial results. While revenues were down in comparison to the same period last year, there was some positive news.
Total net revenue was $361m – a 14% sequential increase over the second quarter. It also reported a 3% sequential rise in transaction-based revenues to $208m, with options up 10% at $124m and equities rising 7% to $31m. However, cryptocurrencies decreased 12% to $51m.
Overall, the company had a net loss of $175m, compared to a net loss of $295m in the second quarter, which represented a sequential improvement of $120m. Adjusted earnings before interest, tax, depreciation and amortisation (EBITDA, non-GAAP) came in at $47m, which was a sequential improvement of $127m.
According to Tenev, the goal of reaching positive adjusted EBITDA was achieved a quarter earlier than planned:
"We delivered on top feature requests for customers including advanced charts, options in cash accounts, instant withdrawals and our self-custody, web3 wallet."
Jason Warnick, the company's CFO, said the figures had been achieved due to increasing revenues and reducing expenses:
"We also continued to deliver on our 2022 product roadmap, which helped maintain steady net funded accounts and drive strong net deposits."
Robinhood stock forecast: Where will the price go next?
So, what are the Robinhood stock predictions of analysts?
As of 1 December, the stock was a 'hold' based on the views of 13 analysts compiled by MarketBeat, although opinions are clearly divided. Five see it as a 'buy', while four each have 'hold' and 'sell' recommendations.
Their consensus HOOD stock forecast was that it could hit $13.36, which would represent a potential upside of 39.28% over the $9.59 closing price on 20 November, 2022. The highest Robinhood stock forecast 2023 prediction came in at $28 and the lowest warned it could slip to just $7.
HOOD stock was also a 'hold', according to the Robinhood stock forecast views of nine analysts compiled by TipRanks, although this isn't a unanimous opinion. Three analysts have it down as a 'buy', four as a 'hold' and two as a 'sell'.
In recent weeks, analyst Brian Bedell of Deutsche Bank has reiterated his 'hold' recommendation, along with a $9 price target. Benjamin Budish of Barclays, meanwhile, sees the stock as a 'sell', while Dan Dolev of Mizuho Securities has a 'buy' recommendation and a $14 price target.
Looking further afield, the Robinhood stock forecast 2025 from Wallet Investor, the algorithmic forecaster, has the stock down at $3.18 by December 2025.
Please keep in mind that analysts' predictions can be wrong. Forecasts shouldn't be used as a substitute for your own research. Always conduct your own due diligence before trading. And never invest or trade money you cannot afford to lose.
FAQs
Is Robinhood a good stock to buy?

Whether Robinhood is a good investment for you will depend on a number of factors. These include your existing portfolio, investment goals, and attitude to risk. You'll also need to carry out your own research into the company and its industry to gauge whether it's attractive.

Always conduct your own due diligence before trading, looking at the latest news, a wide range of commentary, technical and fundamental analysis.

Remember, past performance does not guarantee future returns. And never trade money you cannot afford to lose.
Will Robinhood stock go up or down?

No-one knows for sure. As of 1 December, the consensus view of 13 analysts compiled by MarketBeat is that it could hit $13.36. This represents a potential upside of 39.28% over the $9.59 closing price on 20 November, 2022. The highest prediction was $28 and the lowest came in at just $7.

However, these predictions could be inaccurate. Always do your own research before making any investment decisions. Remember to never invest or trade with more money than you can afford to lose.
Should I invest in Robinhood stock?

Whether Robinhood is the right stock for you depends on your trading objectives. It's important to do your own research. Your decision to trade depends on your attitude to risk, your expertise in the market, the spread of your portfolio and how comfortable you feel about losing money. You should never trade more than you can afford to lose.