Rite Aid (RAD) jumps on improved outlook, 63 store closures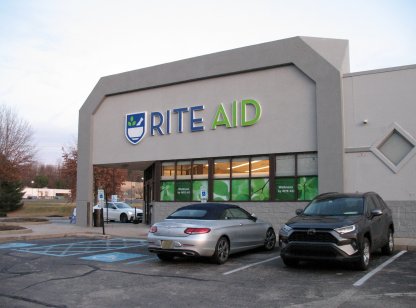 Rite Aid shares jumped 19% Wednesday, on raised full-year guidance and mixed fiscal third quarter financial results, as the third largest US drugstore chain by sales reduces costs by closing 63 retail outlets.
Camp Hill, Pennsylvania-based Rite Aid reported a net loss totalling $8.20m (£6.18m), or $0.15 per share, on $6.23bn in revenue for the 13 weeks ended 27 November. Wall Street analysts were expecting a $0.18 per share loss on $6.28bn in revenue.
Shares surge
Rite Aid stock touched an intraday high of $14.78 per share as of 10:37 am EDT (UTC-5), versus Monday's $12.40 closing share price. Rite Aid trades over the New York Stock Exchange under the ticker "RAD".
"We delivered a solid quarter as we grew adjusted EBITDA by 12.7% versus last year," said Rite Aid CEO Heyward Donigan in a prepared statement. "Despite challenges in the labour market, our pharmacists and store teams were able to meet the unprecedented volumes for Covid and flu immunisations, Covid testing and other clinical services, which clearly demonstrates our Lean work to free up capacity is paying off."
The company benefitted from four million Covid-19 vaccinations.
The net loss was driven by facility exit and impairment charges related to retail store closures, as well as an inventory-related accounting charge, versus a credit in the prior year's fiscal third quarter.
Same store sales from continuing operations for the third quarter increased 4.4% over the prior year period, consisting of a 5.9% increase in pharmacy sales and a 0.4% increase in front-end sales.
Omnipharmacy transition
As part of its ongoing restructuring into more of an omnichannel distribution model focusing on fewer retail outlets combined with increased digital sales and direct-to-consumer distribution, Rite Aid announced strategic retail store closures.
"Today, we also announced the first phase of a store closure programme to reduce costs, drive improved profitability and ensure that we have a healthy foundation to grow from, with the right stores in the right locations, for the communities we serve and for our business," Donigan added in the same release. "We have identified an initial 63 stores for closure that is expected to provide an annual EBITDA benefit of approximately $25m."
Cost-cutting and Covid-19 improve outlook
As a result of the cost-cutting measures, as well as greater-than-expected demand for Covid-19 vaccines and testing, Rite Aid revised upward its full-year fiscal 2022 financial performance.
Rite Aid now expects a full-year net loss in the $189m to $230m range, or $0.04 to $0.49 per share, compared to previous guidance of a net loss of $197m to $221m, or $0.53 to $0.90 per share.
Adjusted EBITDA for the fiscal year ending February 2022 is estimated at $500m to $520m, up from $460m to $500m.
Revenue is now seen at $24.4bn to $24.7bn versus $25.1bn to $25.5bn.
"We are focussed on the right stores in the right locations to focus on our omnipharmacy model, including direct shipments to consumers through digital sales," said Donigan added on the follow-up investor conference call. Affected store associates will be offered transfers, he added.
Read more: Shares of Rite Aid tumble on quarterly earnings report