Ripple price prediction: where next for XRP?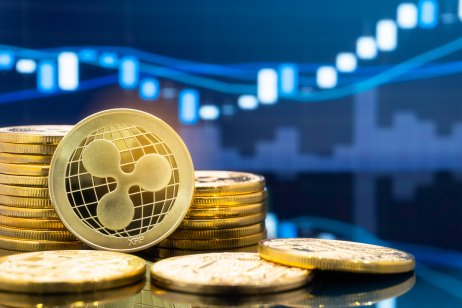 Content
Ripple is the company behind XRP, the sixth biggest cryptocurrency by market cap that accounts for over $50bn according to CoinMarketCap. Yet apart from XRP, Ripple is also known for RippleNet, its payment settlement system built to allow financial institutions to transfer money and assets across borders more quickly and with lower transaction fees.
Ripple has already gained recognition among big banks, such as Bank of America, Santander, and American Express, which are using the network as a transaction platform. Meanwhile, XRP can be used as an investment, exchange for other cryptocurrencies, or as a way to finance transactions on the Ripple network.
Notably, there are certain features that set Ripple apart from the likes of crypto leaders such as Bitcoin (BTC) and Ethereum (ETH). Firstly, Ripple doesn't actually use blockchain to provide consensus. Instead, it uses a hash tree, a persistent data structure that can be used to implement sets and maps, to summarise the data and compare it across the servers calling unique node lists to verify transactions.
This system speeds up transactions, which for Ripple is near-instant - between four to five seconds – much faster than sending money via traditional financial institutions, or even via Bitcoin, which could take up to nine minutes to be verified, according to YCharts. Plus, Ripple transactions come at a very low cost, only 0.00001 XRP, a fraction of USD cent at the current rate.
Secondly, Ripple cannot be mined and is a so-called "pre-mined" cryptocurrency as all of its 100bn tokens have been already created and are gradually released into the market. This feature makes Ripple stand out as a "green" cryptocurrency, while its rivals Bitcoin and Ethereum require significant energy consumption for mining which they were largely criticised for.
"Energy consumption for BTC and ETH mining is a massive waste and there's no incentive to take responsibility for the carbon footprint," said Brad Garlinghouse, Ripple's CEO in a tweet.
XRP: where is the price now?
In 2021 the Ripple-founded XRP cryptocurrency struggled through a volatile ride. After starting the year relatively low, at $0.21936, XRP peaked at $1.936370 on 14 April, enjoying an eye-popping 224% growth in the first two weeks of that month.
Yet then followed a turbulent period, with the cryptocurrency dipping 71% to July's low of $0.51601. Since then, the asset recovered some of the losses, currently trading at $1.11650, with a 445% year-to-date return. In comparison, its more established crypto peer Bitcoin delivered only 61% this year, suggesting XRP is outperforming its wider market.
Ripple: what's driving the price?
Cryptocurrency market sentiment
Cryptocurrencies are volatile assets, and for Ripple there are multiple competing factors at play shaping the movement of its price. One of them is the wider crypto market sentiment which can spark or dump investor enthusiasm.
On the chart below we can see the prices of Bitcoin, Ethereum and Ripple's XRP expressed in US dollars. A limited correlation can be observed: the prices go up and down in roughly the same time periods. For example, between November 2020 and May 2021, all cryptocurrencies were on the rise, followed by a shift of sentiment seeing the cryptocurrencies dipping between May and July. The trend has since reversed, with the crypto markets regaining momentum.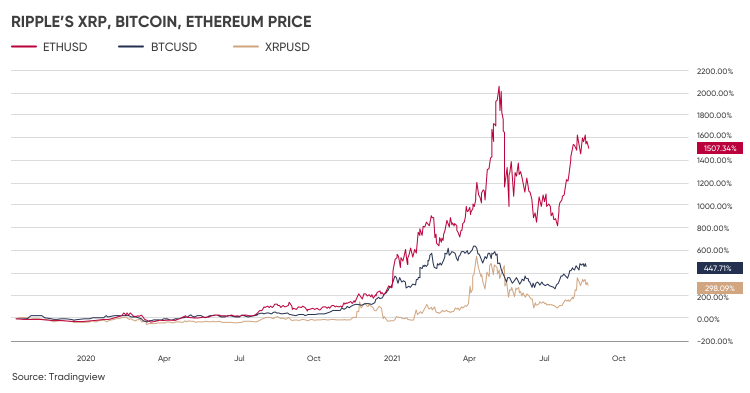 Ripple's XRP, Bitcoin, Ethereum; Source: TradingView
Partnerships with banks and other financial institutions
As with any asset there are many individual factors that influence the price. For Ripple, which specialises in transactions for institutions, influential clients and partners is a big driver as it gives it higher recognition in the world of traditional finance.
When American Express introduced blockchain-enabled cross-border payments using the Ripple network in 2017, the initial market reaction for XRP was muted. Yet what followed was an incredible bull run pushing the price 10 times higher (1015%) between December 2017 and January 2018.
Currently, the Ripple network is already used by 36 institutions around the world, including Santander, American Express, Bank of America, Rakbank, Transfer Go, and many more.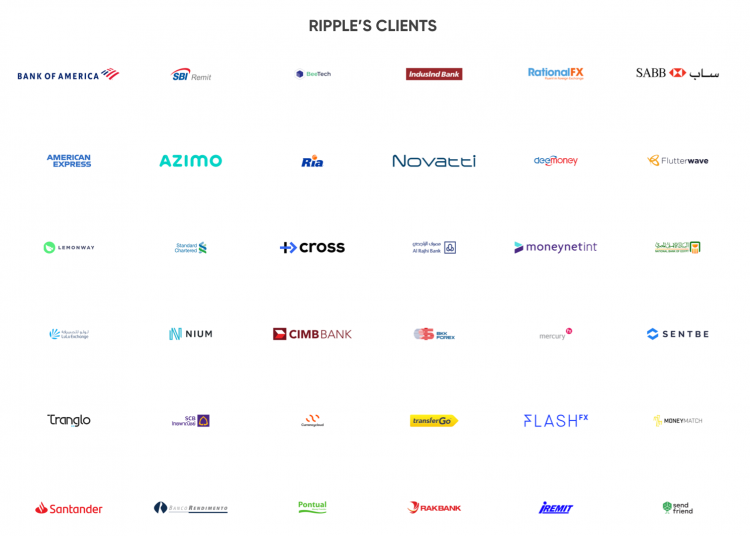 Ripple's clients; Source: Ripple
On the bearish side, a regulatory crackdown on cryptocurrencies can pose risks for the XRP price and dampen investor enthusiasm.
In May 2021, the world's second-biggest economy, China, banned financial institutions and payment companies from providing services related to cryptocurrency transactions. The regulatory move pushed the cryptocurrency markets to crash, including XRP, which plummeted 33.43% on the day of the announcement.
There is a chance that other financial regulators may toughen up rules on cryptocurrencies in the future. The UK's Financial Conduct Authority, for example, has recently threatened to ban Binance, a global cryptocurrency exchange platform, and launched a marketing campaign warning about risks related to buying and selling cryptocurrencies.
The SEC case against Ripple
In late 2020, the US Securities and Exchange Commission (SEC) filed an action against Ripple co-founder Christian Larsen and CEO Bradley Garlinghouse alleging that the pair raised funds through the sale of XRP in unregistered security offering to investors with limited information about its business.
The US watchdog argued that the two men failed to register XRP as a security, which would require significant business disclosures about its operations and financial conditions to ensure that investors make informed decisions.
Meanwhile, the SEC claims that Larsen and Garlinghouse personally profited by about $600m from selling XRP, while ignoring the legal advice that the cryptocurrency could be considered an investment.
The case saw XRP price plummet 13.22% on the day of the announcement, and an eye-watering 41.73% on the following day reaching the intraday low of $0.21261. Coinbase, the largest cryptocurrency exchange, suspended XRP token on the back of the case.
Ripple responded by saying that XRP is a virtual currency outside the SEC's jurisdiction and Ripple has never entered a contract for investment with any holders of XRP. After a continuing back-and-forth between Ripple Labs, SEC and the court, the legal battle is still ongoing as the court requested internal documents from the SEC to shed some light on the general view of its view on crypto. Meanwhile, the entire crypto world is watching the lawsuit as it will establish a precedent for future industry regulation.
XRP price prediction 2022
An algorithm-based forecasting service Digital Coin says XRP may reach up to $2.04 in a year's time, while another forecasting firm Wallet Investor sets a price target of $1.632. Meanwhile, another forecasting firm Long Forecast sees XRP price to trade between $0.76 and $0.96 in August 2022.
XRP price prediction 2025
In the medium term, Digital Coin sees the price of XRP to climb to $3.79 by 2025. Wallet Investor has a lower forecast for XRP to reach $2.934 by January 2025, yet both suggest an upside for the cryptocurrency. Long Forecast again has a grim outlook, seeing the price to trade between $0.23 and $0.29 in August 2025, well below the current rate of $1.088.
Be aware that forecasting services often get their predictions wrong. You should always conduct your own research before making any investment or trading decision.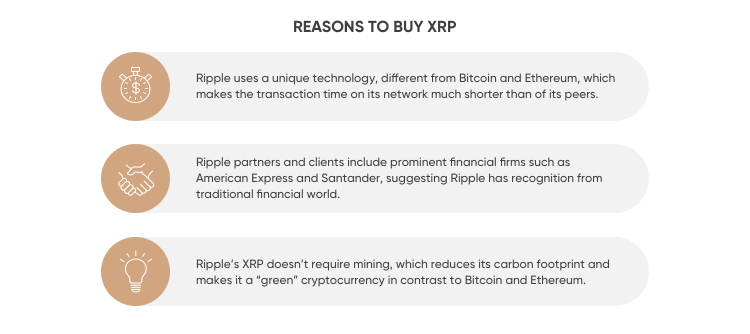 Reasons to buy XRP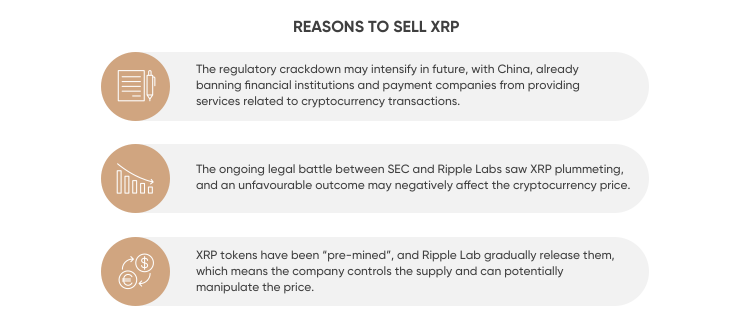 Reasons to sell XRP
Remember that whether to buy Ripple or to sell the cryptocurrency should always be your own decision and should depend on your attitude to risk, your expertise in the market, the spread of your investment portfolio, and how comfortable you feel about losing money.
XRP: biggest backers
According to reports from Forbes, Chris Larsen, Ripple's co-founder and former CEO, held over 5.1bn XRP in 2018, which equals to $5.5bn at the current rate of $1.08 in addition to a 17% stake in the Ripple Labs. Brad Garlinghouse, the current CEO, has a 6.3% stake in the company, and also holds a large number of tokens, which hasn't been specified by Forbes.
Another key player to look out for is the second co-founder of Ripple, Jed McCaleb who left the company in 2013. According to Forbes, McCaleb donated his 2bn XRP to a donor-advised fund, and the remaining 5.3 billion XRP as of February 2016 are in a "custody account at Ripple and meted out to him each month."
All backers believe that cryptocurrency will have a major role in the future of payments.
"Banks will use what is efficient and cheaper, and if you deliver a better product at a better price – they will use it," said Brad Garlinhouse at the Stifel Financial 2018 Cross Sector Insight Conference.
XRP: historic share price movement
The XRP cryptocurrency was released almost ten years ago, in 2001, yet it was only in 2017 when it started to attract investor attention. So far in its history XRP has had two major breakouts.
The first one happened in December 2017, when the cryptocurrency soared an astonishing 1266% to reach an all-time high of $3.317 on 4 January 2018. Yet the bull run was short-lived and XRP plummeted 79% to $0.5627 by 6 February. XRP is yet to reach the 2018 records.
Since then, the cryptocurrency moved sideways trading around $0.27 for the next few years before breaking out in November 2020 and falling back again on the back of the SEC case. The most recent XRP breakout happened in April 2021, which saw the cryptocurrency rising 217% to the peak of $1.96695 on 14 April.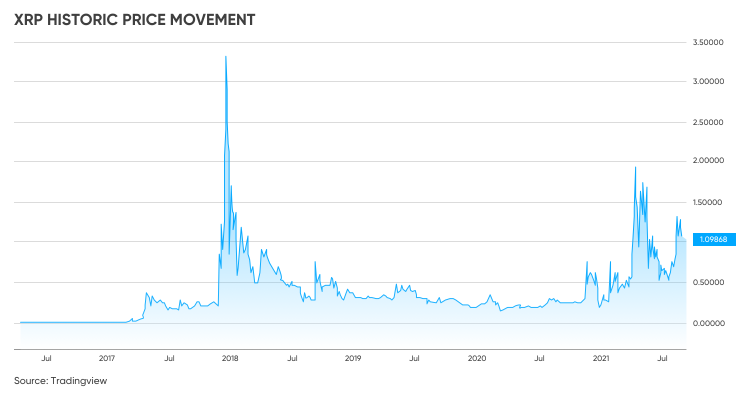 XRP historic price movement; Source: TradingView
Biggest daily swings in the XRP price
One of the biggest swings in the XRP price happened on 23 December, when the cryptocurrency lost 41% in just one day on the back of the SEC lawsuit announcement.

Another bad day for XRP saw it wiping 33.43% of its value on 19 May after China intensified its crackdown on cryptocurrencies.

The XRP price more than doubled (57%) on 30 January 2021, reaching an intraday high of $0.51695 as it enjoyed its best daily performance.

Another good day for the cryptocurrency was on 29 December 2017 when it more than doubled (52%), triggering its first major breakout to the record highs
Will Ripple reach $5?

Digital Coin suggests XRP may reach up to $5.30 in seven years. Still, you should note that the cryptocurrency market is very volatile and any long-term crypto price prediction can go wrong due to numerous factors. We recommend our traders to conduct their own due diligence before making any trading decision.
What will ripple be worth in 2025?

Digital Coin sees the price of XRP to climb to $3.79 by 2025. Wallet Investor has a lower forecast for XRP to reach $2.934 by January 2025, yet both suggest an upside for the cryptocurrency. Long Forecast has a grimmer outlook, seeing the price to trade between $0.23 and $0.29 in August 2025, well below the current rate of $1.088.
What will XRP be worth in 10 years?

Cryptocurrencies are volatile assets and forecasting their price has numerous challenges. Digital Coin offers the most long-term forecast of seven years, predicting the XRP price to reach $5.3 by that time.