Redrow warns housing market is cooling down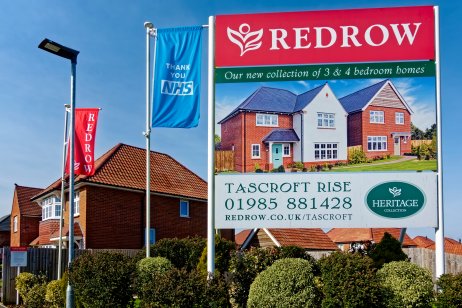 Housebuilder Redrow has revealed a record order book of £1.43bn – but warns the buoyant housing market is starting to cool down.
In a statement to the London Stock Exchange, it reported increased house completions, revenue and profit for the year to 27 June 2021.
But the Flintshire-based company, which proposed a final dividend of 18.5p per share, making a total of 24.5p for the year, said property demand had eased.
Moderated housing market
Chairman John Tutte said the results were better than expected against a background of much uncertainty at the start of the financial year.
He pointed out that the company's Heritage Collection of primarily detached houses had remained popular with buyers.
"The buoyant housing market has moderated in recent months and we anticipate sales rates will return to historically average rates over the course of the current financial year," he said.
Tutte also believes the record order good provides an "excellent platform" for the future. "As a result, the business is well placed to deliver another set of strong results," he added.
Financial results
The group achieved 5,620 legal completions in the year – almost 40% up on 2020. This generated revenue of £1.94bn, which was 45% ahead of last year's figure of £1.34bn.
Pre-tax profits for the period were up 124% to £314m from £140m the previous year, while earnings per share increased by 124% to 73.7p from 32.9p in 2020.
The group also reversed an opening net debt position of £126m to end the year with net cash of £160m after making a significant investment in new land.
Responding to market trends
According to Danni Hewson, financial analyst at AJ Bell, Redrow has become adept at looking at market trends and responding to them.
"Its shift out of London matched perfectly the changing demand of homebuyers and its careful mitigation of supply-chain issues has allowed them to keep building," she told Capital.com.
It's the same when it comes to a cooling market. "It's been cutting back on its reliance on the government's Help To Buy scheme well ahead of the scheme's rescheduled end," she added.
Reform of stamp duty
According to Tutte, a strong market emerged from the COVID-19 lockdowns, driven by the stamp duty holiday and buyers that were set to be excluded from the Help to Buy scheme after March 2021.
He also pointed out that the potential hiatus didn't materialise as the Chancellor of the Exchequer extended the stamp duty holiday to September 2021, with a phased return to previous rates.
"Given the unquestionable success of the temporary reductions in stamp duty to stimulate the housing market and its obvious knock-on benefits to the wider economy, we repeat our previous requests for the government to consider a permanent reform of this tax, which is a constraint on the market," he said.
'

Ambitious vision

'

for business

Matthew Pratt, Redrow's group chief executive, also outlined his "ambitious vision" for the business, entitled: Redrow 2025.

This has begun with the biggest consultation in the company's history, involving more than 2,000 employees sharing their opinions.

"This approach is ensuring new projects are efficiently implemented throughout the business and embraced by all teams," said Pratt.
Green academy
Initiatives include a new approach to flexible working "with colleagues actively involved" in developing collaborative workspaces.
There is also a 'Green Academy' to ensure they have the right skills to meet the climate challenge, as well as volunteering and delivering digital programmes to create efficiencies for customers and Redrow.
New sales outlets have been re-named 'Customer Experience Suites' to better reflect their new role in "supporting customers throughout their whole journey".
This includes everything from visiting show homes or meeting with customer service and site personnel to undertake hard-hat and home-preview visits.
Board changes
A number of changes have also taken place within Redrow. Tutte retires from the company today, after nearly 20 years at the business, and will be succeeded by Richard Akers.
Matthew Pratt was appointed group chief executive at the beginning of the financial year, while Nick Hewson is stepping down from the board in 2022 after nine years as a non-executive director.
Read more: UK housebuilders looking undervalued