QuickSwap price prediction: Where will QUICK find the bottom?
Subscribe to Weekly Highlights
The major market events for the week ahead right in your inbox.
Subscribe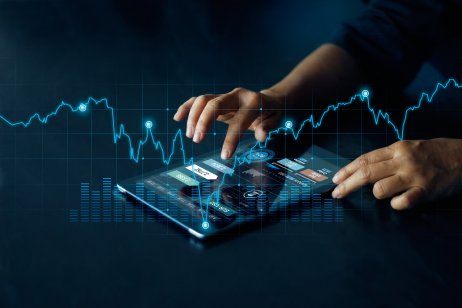 Content
One of the newer cryptocurrency automated market makers (AMMs), QuickSwap (QUICK) is a Layer 2 decentralised exchange (DEX) running on the Polygon network.
The price for its native QUICK governance token has been in a downward trend since a brief spike at the end of December. Is the QUICK/USD price set to bottom out and turn higher, or is there potential for it to fall further?
Here we take a look at how the QuickSwap exchange works and what factors could shape QuickSwap price prediction in the coming years.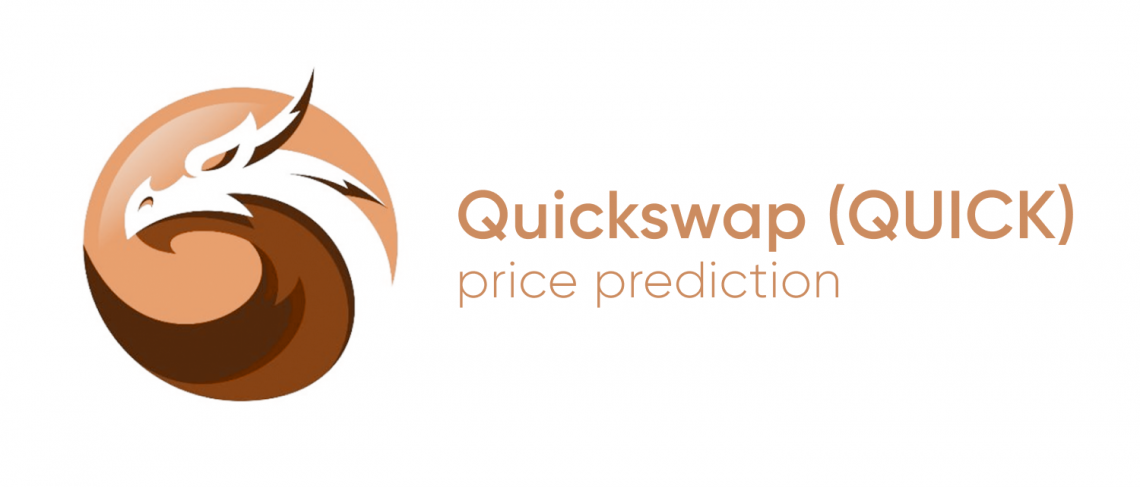 QuickSwap offers low-fee DEX on Polygon
What is QuickSwap? Launched in late 2020 amid the emergence of decentralised finance (DeFi), QuickSwap is a permission-less exchange that is a fork of the UniSwap DEX on the Ethereum blockchain. QuickSwap was founded by New Delhi-based computer programmer Sameep Singhania, who was lead developer for DeFi exchange ParaSwap.
QuickSwap runs on Polygon's Layer 2 infrastructure, allowing anyone to trade any Ethereum-based ERC-20 token. Layer 2 networks aim to enhance Layer 1 blockchains such as Ethereum. Polygon is focused on increasing scalability, enabling it to reduce transaction fees.
QuickSwap charges a 0.3% fee for swaps, of which 0.25% is split among liquidity providers based on their percentage share of the holdings in the liquidity pool; 0.04% is given to single-asset QUICK stakers; and the remaining 0.01% goes to the QuickSwap Foundation.
Liquidity providers also earn QuickSwap's native cryptocurrency token, QUICK, as a reward. QUICK is used for governance votes, enabling holders to create and vote on proposals for the way the protocol runs. QuickSwap will eventually be run by a community decentralised autonomous organisation (DAO).
QuickSwap says that its users can "trade at lightning-fast speeds with near-zero gas fees" and earn positive returns from yield farming. "Yield farming on Ethereum with $100–1,000 in crypto will almost certainly result in a net loss, due to the high gas fees, especially at peak periods of activity. This problem is avoided on the Matic Network as each transaction costs a fraction of a cent," according to the QuickSwap blog.
A number of AMMs and yield farms have emerged touting high annual percentage yields for users that stake the tokens.
But QuickSwap notes that: "Many DeFi AMMs have automatically calculated APY for you. Be aware that this can be highly misleading as there are so many variables that can fluctuate over the course of a year."
As on other permissionless DEXs, users can list any ERC-20 token by providing liquidity, without having to obtain approval. Users can trade on the QuickSwap exchange directly from their cryptocurrency wallets without having to deposit tokens onto the exchange, so they retain custody of their cryptocurrency.
"The risks of using QuickSwap are nearly identical on any Automated Market Maker (AMM) platforms: impermanent loss, a potential smart contract bug and rug pulls are three of the most common risks associated with this sector of DeFi," the blog
states
. "As QuickSwap is a fork of UniSwap, without a single line of code being changed, just with a slight cosmetic makeover (UI), powered by the Matic Network for much faster and cheaper transactions, and Uniswap's been professionally audited and hasn't been hacked to date, the risks seem reasonable regarding the smart contract itself."
QuickSwap news and price analysis: Will new partnerships help QUICK to rebound?
Quickswap surpassed $1bn in total value locked (TVL) in its pools in May 2021, peaking at $1.49bn in June 2021, data compiled by DeFi Llama shows. TVL fell back in the second half of last year and was at $740.63m at the time of writing (7 March 2022).
In February, a partnership between QuickSwap, CelsiusX and Polygon got underway, launching three new liquidity mining pools (for cxADA-cxETH, cxDOGE-cxETH, and cxETH-ETH) on QuickSwap, with Celsius providing $100m in seed liquidity.
"CelsiusX intends to bridge over additional non-EVM native assets in time, which will then be incentivised on QuickSwap and available for use on other Polygon DeFi applications," QuickSwap
said
.
There are currently 327,100 QUICK tokens in circulation, out of a total supply of 1 million. In the latest QuickSwap news, the developers started a community governance discussion on the potential for a token split to multiply the total supply ahead of other planned tokenomics changes.
The quickswap coin price chart shows that the QUICK token soared in value in April 2021 when cryptocurrency markets rallied, rising from $138.18 on 20 April to an all-time high of $1,669.32 on 30 April. The price dropped to $491.46 on 7 May before it climbed again to $1,310.08 on 18 May. The token then sold off as cryptocurrency prices collapsed, reaching a low of $208.60 on 20 July.
The quickswap token price rose over the summer to a high of $874.13 on 13 August, but then turned bearish, dropping to $212.06 by 13 December. A brief spike brought the price up to $453.26 on 29 December but it then resumed its downward trend, falling to $142.69 on 24 February and ending 6 March at $159.06.
What is the outlook for the quickswap cryptocurrency price in the short term and over the long-term?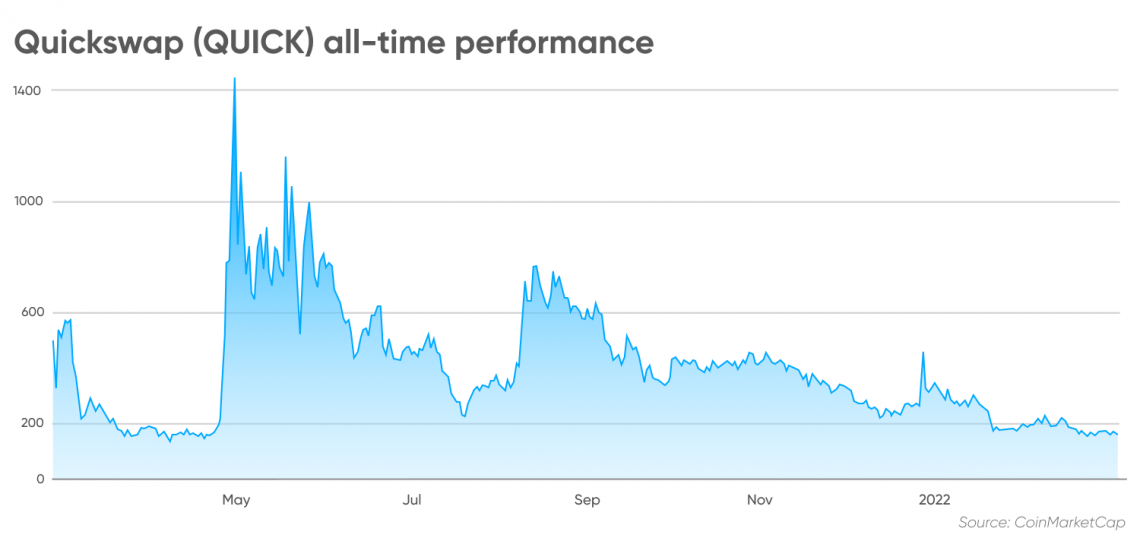 Quickswap (QUICK) price prediction: Can the DEX token uptick?
Technical price analysis from CoinCodex indicated that the QUICK price could continue to fall in the short term. As of 7 March 2022, there were 24 indicators showing bearish signals and just two bullish signals – the momentum indicator and the volume-weighted moving average. The daily and weekly simple and exponential moving averages showed sell signals, along with the Hull moving average and stochastic relative strength index (Stoch RSI).
CoinCodex predicted that the quickswap value could drop by 7.13% to $143.42 by 12 March.
Algorithm-based forecasting site Wallet Investor was bearish in its longer term QUICK price prediction as of 7 March 2022, estimating that the QUICK token could plunge to $8.197 by the end of the year. Wallet Investor projected that QUICK could start 2023 at $7.951 and move up to $14.195 by the end of the year, but the price could then fall to $3.08 by the end of 2024 and trade at $3.79 by the end of 2025. QUICK could continue to trade around the $3 level, trading around $3.40 by the end of February 2027.
By contrast, the QuickSwap prediction from Digital Coin was bullish for the long term, expecting the price to trend higher to the end of the decade. Based on historical data, the site predicted that QUICK could average $200.06 in 2022 and $237.87 in 2023, climbing to $299.27 in 2025 and an average of $714.59 in 2030.
Price Prediction was even more bullish than Digital Coin in its QUICK prediction, projecting that the price could average $227.73 in 2022 and $334.11 in 2023. Based on deep learning technical analysis, Price Prediction expected the token to reach an average price of $712.20 in 2025 and soar to $4,393.77 by 2030.
It's important to keep in mind that cryptocurrency markets remain extremely volatile, making it difficult to accurately predict what a coin's price will be in a few hours, and even harder to give long-term estimates. As such, analysts and algorithm-based forecasters can and do get their QuickSwap crypto price predictions wrong.
If you are considering investing in cryptocurrency tokens, we recommend that you always do your own research. Look at the latest market trends, news, technical and fundamental analysis, and expert opinion before making any investment decision. Keep in mind that past performance is no guarantee of future returns.
FAQs
Is quickswap a good investment?

In highly volatile cryptocurrency markets, it's important to do your own research on a coin or token. Your decision to trade depends on your attitude to risk, your expertise in the market, the spread of your investment portfolio and how comfortable you feel about losing money. You should never invest money that you cannot afford to lose.
How high can quickswap go?

As of 7 March, forecast sites offered vastly different QUICK crypto price predictions in the long run. Wallet Investor gave a bearish forecast while Digital Coin and Price Prediction provided bullish price targets for QUICK. You should do your own research to decide where you expect the token to trade in the future.
Can quickswap reach $1,000?

The most bullish forecast from Price Prediction (as of 7 March) expected the QUICK price could trade above $1,000 by 2026 and return to the previous all-time high level of above $1,600 in 2027. At the same time, Wallet Investor projected the token could plunge to $3.40 by the end of February 2027.
Related reading