Propy price prediction: Will the real estate NFT soar high?
Subscribe to Weekly Highlights
The major market events for the week ahead right in your inbox.
Subscribe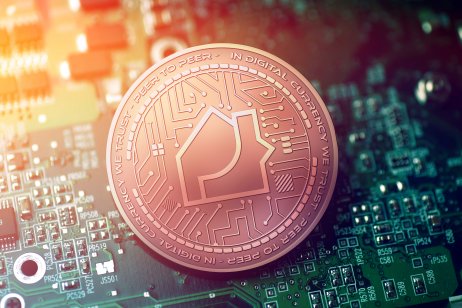 Content
Propy (PRO) has been on a rollercoaster ride in the past few months with a recent high of $3.59 the coin has averaged around $1.5. While the future looks bright for the blockchain-based international real estate marketplace, the Russian invasion of Ukraine has dampened the crypto market.
The first crypto of its kind, Propy has strong backing from Silicon Valley leaders and the National Association of Realtors, but what does the recent volatility mean for the coin? Will the decentralised platform for international real estate transactions soar higher boosted by US President Joe Biden's executive order "outlining the first ever, whole-of-government approach to addressing the risks and harnessing the potential benefits of digital assets and their underlying technology"?
Let's look at the Propy price prediction for 2022 and beyond.
What is Propy coin?
After 15 years in the real estate industry, Natalia Karayaneva, CEO of Propy, was exasperated with the fraud in real estate transactions, which were not only common but also time-consuming to resolve. Karayaneva and entrepreneur and business development manager, Denitza Tyufekchieva, founded Propy in 2016, with a vision to automate the real estate sales process.
Propy's mission is to provide self-driving transactions for brokerages, agents, home buyers and sellers using blockchain technology. It offers a deluxe home-buying experience and eliminates fraudulent transactions, ending traditional real estate deals and putting everything online.
The purchase agreements are signed with DocuSign (DOCU), the transaction is made via secure wire payments connected to nearly 70 banks and title deeds are all taken care of. Payments can be conducted using both fiat and cryptocurrency. At the end of the transactions, the buyer receives the official title deed with a blockchain address – as the deed is recorded on the blockchain, it acts as a non-fungible token (NFT).
Propy operates on the Ethereum platform and is built on the ERC721 (NFT standard for unique tokens on Ethereum) token standard, allowing it to integrate with users' wallets. Propy charges brokers per transaction, starting from 0.2% and averaging 1%. The tokens paid for writing data to the Propy Registry are stored as special rewards smart contracts on the Ethereum blockchain.
Propy boasts of reducing 10 hours of paperwork per transaction via its platform. Backed by blockchain investor Tim Draper and top venture capitals Reach Capital and Second Century Ventures, the company has raised $16.7m so far. Propy users are allowed to execute payments, do paperwork and transfer ownership via smart contracts.
The total supply of PRO coins stands at 100 million, new tokens cannot be mined nor can existing tokens be burned.
As of 28 April, CoinMarketCap data showed Propy token price at $1.79, with a market cap of $142.5m and 74.4 million PRO coins in circulation. The coin's ranking was #301 and it was traded on Huobi Global, HitBTC, Coinbase Exchange, Bitrue and Hoo.
Propy coin news
Before we jump into PRO price prediction let's look into some news that has affected the coin's price recently. The company's first property to be sold using blockchain technology back in 2017 was owned by Michael Arrington, founder of TechCrunch and Arrington XRP Capital, in Kyiv, Ukraine.
Powered by its Adaptive Transaction Management Platform SaaS tool, Propy has made history by auctioning the first real estate NFT in the US. On 12 March 2022, Propy sold a property in St Petersburg, Florida, at auction for 210ETH ($654,000) and the process was much quicker than a traditional sale.
It's a wrap!

The first real estate NFT auction in the US is history now. Thank you so much to everyone who participated and to those who cheered us on. Congratulations to the lucky winner, we can't wait to see what you do with the #PropyNFT next! What a blast! pic.twitter.com/LHfZrNSwTN

— Propy (@PropyInc) February 10, 2022
An analysis of the token's price trajectory shows at the time of writing today on 28 April, Propy was 69% below its all-time high of $6.15 in 2018, but 6,376% higher than its all-time low.
The price was boosted in October 2021 after the platform started accepting Digital Earnest Money transfers, eliminating the wire fraud concerns, the month before.
The final months of 2021 brought optimism for investors as Propy announced it would be launching a new platform to aid agents to earn crypto and personal NFTs. Listing on Coinbase in January boosted the token further.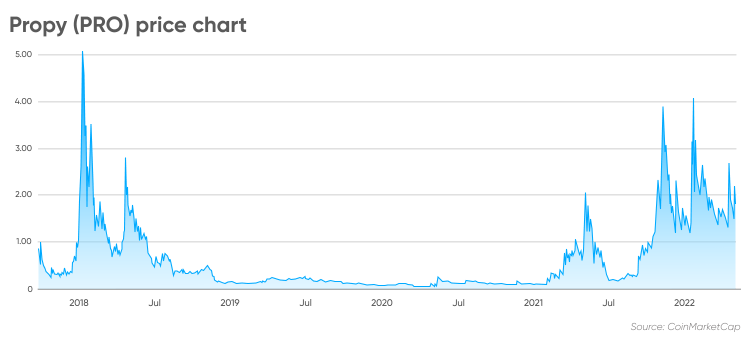 Youtube Crypto analyst Matthew Hall stated in a video on 12 January that he believed Propy could "go nuclear", believing the coin could reach $20 by the end of the year. However, President Biden's executive orders may put crypto in the crosshairs.
Government regulations related to crypto are evolving and the 2023 budget proposal has provisions related to digital currencies. While some of the provisions could generate up to $11bn in government revenues, this is leading to a major sell-off in the market that surged past $3trn in November 2021.
Blockchain Intelligence chief Lance Morginn claims the order is shortsighted and should be replaced, as digital assets are now being used in nation-building and are "creating transparency into a financial transaction like never seen before".
Many analysts believe enhanced regulations may limit opportunities for crypto profits. However, these add clarity to the future of the cryptocurrency economy and investors can make better investment decisions by staying apprised of new regulations.
PRO price forecast
As of 28 April, short-term technical analysis by CoinCodex showed sentiments were overwhelmingly bullish, with 27 indicators giving bullish signals compared with two showing bearish signals. CoinCodex's PRO prediction put a green signal for buying given its price volatility over the last 30 days. Projection forecast prices would be around $1.99 by 3 May 2022.
Algorithm and forecast system Wallet Investor said in its Propy prediction that "PRO is an awesome long-term (one-year) investment". With a very optimistic outlook for PRO/USD, analysts future expectations for the coin were for it to grow 63.9% in one year.
By the end of 2022, the Propy coin could average at $2.548, $3.864 in 2023, $5.212 1 in 2024 and $6.531 in 2025. There was no PRO crypto price prediction by WalletInvestor for 2030.
Price Prediction's Propy coin price prediction for the years 2022, 2023, 2024 and 2025 expected the coin to average $1.99, $2.95, $4.42 and $6.48, respectively. Propy token prices are poised to reach $45.39 by 2030.
DigitalCoinPrice also gave an optimistic outlook for Propy. PRO prices were forecast to average $2.81 in 2022, with projections from 2023 to 2025 targeted at $3.05, $3.06, and $4.06, respectively. By 2030, PRO could hit $9.74.
When looking at Propy crypto price predictions, always keep in mind that analysts' forecasts could be wrong. You should always do your own research, which includes looking into recent initiatives like collaborations, partnership deals and other fundamentals, before making investment decisions. You should gauge how comfortable you are about losing money and never invest money that you cannot afford to lose.
FAQs
Is Propy coin a good investment?

Given the current trajectory of Propy coin at the time of writing on 28 April, forecasters such as Wallet Investor and Price Prediction were optimistic about its future trajectory. However, these forecasts are based on algorithms and tend to go wrong with changes in the market conditions, so you should always do your own research before investing.

Whether or not a cryptocurrency is the right investment for you will depend on your attitude to risk and expertise in navigating market gyrations, among other factors. If you are planning to put your money into cryptocurrency, always keep in mind that the market is highly volatile and you should never invest more money than you are comfortable losing.
Will the Propy price go up or down?

As per the price forecasts by WalletInvestor, CoinCodex and others, Propy prices were expected to move up. However these predictions are based on algorithms and cannot be relied upon completely.
How high can PRO coin go?

According to the DigitalCoinPrice forecast as of 28 April, PRO could go as high as $9.74 by 2030, while Price Prediction predicted the coin could reach $45.39.

However, forecasts shouldn't be used as a substitute for your own research. Always conduct your own due diligence before investing. And never invest or trade money you cannot afford to lose.
Can Propy (PRO) hit $5?

WalletInvestor expected Propy to hit $5 in 2024 and move up further in the future, while DigitalCoinPrice forecast the coin could cross the $5 mark in 2027. However, analysts' forecast can be wrong and have been inaccurate in the future. Always do your own research before investing.