Precious metals mixed as US dollar nears 20-year highs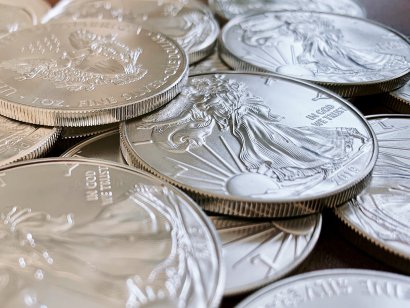 Precious metals were quite mixed on Friday morning, ending the week on a somewhat subdued note, with silver, platinum and palladium all down, following the US dollar (DXY) resuming its climb to hit a 20-year high and on track for its fifth weekly gain. Investors also had their eye on US jobs data, due later in the day.
According to Piero Cingari, analyst at Capital.com, "Yesterday, the metals market suffered another day of intense volatility, which mostly affected the metals most vulnerable to risk sentiment, such as silver, copper, and aluminium.
"Gold, on the other hand, remained resilient, closing the day relatively flat, supported in part by rising fears about a global slowdown in the wake of April's dramatic collapse in Chinese service activity.
"The gold-to-silver ratio has returned to its highest level since July 2020, and has increased by 10% since 18 April, when market worries of a Chinese economic slowdown first surfaced. The release of US job market figures today is a significant market-moving event for metal commodities.
"If non-farm payrolls in April fall short of market estimates (380,000), worries of a recession would be reinforced, perhaps leading to more losses in risk-sensitive commodities while gold will likely benefit. All eyes are also on wage growth numbers in the United States, to see if inflation is beginning to have a second-round effect on the labour market," Cingari said.
Gold-to-silver ratio spikes amid global slowdown worries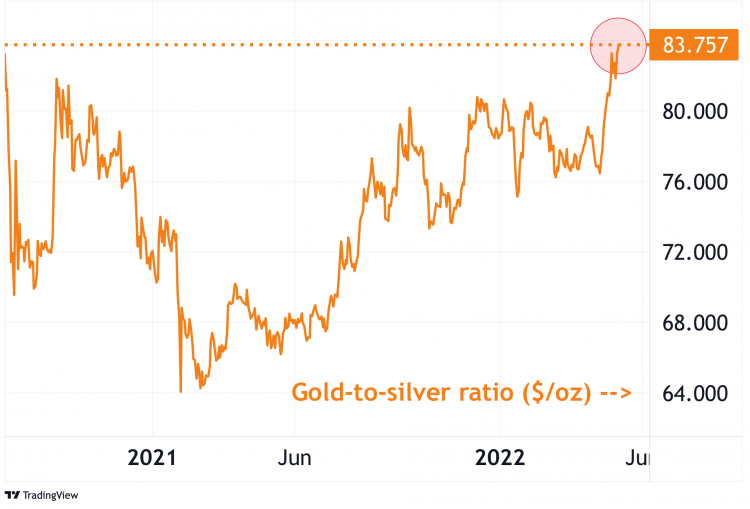 The gold-to-silver ratio increased amid increased anxieties of global slowdowns – Credit: TradingView
In London morning trading, Spot gold inched up 0.30% to $1,882.80 per troy ounce, but was down about 1.2% for the week, pressured by a rising US dollar and treasury yields. Investors were also looking forward to US jobs reports, out later in the day, which may have sparked more interest in safe haven assets.
Silver dipped 0.26% to $22.40 per troy ounce, receding further from the psychological $23 per troy ounce level and facing downward pressure from the dollar, following the US Federal Reserve's recent decision to increase interest rates by 50 basis points.
US 10-year Treasury yields soared 4.9 basis points to 3.09%, as the US Federal Reserve recently confirmed that more interest rate hikes were coming in the near future.
Platinum dipped 2.83% to $952.70 per troy ounce, falling back towards the seven-month lows seen recently as supply concerns from Russia eased somewhat, with investors turning towards South Africa and other major platinum-producing countries in order to fill the gap left by Russia.
Palladium dropped 2.26% to $2,136.00 per troy ounce, following declining demand from the auto manufacturing industry, with auto production and sales data from both Germany and China being disappointing lately. This may go a long way in dampening palladium's demand as an auto catalyst.
Copper fell 0.15% to $4.30 per pound, inching closer back to the three-month lows seen recently, following demand from top consumer China still being significantly lower than expected as the key areas of Shanghai and Dongguan are still under lockdown.
Aluminum lost 1.66%, falling to $2,903.40 per tonne, following physical premiums from Japan falling considerably as demand from its auto manufacturing and industrial sector suffered. With China also weakening, aluminum prices are heavily dependent on Japan as another large consumer.
What is your sentiment on Gold?
Vote to see Traders sentiment!
Five things to know about metals today
Gold:

Endeavour Mining (EDV) recently published its first-quarter results.

Platinum:

Sibanye Stillwater (SBYSF) has revealed that unions have been using the current gold strike in order to get a better platinum deal in South Africa.

Iron ore:

Iron ore prices have been seeing some gains, following a pledge by the Chinese government to provide more support.

Aluminium:

Guinea has recently directed bauxite miners to have local refinery plans ready by May.

Copper:

PolyMet Mining (TSX:POM) faces fresh distress at the hands of the US Environmental Protection Agency (EPA) regarding its Minnesota copper-nickel mine.
Mining stock performance